Happy pets and election dread
Mac the Labrador is good at fetching firewood and he could make a good gun dog if Mark Guscott was a duck shooter.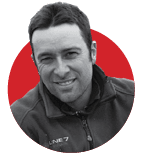 IT'S EARLY MAY IN THE Wairarapa and lots of people are talking about duck shooting. I'm not much of a duck shooter myself. We have a Labrador called Mac who is mad keen on carrying stuff and would probably be a decent gun dog.
Pity I'm not very good at training dogs. But I've found a use for him that keeps his instincts happy and is very useful for us. He collects firewood. He'll come out to the shed and happily bring a bit of wood into the house.
He's not that keen on depositing it into the wood basket beside the fire at this stage, but I've got all winter to work on him. He's a real "people pleaser" so is very keen to help and this just might be more productive than swimming in a dam chasing ducks.
We seem to attract weird pets in our house. The above-mentioned Labrador is one. Then there's his mate Marty the foxy who's a bit of a wimp, the half-blind retired huntaway Kell that roams the garden, and the world's dumbest cat "Flea-taxi". The three chooks that eat dog sausage follow us around like dogs and have occasionally been welcomed into the living room to clean up cluster flies. Maybe it's the same on most farms, as we all tend to be animal lovers. Animals certainly keep the place interesting.
I'm dreading the next six months leading up to the election. The winner of this election will need to make some hard and unpopular decisions. Those decisions will likely be expensive for the entire country.
I hate to say it, but neither main party is going to help the ag sector. Just imagine if agriculture was a top priority for the government. Regional roads without potholes, new bridges planned and delivered, compliance that was straightforward and well thought out, and where you'd only have to fill out forms once. Dreams are free.
Having said that, I'm not one of those people who wants to put their hand up for public office. Good luck to all the rural-based candidates; I admire your desire to put your head above the parapet. Leadership is a minefield these days.
Like a lot of the North Island, the Wairarapa has had a very wet summer. Parts of Eastern Wairarapa were hammered by the two cyclones and, like further north, are amid a major clean up. The way New Zealanders from all walks of life mobilised to help those affected was inspirational.
We had some flooding, which ruined crops, but largely the Ponatahi valley seemed to miss the worst of the weather, for which we are very grateful. We now have grass halfway up the quad bike tyres in early May and the soil is nearly saturated already. Might be a long winter.
Unfortunately, we've still got about 75 hectares of harvesting to go – squash pumpkin, maize grain, maize seed and some red clover still has to come in over the next month. The timing isn't too late just yet, but the soil and weather conditions won't make it straightforward.
Spare a thought for some of the arable farmers around the North Island this summer. Barley and pea crops have been a disaster and some northern maize crops have been hammered with disease. A nice warm dry summer is certainly on the wish list for next year.
At least the finishing cattle and lambs have done well. It's unusual for us to be able to kill 18-month bulls at north of 550kg LW but we sent the first unit load out in early May. Lambs aren't setting records for yields, but they're still acceptable. We'll scan the ewes in early June and see how our management has been over the summer. The regular heavy rains seem to have kept them fat and the facial eczema mostly under control. Let's not talk about flystrike though.
Good luck for the winter ahead. Let's hope the mud doesn't get over the top of the gumboots.