Bull sires for dairy leave their mark
A South Canterbury farmer and a local stud breeder have worked together to provide beef bulls for the dairy industry, and they're leaving their mark.
By Terry Brosnahan
Clayton Station's Hamish Orbell and stud owner Tom Hargreaves are breeding Kakahu Changus bulls, a Charolais Angus-cross. They are breeding low birthweight, short gestation and fast growth bulls for dairy farmers, which is not new, but the Changus may have another important trait for dairy farmers.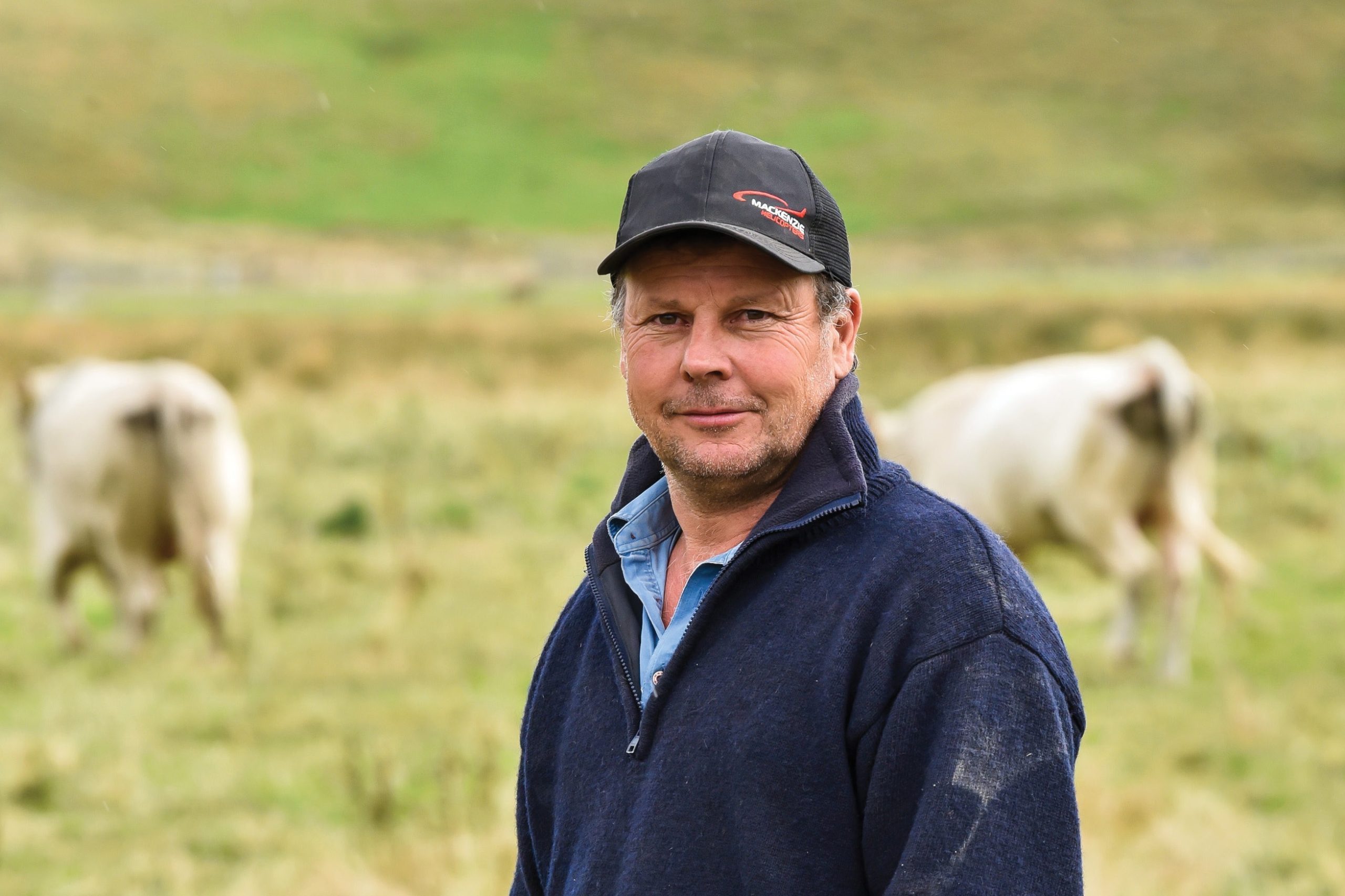 Hamish says when Kakahu Changus bulls were used over local dairy cows, 90% of the calves were white or grey, making the calves easy to recognise on dairy farms.
And these Kakahu Changus bulls may be capable of bringing through the double dilution gene (see next page).
Hamish bought the Angus cows and Charolais bulls from Kakahu Stud.
Tom says the Changus' strength is the combination of the Angus' calving ease, and the Charolais' growth and carcase yield. There may also be something coming through leaving white or grey calves, but more research is needed.
"It's still early days and there's a lot of work to do," he says.
Hamish says research work will focus on identifying which animals may have the double dilution gene. Both breeds can have it, but the Charolais' is stronger.
Tom and Hamish are trying to find the gene within Angus so it comes out with a coloured calf instead of a black one. The use of genomics can help with the pedigree performance and parentage.
Kakahu is developing a programme to help Hamish market his own bull sires, which includes using the Kakahu Changus brand.
Tom says for some time farmers have been naming calves out of dairy cows crossed with a Charolais a Changus. That's why the Hargreaves branded Kakahu Changus.
"We are working on sire bulls that can be marketed as Changus in the dairy industry."
Hamish and Anna Orbell own Clayton station, 4100ha, near Fairlie.
Stock includes 5500 ewes, 1200 hoggets, about 3400 deer and about 800 cattle. The cattle include 380 Angus and 70 Changus cows, 150 replacements, 40 Changus bulls, 100–135 Hereford bulls for dairy farmers and 17 replacement Angus bulls.
In 2016, Hamish bought 40 low birthweight, short gestation Angus cows from Kakahu stud.
After he bought them, the owner of Kakahu at the time, Gerald Hargreaves, Tom's father, suggested there could be value in an Angus Charolais cross.
They could sell low birthweight, short gestation and high growth bulls into the dairy industry.
Hamish (49) says the cross couldn't be at Kakahu because it would compromise the stud, so it was run on Clayton.
In 2017, Hamish and Anna bought a straight Charloais bull which was a half-brother to Kakahu Gerry, a bull widely used in the dairy industry. So Hamish started breeding first-cross bulls and weighing them at birth.
He's been testing the market and the Changus bulls have been so successful he can't keep up with demand.
Kakahu has a sire bull from which limited semen has been sold to some dairy farmers to see how the calves performed. There are calves born with the farmers recording calf weights and other measurements. When Tom does ramp up the sale of Changus genetics, it will be done as semen, because that's what dairy farmers prefer.
Hamish says after the second cross they decided to slow the process down and put an Angus over the Changus heifers. They didn't want the Changus to get too strong with Charolais genetics so an Angus-cross sire was used. It meant fewer Changus bull calves, because too many were black. However, they also had some unusual progeny; some of the heifer calves were white.
Hamish says Tom took the cows and calves back to Kakahu and carried out genomic work. It takes a lot of time and money to harness the gene. For  example, out of say, 30 calves, 15 are heifers and only two might have the gene.
Hamish's original goal was to lease the Changus bulls out to dairy farmers for $600 and sell them as R2 for $2200. Mycoplasma bovis put a stop to that plan, except they do supply one dairy farmer who has run a closed herd for 29 years. He leases the bulls off Hamish which later come back to Clayton until they are sold to the dairy farmer in October. Dairy farmers want to focus on milking cows, not growing bulls.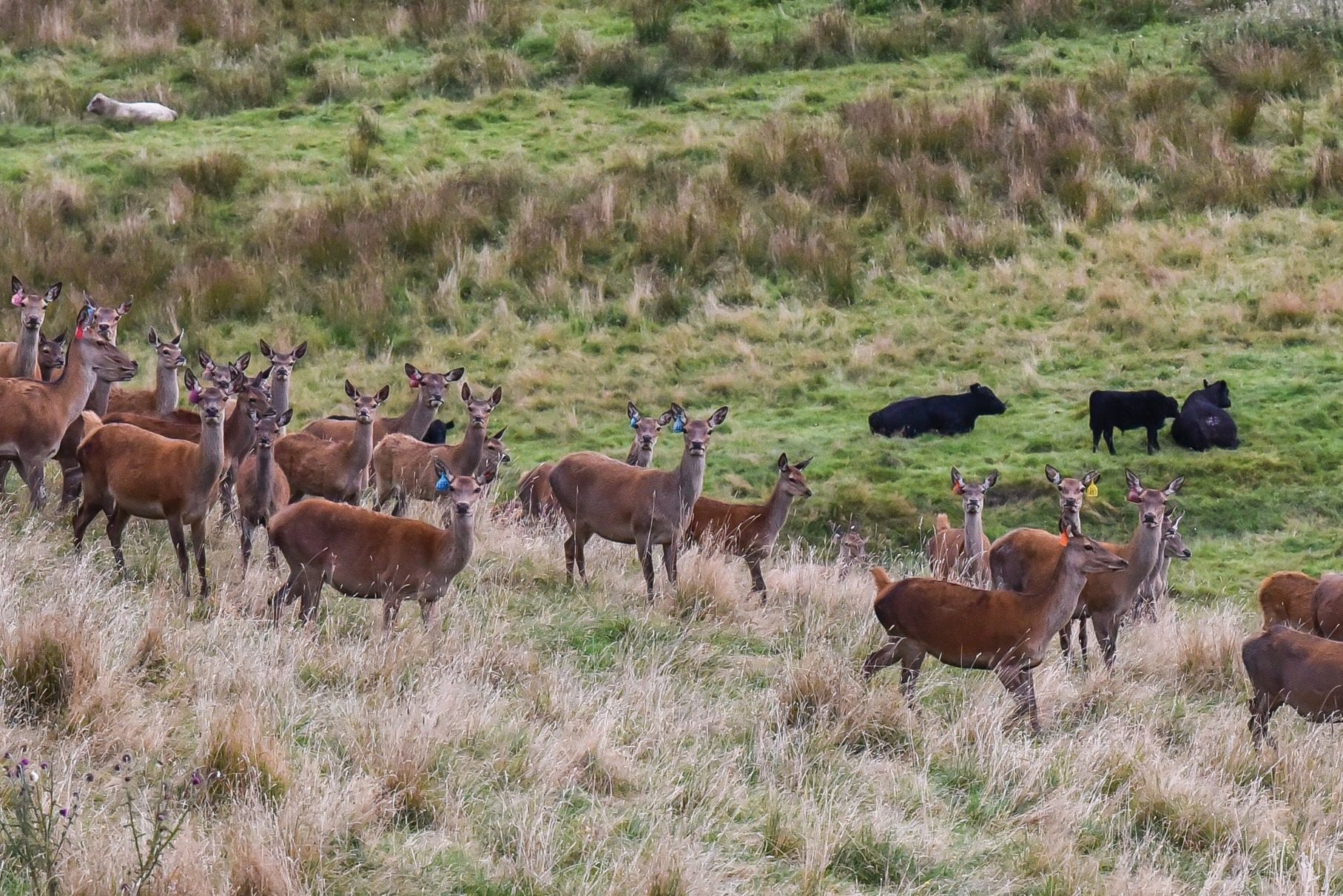 Loss of good genetics
After the bulls have finished mating, the dairy farmer sells them to the meatworks.
Other Changus bulls are sold as yearlings to dairy farmers. Most dairy farmers will kill them as R2s, though some might keep them for two years before selling them for slaughter.
Clayton doesn't have the land for buying back yearling bulls from dairy farmers because of M bovis. Instead, the animals are killed and good genetics wasted.
"It is too risky to bring them back to Clayton," Hamish says.
Leasing land and keeping the Changus bulls separate may be an option, but Hamish says it is unlikely to earn enough money. Or perhaps there is an opportunity for share farming.
Hamish says because of the Angus and Charolais genetics, the R2 bulls would be cheap to run. They wouldn't need to be fed a lot during winter and could then be pushed along in spring for compulsory growth.
"Dairy farmers would love to lease but it is the M bovis [which stops them]."
Like a number of farmers, Hamish also sells 100–150 Hereford bulls to dairy farmers who will pay $1800–2200 as long as they don't take too much of a loss when reselling. Ideally, they can sell the bull for at least $1600 to be killed. They might keep the bulls for two seasons before killing.
The Hereford bull selling will phase out as Changus numbers increase. This may be the last year they sell Herefords.
Clayton doesn't buy in a lot of stock and is virtually a closed system, which reduces the M bovis risk. The station didn't get caught with M bovis, but did have a couple of ghost cattle. They had been dead for several years but MPI still chased them up.
Hamish and Anna have 43 Changus bulls this year but hope for another 110 bulls next season for dairy farmers. They can't supply enough. One dairy farmer alone has 6000 cows and is keen for more Changus bulls.
"We didn't want to grow it too big, too soon," Hamish says.
He says it seems the bobby calf market wants a consistent and distinctive calf.
"There is a good market for the Changus, but it's a matter of taking our time."
Any outlier bulls that are too heavy are culled, along with anything that is late calving or with other faults.
A few dairy farmers are weighing calves at birth for them to make sure the genetics are performing as they should.
This year Hamish and Anna are putting 260 Angus and Changus cows to the Charloais bulls. The bull to cow ratio is 1:40.
Four years ago the Chaolais bull went over some Jersey dairy heifers and the first cross were mainly good, grey calves, some black. Clayton now has third-cross Changus cows.
Feedback from farmers who reared the Changus calves was that they sold well.
Supply chain forming
A supply chain is being organised by a pro-active stock agent, Ross Wilson from Whitestone Livestock, Oamaru. It is between the breeder, dairy farmer, calf rearer and finisher.
He had heard what Hamish was doing, met with him and is now selling most of the bulls.
"He will try and find the fattener who will take them," Hamish says.
"There's a market for used two-year-old bulls for the dairy industry but there is also one for virgins."
Clayton regularly takes Kakahu cows during winter for grazing to allow the stud's feed to build up. They go out on the hills and go home at the start of August.
The station's Angus cows calve down in the paddocks and after weaning spend the winter in the hills. Clayton runs from about 500m to 1000m above sea level.
The calves are on grass until June then go on to kale and fodder beet.
Clayton never gets huge growth rates on crops during winter, only 700g/day after weaning. There isn't much profit in finishing the calves. Instead the Orbells sell Angus calves, 240kg liveweight, to another farmer as part of an online deal with Five Star Beef feedlot.
Hamish says the Charolais temperament is known to be flighty, so the Changus cattle are constantly handled while on feed crops.
The number of deer on Clayton used to be about 4300, but after the venison price fell several years ago they are now down to 3400. Hamish held on to a number for another full season before selling and gained an extra $200/head.
Chasing lower wool micron
They are changing their sheep breed as they have been making nothing out of the crossbred wool from 6500 Romney-Texel ewes and 1200 hoggets. It costs $6 to have a sheep shorn and crutched.
Some of the Romney-Texel have been crossed with a Merino to produce quarterbreds and halfbreds.
The goal is a wool micron of 22–25.
"Long term we will still get fat lambs but a wool cheque too."
Hamish says probably only 75% of the flock will be changed because there is still a place for Romney-Texel ewes producing early fat lambs.
Cattle are used as a cleaning tool and in a good season won't see the hill country over summer and autumn until they are weaned. The sheep and cattle are mixed as a mob. The two also clean up the tag in the deer-fenced area. Sheep tapeworm has been found in deer, so oral and tape drenches have been used on the fawns.
Faecal egg counts are carried out on the cattle and sheep.
There are four full-time staff plus Hamish at Clayton, three working on the stock and two on the arable. They employ a casual during the harvest season.
He and Anna have three children, 14, 12 and 10. Anna does the book work and is involved in the community.
Clayton has a 230ha arable unit within the station with grain crops grown on rotation. When they moved around the farm cropping they never addressed soil fertility issues; now they do.
He and staff also harvest 600ha of crops on farms in the Mackenzie Basin. Some of the autumn and spring sown barley under irrigation yields 9–10.5t/ha. Given it costs $540/t plus cartage to buy in barley, it is well worthwhile.
Running two combines
Hamish has two New Holland combines, a 25-foot front and a 30-foot. One stays at home until they are up to date with the harvest before helping out the other.
December is the wettest month on Clayton Station which is good for filling grain heads. January and February are dry and good for harvesting.
They use aerial cropping for the hills and put winter feed in the non-arable land and grow some ryecorn for balage and silage. Weed problems are brome, ragwort, calis and nodders. The Cinnabar caterpillar seems to be controlling the ragwort. The Olsen P and pH in the paddocks are in the 20s and about 6.2. In the hills about 8 and 5.2.
In the 2015/16 season they didn't get the norwest rain and the dry led to 2000 ewes and hoggets sent away for grazing. The lambs were killed at lower weights.
Two years ago the station's flats were covered in water and 90% of the flood gates on main rivers were destroyed.
Even though the station is up the road from the Opuha dam, it has no irrigation. The rainfall is usually about 1100mm. They were offered B class shares but never took them up because when they needed the water it would not have been available. They would have had to put in a dam to guarantee water was available, so all too expensive.
Hamish says there are other ways of handling the climate such as the management of pastures.
Double dilution gene
Dilution gene variants interrupt the deposition of pigment in skin, hair or feathers.
Scientist Nicola Dennis says these are benign mutations that "wash out" or dilute the base coat colour. Chocolate labradors, blue chickens/dogs/cats and palomino horses are all examples of dilution variants in action.
These variants are often incompletely dominant, that is, the effect is dependent on the number of copies of the mutation inherited. For example, one copy of the PMEL17 mutation that causes dilution in Charolais cattle will produce animals that are grey or pale-red (depending on the base-coat colour), whereas two copies will produce a white- or cream- coat colour. Likewise, one copy of the dilution gene in chickens will turn a black hen blue, but two copies will turn it into a pale grey hen with spots.
While double copy dilutes can sometimes be strikingly pale, they are very different from albinos which cannot produce pigment at all. While dilutions result in fun colour palettes, albinism causes serious health concerns.
FARM FACTS:
Breeding beef bulls for dairy.
Many calves white or grey.
Supply chain forming.
Crossbreeding for finer wool.
4100ha flat and hill.
Arable unit part of station.
Contract harvesting 600ha.
Selling R1 Changus bulls for $1600 and R2, $2500.
STOCK
5500 ewes
1200 hoggets
3400 deer
800 cattle