Former East Coast farmer Clive Bibby reflects on the struggles of hill country sheep farmers.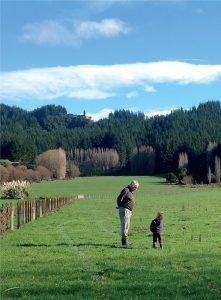 There is no question in my mind that the 20-years between 1970 and 1990 was probably the most important transitional time in this country's sheep breeding history.
It was when the future of the nation's pastoral economy hung by a thread because of historically low performances from the majority of sheep flocks struggling on hill country.
I can say without contradiction, that the combination of some very capable hill country animal husbandry scientists (Professor Al Rae from Massey, Drs Clive Dalton and Neil Clarke from Whatawhata and Jock Allison from Invermay, coupled with those entrepreneurial farming leaders like Tony Parker, Holmes Warren and John Daniel, to name a few) were responsible for literally saving this nation's sheep industry.
Due to a bout of ill health that has prohibited me from continuing my active farming career, I have channelled my energies into writing and directing a number of large community projects. Even at 74 years old next month I am still vitally interested in how the rural economy and its associated communities are progressing.
I have to say that I am very worried about the potential damage this Government is doing to the agriculture industry.
We need to speak out about it and I am.
A recent reading of the October edition of Country Wide Sheep left me with mixed emotions.
Recognising in the advertisements, the names of many ram breeders who led a breakaway movement from a failing traditional sheep breeding industry during the period 1970s-1990s stimulated some wonderful memories but also caused me to focus on some recent developments that should concern us all.
I was encouraged to reflect not only on the value of their work but also how it might all be put at risk by politicians who appear hell-bent on "biting the hand that feeds them and us" – all in the pursuit of an ideological objective that is more than likely unattainable.
How could they be so stupid!
To be fair, the damage to the industry began under a number of previous administrations when they oversaw the demise of the MAF's advisory and research and development departments which had provided the technical input necessary to ensure the restructuring of the breeding programmes on these innovative properties was based on sound genetic and management principles.
However, the punitive measures (carbon tax etc) that are planned to be selectively imposed on many of the support communities could have more sinister implications than the debatable justification for withdrawing the scientific backup. Hopefully, it won't come to this.
Back to the history books.
I had the good fortune to be a MAF animal husbandry advisor working with some of the giants I refer to earlier in this piece. It was an exciting time being in the company of such trailblazers. While a number of these great men have passed on, a few survive among us having transferred control of their flocks to family members who thankfully have, in most cases, added value to this priceless gene pool. The industry and the legacy of those no longer with us is in good hands.
People like Holmes Warren, John Daniel, the Bendall family including Bill Carthew who developed his own Coopworth stud in the Wairarapa plus Tony Parker and Bay de Lautour in the Hawke's Bay were conspicuous even amongst their peers. Obviously, this list only includes some of the standout characters from my patch.
There were others of equal courage and ability from districts covering the whole country. I was lucky enough to meet many of them and gain from their wise counsel.
Clive Bibby was an animal husbandry advisor/media consultant with the Ministry of Agriculture and Fisheries (MAF) until he resigned in 1980 to go farming on his own account on the East Coast. He helped set up a number of sheep stud flocks. The latter time with MAF was spent in Hamilton where he worked on a television programme, Farming Today – "the nerd's version of Country Calendar."