Looking for community connection
The upper Taieri scroll plain is unlike any other inland river habitat in the Southern Hemisphere. By definition, a scroll plain occurs where a river snakes its way across an area with a very low gradient. In addition to meanders, scroll plains are also characterised by many oxbow lakes and bogs which help store water and release it slowly into the river system, buffering low and flood flows.
Building a multi-million-dollar water care project in a year has been no mean feat for a group of dedicated Maniototo locals. Each is ardent about preserving and enhancing the values of the upper Taieri Catchment in Otago.
The five-year Tiaki Maniototo project run by local catchment group, Upper Taieri Wai, received $4.55 million from the Ministry for the Environment (MfE) towards freshwater improvement in the Taieri catchment this year. When combined with the in-kind support from other agencies and farmers, the total budget amounts to about $6m.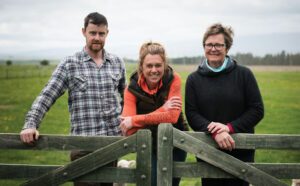 Project manager Morgan Trotter says the project is about improving freshwater quality, ecosystem values and biodiversity in the Upper Taieri catchment. Trotter previously spent 17 years working for Fish & Game in the region and has more than 20 years' experience in freshwater environmental management. While the focus of the project is creation of jobs and environmental outcomes there is a "massive" opportunity to help farmers through upcoming regulatory changes.
He says perhaps the most important part of the project is developing a catchment management plan to improve water quality while maintaining the financial viability of the farms.
"There are a lot of regulatory changes coming, and we want to help farmers through those."
With the project now off the ground, they are looking to gain the support of the community and stakeholders around them, as they realise this is crucial to influencing the larger outcomes brought on by regulation.
The funds will be used for 16 projects which will eventually lead into the formulation of a large-scale catchment management plan. These include the establishment of 90,000 riparian plants, 200km of fencing, pest control, water quality monitoring (specifically around E. coli and sediment loss). So far they have undertaken a large-scale geese cull, planted 1000 trees on a local dairy farm and fencing is about to get underway.
The river is known for its brown trout fishing and the group is working with the walking access commission to improve recreational and amenity values.
"There are a few old picnic areas that have become run down and we would like to revitalise them," Trotter says.
One of the major hurdles they face is the redelineation of the wetlands surrounding the Taieri River scroll plain.
"We are hoping to work closely with Otago Regional Council (ORC) when it comes to ground truthing what's wetland and what's pasture on the ground and have some influence there."
Once they have worked through this with the ORC it will allow them to get the 'right fences in the right place'.
Bringing the community along
Puketoi farmer Emma Crutchley's family has had a long association with water in the Maniototo. Her father, Geoff Crutchley, instigated the Upper Taieri Wai Catchment group, one of the first large-scale integrated catchment management projects in New Zealand. He was awarded a Queen's Service Medal in 2019 for services to water management.
Emma has taken over the mantle from her father, advocating for farmers in the areas of irrigation and freshwater management. She spent countless hours pulling together the Tiaki Maniototo submission to the Freshwater Improvement Fund and it isn't lost on her how important the community buy-in will be to the success of the project.
"One thing that is front of mind is giving everyone involved ownership of the programme. If you've got everyone together, you've got buy-in."
She says a common misconception around environmental issues is that they will be solved by regulation alone.
The research is quite clear that outcomes are driven by people working together and buying into solutions around water quality.
"We can chip away for five years and do some planting and fencing and that would be nice… but the real win will be when we can bring everyone together for outcomes that are going to last longer."
They want to preserve the hydrology and other key values.
"With all those factors interacting it's going to take more than just one blanket regulation to achieve the right outcome."
Cutting through the bureaucracy is an ongoing challenge for the project team.
Regulations are evolving within Otago and at this stage they are not sure how government direction will be interpreted on the ground, which creates a lot of uncertainty,
Project administration officer and Patearoa farmer Janine Smith says there is still some denial in the community that regulation is coming, and the shifting goal posts don't help.
"I think sometimes it seems like [change] is all too big, too much for people, and to a certain extent there is a lot of it that isn't logical and doesn't make sense.
"But [with the project] we are able to try and do something about it."
Smith says it is not about convincing anyone, it's about reassuring people the project is all about assisting landowners to find their way through regulations.
"To even have the energy to find out what stands to be lost – because once [regulation] happens there is no going back."
Trotter agrees. He says the fencing subsidy is perhaps a good foot in the door. They will be able to meet with farmers and talk to them about the project, helping them financially in different areas. Hopefully it will encourage them to join.
Success to him would be getting a pragmatic management plan over the greater scroll plain that allowed grazing over the higher, drier areas to manage long grass and willows, while taking a closer look at the impacts of intensive farming in the area.
In the meantime, the group is committed to gaining traction.
Crutchley says it has been difficult making decisions when they don't have all the information at hand.
Smith says they held a community workshop and got some positive feedback from the 100 people that attended.
Project support is being provided by ORC, DOC, B+LNZ, Fish & Game, Walking Access Commission, University of Otago and Otago Catchments Community.