Genetics and quality feed drive growth
Farming in tough Otago country has its challenges, but careful stock selection and the ability to change direction when necessary is proving successful for a Southland couple. By Annabelle Latz.
Pikoview lies north-east and boasts strong fertile soils.
The winters can be long and cold in Wilden, Otago. Dry autumns can be a challenge, and the last couple of summers have been on the dry side too.
Despite this, Wilson Devery and Val Smith, both 52, have their sheep and beef farm Pikoview humming.
The gross revenue is $321,000 and economic farm surplus is $142,000, running 1500 Perendale-Textra cross ewes and 440 hoggets, and cattle.
The animals originate from the France family of Hazeldale stud at nearby Moa Flat (Perendales) and from Leon and Wendy Black of Blackdale stud near Riverton in Southland (Textras). They also have 180 Sufftex stud homebred ewes of Poll Dorset origin, and 20 rams/teasers.
Wilson and Val started with Perendales, bringing in some Textra a few years later to improve the milking ability, which in turn also improved the weaning weight by three kilograms.
They've also had stud Romneys since 1998, which they put over a Cheviot.
"As a farmer, trying to improve the genetics of your sheep is one of the more enjoyable parts of farming," Wilson says.
When breeding sheep Wilson and Val prioritise good feet, dual purpose ability and an alert nature.
Pikoview is 218ha, 200ha effective and about 130ha is cultivated: 10% for winter crops, 20% red clover, 35% maverick long rotation ryegrass (every four to five years), 25% permanent pasture, and native gullies make up 10%.
The red clover paddocks last four years, then are direct-drilled into Chou Moellier (chou) in early November (chou comes in at 18–20t/ha), cultivated for fodder beet (23–25t/ha) the following year, then cultivated back into red clover (15–18t/ha).
"This system ensures high-quality feed for milking ewes and finishing lambs."
The feed crops look good too, as they utilise the available nitrogen which is fixed into the soil from the clover.
When direct drilling the chou, they put in 250kg DAP next to the seed to ensure great initial growth.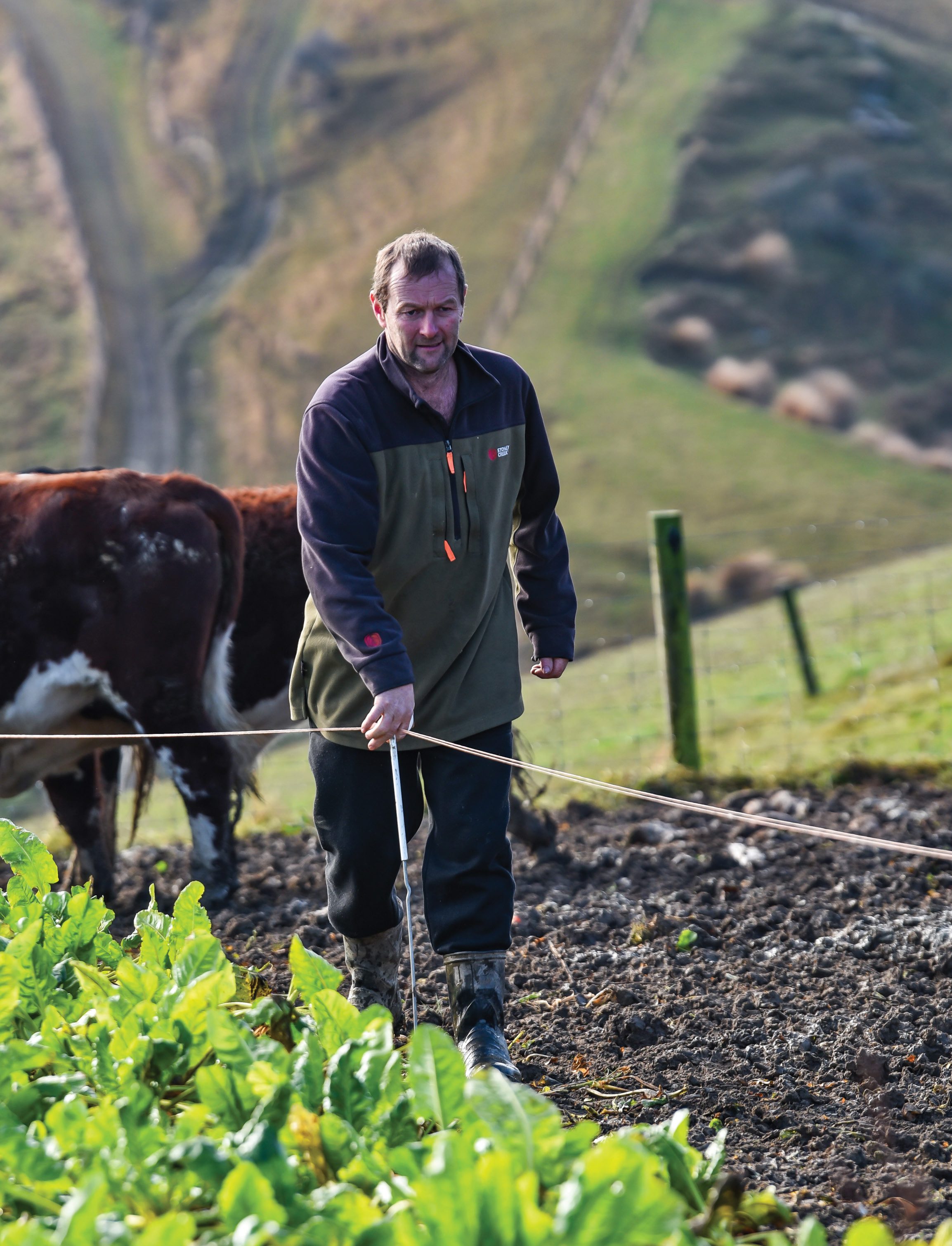 After four years of short-term grass, swedes are sown early November (15–18t/ha), then green-feed oats are sown in August as a catch crop and made into whole crop balage in the leafy stage in late November.
The paddock is then put back into short-term grass.
"Traditionally, the paddocks sat fallow until November, so being able to sow oats is a bit of a win for our balage and for the environment," Wilson says.
Wintering hoggets happens on a swede/chou mix on four-day breaks; no supplements are needed.
Ewes are mated in April; they lamb about September 20. They don't mate their hoggets, as Wilson and Val like a bit of time off every now and then.
After scanning in July, ewes are put on the beet and in mid-August are moved to a swede/chou mix with red clover balage.
The one-year ewes are lambed on shogun grass then moved on to red clover.
For the ewes marked for the works, lambs are weaned early in late November at 60 days old. The maternal white-faced lambs are weaned mid-December, while the terminal B mob ewes and lambs are sent on to clover and weaned January 10.
"Lambs are killed every two weeks off clover."
Ewe lambs are on red clover from March 20 to June 1, a system Wilson likes as he sees a 2kg/week weight gain all summer through to two-tooth age. He also has the ability to feed ewe lambs and maximise the clover until it shuts up for winter.
Growing quality feed means they can stagger weaning times to maximise lamb weights for the works, while optimising timing for the freezer ewes, taking advantage of schedule peak and space availability.
Bringing in the cattle
Cattle were introduced to Pikoview a couple of years ago. They trade with 80 R2 beef bulls and steers, 30 R1 bulls and 20 R1 steers.
Friesian cross is the main breed, bought in March as calves and 18-month-olds, fattened then killed as prime generally nine months later.
They're fed on chou during the winter and then moved onto beet with wholecrop balage.
There's no escaping the challenge the long and cold winter poses on growing crops and supplements.
"We do get an explosion of late spring growth … which the R2 cattle do help to control."
A good winter feed system means they buy only the top R1 bulls in late autumn, and three quarters of the R1s will be killed mid-February at 290kg liveweight (LW).
Their farm lies north-east and boasts strong, fertile soils, which means Pikoview is suitable for drier wintering conditions.
The average rainfall is a healthy one in the gauge, usually hitting the 950mm mark, although in 2022 only 730mm fell.
They can't control the weather, but Wilson and Val have the ability to change direction when required.
In late 2021 they sold 20% of their capital stock ewes and cows due to two dry autumns in a row. They replaced them with trade cattle to have less capital stock over the summer and autumn period.
Wilson says they are trying to get away from the dry autumn, so all cattle are gone by mid-February, most before Christmas.
"That's the pinch time. We need autumn feed for the ewes."
Due to lack of grass, in April last year Wilson and Val mated the two-tooths on chou instead and they scanned at 190% – a good jump from 165%.
As a result, this year 60% of the ewes and two-tooths were mated on chou.
"Chou has its advantages, like offering a high-protein diet and nil-worm challenge."
Spring snow during lambing is a challenge. In 2020 they had nine days of snow in the first 17 days of lambing in September and October, which Wilson says was "not fun".
The way around this is to have lambing ewes on a good cover with sheltered paddocks.
"We open the gates accordingly when weather events are predicted."
A match made in uni
Wilson grew up in Tuatapere in Southland and at 18 years old went in with his parents to buy a neighbouring farm. He completed a Diploma in Farm Management at Lincoln University then went full-time shearing, first in Southland and then around the world (which meant no duck shooting or a roar for seven years). His time away helped build his capital reserves and weather the interest rate hike (22%) in 1990. Back in NZ, he was still on the end of a handpiece, while helping his father and brother on the farm when he had time.
"I enjoy shearing even now, I still shear all my own sheep."
Wilson says daily life at Pikoview means a good family effort.
"Val's great at penning up, being a rousie, and making the lunch and smokos."
He says their 15-year-old son Hunter can be handy too.
Val grew up in Hokitika and met Wilson at Lincoln University while studying for a Bachelor of Agricultural Science. Like Wilson, Val clocked up some impressive hours over the years as a rouseabout in woolsheds dotted over the world. She worked in Australia, the USA and parts of the United Kingdom, braving all types of weather.
"In Colorado it'd be freezing and we'd be in full jackets, gloves and hats, and we'd shear inside in Western Australia during some massive storms."
During some of Wilson's stints abroad, Val stayed back home and helped on Wilson's family farm.
In 2005 Wilson and Val bought 63ha at Pukemaori for dry stock and the juggle of shearing and leasing continued.
Buying Pikoview
Always a family to take opportunities as they presented themselves, leasing the home farm with Wilson's brother worked well for four years. They then sold Pukemaori farm to the dairy industry, and after a year of searching, they bought Pikoview in 2015.
"We were sick of working for the bank, and thanks to a joint tender and a bit of luck, we were thrilled to be able to call this farm home," Wilson says.
Aside from contracting out for capital fertiliser application and balage making, they do everything else themselves as they own their digger, direct drill and precision drill.
They put in 23 kilometres of new and upgraded fences themselves during the first three years of owning Pikoview and have doubled the number of paddocks, with water now going to all paddocks including gullies.
The sheep yards were rebuilt in 2019, and to improve drainage more than 100 coils of novaflow have been installed.
"It's handy to have your own digger."
They've planted 10ha of pine trees on the south faces, as well as 2km of flax and eucalyptus Rodwayi shelter belts.
"We have most creeks and wetland areas fenced too. We did this early on. It's great to keep the waterways clean and it's helpful for managing stock. This is all an enjoyable part of farming, it's really rewarding to see what's been accomplished."
For people aspiring to getting into farm ownership, Wilson says it's important to have people around to talk to who are happy to offer professional advice about their decisions.
He says enjoying what one does is important too.
"Farming can be hard work, but with effort, determination and sacrifice, you're on the right track to get there."
Wilson says a priority for their family has been to keep the mix of hard work and rest. Off farm the family likes to get away in their own backyard for some hunting, whitebaiting and fishing, and overall it's a pretty good lifestyle.
"In five years I still see us here, perhaps with easier workloads once the developments are done and debt gone."
And maybe he won't be shearing his own sheep.
Friesian cross is the main breed of cattle.
FARM FACTS
 Based on a three-year average covering 2020–2022.
Moa Flat (Wilden)
218ha (200 effective)
Meat and wool production
1500 ewes and 440 hoggets
80 R2 beef bulls and steers, 30 R1 bulls, 20 R1 steers
Stock rate: 12.5 SU/ha
Lambing 137%
Lamb kill weight: 19.1kg
Production/ha (meat): 321kg/ha
Olsen P levels 41 avg (range 20–61)
pH 6.2 avg
Environmental improvements: fencing creeks, planting shelterbelts, a sediment trap/wetlands at the duckpond.
FINANCIAL
Gross farm income $377,000
Farm working expenses $217,000
EBIT $159,452
Return on capital: 4.8%
Big costs: Vehicle repairs, maintenance $13/su
Fertiliser $17.23/su, ($201/ha). ** The benchmark is 126/ha, but they run stock at $12/su, the average is $8/su
Animal health $8.26/su, ($97/ha)
Grazing costs: $16/su ($40,000/year).