Could forestry land values go higher? Quite possibly, but not all forestry opportunities are created equal, Tim Banks writes.
Buyers need to consider a long list of factors before buying a block of land and forestry is no exception. Recent changes in Government policy and further steps towards carbon neutrality, make it easier for foresters to compete for better parcels of land with good growth rates, easy to harvest, and proximity to ports and processing facilities.
The One Billion Trees programme provides subsidies for the planting of new exotic and native forests. While half of this will be replanting, the remaining (about 500,000 hectares) will be planted on farmland of varying quality.
The 'average accounting for carbon' rules, introduced in March this year, mean a greater allocation of New Zealand Carbon Units (NZCUs) via the Emissions Trading Scheme (ETS), as well as greater protection from tree losses.
Carbon credits and timber prices are trading at or close to historical highs and demand for NZ logs is strong with a positive outlook. The Overseas Investment Office (OIO) is still approving sales of NZ land to foreign investors for forestry.
All this is making forestry investments more attractive and some significant recent sales of large pastoral properties for afforestation are making the headlines.
Hadleigh Station in the Wairarapa, an amalgamation of three farms totalling 1728ha owned by Lonestar Farms sold to Austrian forestry investor Veronika Leeb-Goess-Saurau for $13,750,000 or $7957/ha. We understand about 260ha is to be on-sold for $3.8 million.
Tunanui Station in Northern Hawke's Bay, a 2061ha property sold for $17m or $8249/ha. Another forestry syndicate which required Overseas Investment Office approval, we understand was willing to pay slightly more, although was unsuccessful.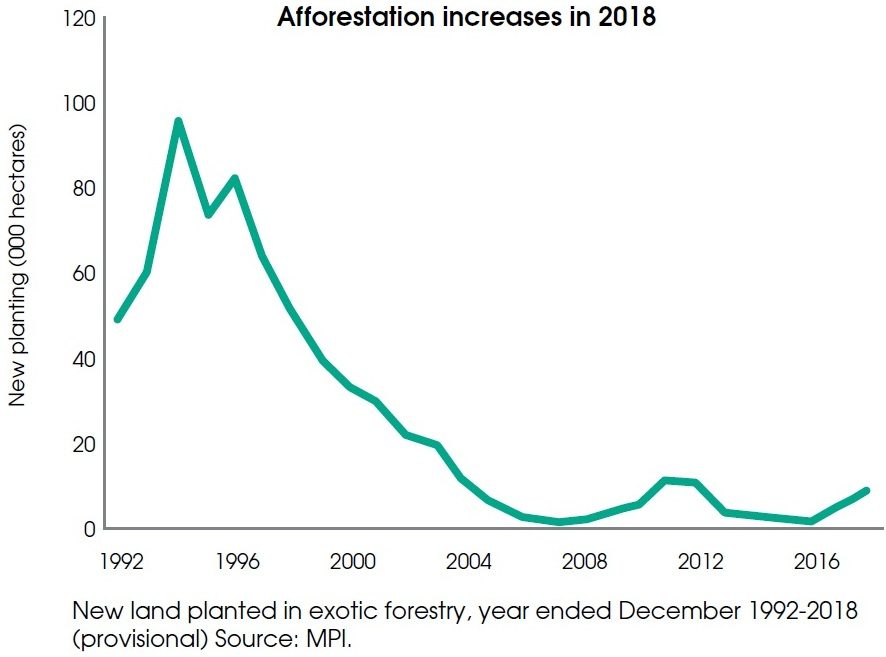 In Canterbury while we have observed some forestry activity, the market dynamic is quite different. Pastoral farmers are mostly able to compete with buyers of land for forestry.
Forestry demand though is underpinning value, particularly for land suitable for planting (land not planted in trees as at January 1, 1989).
As a result, clear land suitable for afforestation has shifted upwards in value from about $2000 to $3000/ha to $3000 to $4000/ha and higher for smaller parcels – 20ha or more near existing forest land.
Greater demand and higher prices being paid for afforestation land, particularly with easier-contour, in other regions compared to Canterbury can be partly explained for graph below. Exotic forest (Pinus radiata) on the East Coast of the North Island will contribute to sequestration rates up to 77% higher than the same plantations in Canterbury.
We see anecdotal evidence that farmers are considering planting trees alongside their current operations to improve cashflows and increase land utilisation.
We will watch with interest to see if returns relative to pastoral farming for forestry and carbon do go higher, and whether land values follow.
Timber and carbon, like lamb, mutton, wool and beef are commodities and subject to cycles. Timber and carbon particularly perhaps more so as government policy grapples with the challenge of transitioning the NZ economy towards a zero-carbon economy.
Tim Banks is a registered valuer and associate director at Colliers International.