Working dogs: Life after the farm
Former working dogs are finding new lives with domestic pet owners after a life of toil on the hills thanks to the work of a former vet nurse. By Rebecca Greaves.
Minty, who retired after a long career, now spends her days as a much loved pet. Photo: Lucia Zanmonti Photography.
Former working dogs are finding new lives with domestic pet owners after a life of toil on the hills thanks to the work of a former vet nurse. By Rebecca Greaves.
Hundreds of retired working dogs have found loving new homes thanks to the tireless efforts of the Retired Working Dogs New Zealand (RWDNZ) Charitable Trust.
When dogs come to the end of their working life, have injuries that mean they are no longer able to do the job, or even those dogs that simply don't want to work, farmers face the problem of what to do with them. Many of these dogs are more than just valuable workers on farms, they are loyal and trusted companions.
Founded in 2012 by Natalie Smith, who was then working as a vet nurse in Pahiatua, the trust provides a platform for farmers to advertise retired, injured or failed working dogs, and pig dogs. The trust also takes into foster care those dogs that are unable to stay onfarm.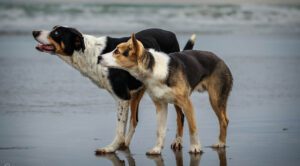 Former working dogs make wonderful pets and are so popular that they have a long waiting list of people wanting to rehome one, Natalie says.
"These dogs have the most beautiful farm working manners. Someone said to me once, 'you know what you are getting with a working dog', and I think that's true."
From small beginnings, Natalie started rehoming local dogs and things slowly grew from there. It was when Totally Vets got involved and vet Helen Sheard and vet nurse Kayla Groves came on board as trustees that they launched as a charitable trust, and things really shifted up a gear.
Natalie vividly remembers being thrilled when the Facebook page had received 50 likes – today the page has more than 27,500 followers and page views on their website have clocked more than 903,000. The trust has rehomed well in excess of 500 dogs and, since 2016, has listed 1343 dogs on behalf on its website.
The trust relies solely on volunteers, sponsors and donations to run. Feed is the biggest expense and Coprice is the feed sponsor, providing food for all the dogs in foster care.
"We couldn't do it without them. Feed is our biggest cost, followed by vet bills. We're really lucky that Totally Vets does us a great deal there. As for money coming in, it's all donations."
Natalie was thrilled this year to be included as one of the charities people could opt to donate to as part of the Landcare Trust Rural Partners Survey.
While it's not possible to claim a 100% success rate, as most dogs are advertised on behalf of their owners, Natalie says they always tell farmers to let them know if they're having trouble rehoming their dog, and RWDNZ will happily take it into foster care.
Farmers fill out a form to apply, which generates an ad for the dog that is shared to the Facebook page and website.
"There's a huge demand, dogs tend to find homes really quickly and we have a huge waiting list of people looking for dogs. Where possible, we reserve space in foster for failed, retired or injured working dogs."
The most popular dogs are those ready for retirement, but still able to potter around a few sheep on a small block, which appeals to lifestylers and retired farmers who may still have a small landholding.
"My advice to farmers is, if your dog is slowing down, rehome them now when they can still cruise around and enjoy a nice retirement. People also really like the failed dogs. They're perfect because they don't want to chase sheep and are ideal as a running or adventure buddy."
Natalie says it is a great feeling to have made a difference for so many dogs and their owners. "I have met the most incredible dog people doing this. Together we have saved so many dogs and you can see farmers really appreciate it too."
Her message to farmers is that the demand for these dogs is there.
"Don't think no one will want your one-year-old useless heading dog – they will. It might not be the dog for you onfarm, but it might be someone else's new best friend."
Natalie is always keen to hear from people with knowledge of working dogs who might be able to provide farm-based foster care. If you would like more information about RWDNZ or to donate, visit retiredworkingdogs.org.nz