Country-Wide first profiled Richard Dawkins' triplet lambing operation in 2017.  It was so successful he's running the intensive indoor lambing for a second year, with a few tweaks to the system to improve margins. Joanna Griggs reports.
Richard Dawkins has turned triplet ewes from a liability to an opportunity.
Lambing triplets indoors has boosted triplet lamb survival from an average of 200% to 244%.
Dawkins told 80 farmers at the Marlborough Farming for Profit and Beef + Lamb NZ innovation day, the positive flow-on benefits for the rest of the 645-hectare down and hill country farm are significant.
"Our lamb mortality average over the whole flock, before indoor lambing triplets, was 24% but it dropped to 15% in 2017."
Having no triplets to deal with outdoors has made his father Chris's outdoor lambing beat for twins and singles much more effective.
The cost in 2017 was $65/ewe but with cuts to feeding time and type, and labour savings, they have managed to slash costs to close to $30/ewe this season.
'This simple system suits us as our ewes were intensively managed already and used to people, we had a covered shed with morning sunlight and roller doors for ventilation.'
"But for most people taking on the system first-up it will be better to work on $65 dollars a ewe," Richard says.
"Following best practice in year one is a good idea, then refine your system from there."
Richard's triplet management system starts by using ram harnesses at tupping to identify lambing date to within seven to 12 days. Five days out from lambing, ewes are introduced to lucerne hay and pea supplements. Ewes spend about seven days under covered yards, where they lamb and then bond with their triplets.
They are then moved back to pasture nearby where lambs are observed to catch any fading triplets. These slow-starve lambs are removed and raised as orphans or, in a new practice for 2018, mothered on to single-bearing ewes and raised as twins. Then the family units move to downland quality pasture with ad-lib clover.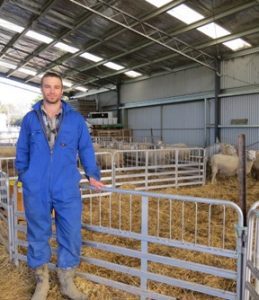 The Dawkins' 1400 Longdown ewes are at the front of the pack in terms of prolificacy. In the record-breaking year of 2016, mixed-age ewes scanned 217% but losses saw the lambing percentage end up at 156%. In spite of best shepherding endeavours from Chris, it was still difficult to exceed 200% survival from triplets lambed outdoors. The Dawkins reacted by lowering tupping weight by 10 kilograms the following year, to try and cut triplet conceptions. Then Richard took his experience from seeing indoor lambing in the United Kingdom and created a Dawkins hybrid indoor/outdoor method.
It's not for everyone, Richard says, but considering the benefit to the farm-wide operation, they repeated it. This season they had 250 triplet-bearing ewes and, by August 25, had a 244% lamb survival rate.
After following the 'no expense spared' best practice in 2017, this year the Dawkins have cut back on costs. The cost of labour and supplements has fallen from $65 to $26 per ewe. Four weeks of supplements has dropped to five days, with the ewes being especially quick to eat the offered supplements if they could see other ewes already eating it, Richard says.
"Return triplets had a good memory too."
Ewes are fed peas instead of speciality nuts alongside lucerne hay as it's 30% cheaper. Straw bedding is not changed daily, just new straw laid on top.
"We have a more relaxed approach to hygiene," Richard says, but a dry ventilated shed is key. They also built their own gravity-fed automatic milk feeder for the orphans, which was cheap to make and has dramatically reduced labour costs.
"This simple system suits us as our ewes were intensively managed already and used to people, we had a covered shed with morning sunlight and roller doors for ventilation."
"And we have a family team willing to do long hours over lambing."
Death rate drops 38%
The Dawkins partnership of Richard, Chris and Julia, used support from the innovation farm programme to trial and monitor indoor lambing.
Lamb death rate in the 1400 Longdown ewes has dropped by 38% (by nine percentage points to 15% of total). This trend continues in 2018 with a lamb death rate farm wide of 17% to date. Triplet-bearing ewe deaths was typically 10% but has dropped to 3.8% in 2017 and 2.5% this year.
Looking at the triplets in isolation, it stacked up in Year One although just marginally above outdoor lambing; about $1500 ahead. However, when calculating the improved lamb survival across the twins and singles as well, the profit was around $14,000, Richard says.
In 2017 the Dawkins sold 316 lambs out of a potential 390 at an average of $139. The average lamb weaning liveweight for triplet lambs kept on the ewe was 30kg.
Identifying starving triplets a week after lambing has been an important part of reducing deaths; 41% of the orphan lambs were from this scenario, although this has dropped to 25% this year. Growth rates pre-wean were 265 grams/head/day for orphans. Richard describes this as "acceptable for cow colostrum, which is sometimes considered an inferior product".
Keeping costs to $28/ewe has meant net profit is looking to leap to $79/triplet lamb (sold as a $90 store lamb). Richard lists wider benefits as more highly fecund triplet ewes surviving for another lambing, improved genetics, pasture saved outdoors, a big head start on tailing and the peace of mind of having animals indoors.
"All of this is difficult to quantify."
Having an interest in a dairy farm on the West Coast means a reliable supply of cow milk at a quarter of the cost of milk powder. Richard says on a milk powder system, it takes about $100 to raise an orphan lamb. Orphan lambs need more labour making it marginal. Hence the change to mothering orphans on to ewes with singles.
Richard assisted one third of the births in 2017 and 25% this year although some may have resolved without help, he admits.
"The benefit of having the ewes indoors is you don't have to take any chances, just give a helping hand when required."
The Dawkins were pleased with the farmer interest in the field day.
"It's certainly a topic farmers' are interested in, even if it doesn't always suit their system."
TABLE A: Dawkins Indoor/outdoor system, 2018.
 
Lamb loss whole flock %
Triplet lamb survival (potential 300%)
Ewe death (triplet bearing)
Cash value of ewe death over 130 ewes (not including lambs)
Input cost/ewe over lambing. Labour ($20) and Feed (grass vs hay and nuts/peas)
Profit from lambs (excluding whole flock benefits). Assumes lamb $90 at weaning at 30kg
Profit incl ewe death loss
Outdoor intensive shepherd average
24%
200% average
10%
13 x $200 = $2600,
$23.48/ewe

Total = $3052

Over 130 ewes 257 lambs

$3052/257 = $11.88

$78 profit X 257 lambs = $20051

$17,451
Triplets Indoor 2017

+ orphans mainly hand reared

15%
243%
3.8%
5 x $200 = 1000
$65.38/ewe

Total = $8500

Over 130 ewes 316 lambs

$8500/316 = $26.90

$63 profit X 316 lambs =  $19940

$18,940
Triplets Indoor 2018 + orphans mainly mothered on
17%
244%
2.5%
5 x $200 = $1000
$26.57/ewe

Total = $5394

Over 203 ewes 495 lambs

$5393/495 = $10.90

$79.10 profit x 495 lambs = $39155

$38,155
Comparison of the Dawkins' outdoor triplet lambing vs outdoor/indoor hybrid systems 2017 and 2018. Note: 2017 figures are over 130 ewes, 2018 over 203 ewes to date. Excludes capital costs from both systems (e.g. bike, yards, milk warmer).  The Pyramid, Marlborough.
Improved Lamb and Ewe Survival across the Whole Flock, The Pyramid.
| | | |
| --- | --- | --- |
| SYSTEM | Lamb loss over whole flock | Ewe death rate |
| Outdoor only (long term average), some orphans reared | 24% | 10% |
| 2017. With 130 ewes through Indoor | 15% | 3.8% |
| 2018. With 203 ewes through indoor | 17% | 2.5% |