Joanna Grigg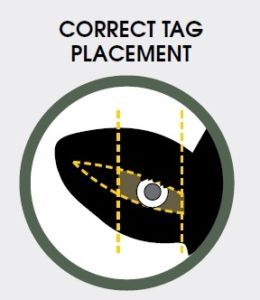 Paul Hickman, Taimate Angus Stud, Marlborough, has dozens of NAIT transactions each year, but often for just one or two bulls at a time.
He describes his NAIT system for the farm business as "getting there".
"I was a reluctant learner at the start but then I decided I probably should sit down for an hour and read up on it all and understand it."
"Actually, it wasn't too hard to get a smoother system going."
NAIT tags go on to Taimate calves at birth, as part of the stud recording process of weighing and tagging at birth. Commercial farmers would put tags in at calf marking or pre-sale.
Taimate NAIT tags are numbered to correspond to the visual tag of the new-born calf. Using the wand they are scanned and the tag numbers blue-toothed to the weigh scale box, which can then be taken home and files uploaded to NAIT.
The file is uploaded and tags registered and from this point the tags are 'live'.
Paul has a panel reader set up in the yards which can electronically read and record the tag.
"The EID tags are constantly used to monitor a range of things such as weight, scanning, mating."
Paul used to keep tag registration process simple by giving all the calves in the batch the same birth date, breed type and no distinction between heifer or bull.
"But now with a better set up of tag scanning at birth, these details can be added in a simple way."
Like many farmers Paul said the Bluetooth capability between the panel reader computer and his smartphone doesn't always work.
"So I unplug the yellow box off the panel reader/scales and plug it into my home computer to download the tag numbers."
Paul runs the whole system himself.
"Then it's only myself to blame if it's not done right."
He likes to scan and record all cattle NAIT numbers as they go on the truck, so he can prove that they had tags when loaded. This is even if he already knows all the tag numbers in a mob from yarding a few days prior. He loads these numbers into the NAIT tag page to double check that each tag is registered.
A tip is to make sure you make time before the truck arrives to re-tag any cattle with missing tags.
"Always have a spare box of tags.
"Any replacements gone in will have to be scanned and then have their tag number registered as well."
This is done using the NAIT replace tag function.
Because Taimate cattle are number branded and have an ear tag number linked to its NAIT number Paul can tell what tag is missing and mark it as such on the NAIT system.
Paul says he keeps all his email records from NAIT to prove what transactions were made.
He has found that some tags just don't come up as registered.
"We find at birth some tags arrive out of the bag that just simply don't work – about 1% on average, which is bloody frustrating.
"For us it's not a big issue when they run through the yards as you've got that recorded and you simply punch their visual number into the weigh scale, but it's good to have that record if they go to the works and their tech doesn't pick it up and you get fined.
"This is where commercial guys would get hammered, I'm sure."
Paul has always used the more expensive tags, believing them to be easier for a reader to pick up.
"There is certainly a difference in tag plastic quality too", he said.
"We'd noticed for some time, with cows coming through the yards year in year out, that certain year groups' tags just don't retain. The 2011 and 2012 years in particular are shocking."
"However, years prior and after were fine."
He said there was no difference in applicator or method and puts it down to a plastic quality issue.
"I do the tagging myself and am very particular about tag placement"
NAIT encourage farmers to report any tag quality issues.
A tip for better recording of tags from dead animals or lost tags, is to collect any tags seen around the farm (or cut from the deceased ear) and throw in a bucket at the shed. The wet day job is to mark the animal as dead. Tags found on the ground that have been discarded should be marked as Tag Lost or Tag Damaged.
NAIT tags cannot be reused.
Keeping tags in
Apply the NAIT tag to the central/ inner part of the animal's ear with the RFID portion (female) of the tag facing forward.
Use the correct tag applicator for the tags you are using. The wrong applicator can damage the tag.
If tags come out
When an animal is tagged with a replacement NAIT RFID tag, the tag must then be registered in the NAIT system.
If you know the NAIT RFID tag number the animal was previously tagged with, the Replace Tag function can be used to link the original tag to the new tag.
If the original tag number is unknown you will need to re-register the animal in your NAIT account to activate the replacement tag.