Saving time with technology
Six tanks over 800 hectares of Meadowbank's Marlborough hill country are being monitored every 15 minutes. The transmitter should last more than three years on three AA batteries.
Duncan Grigg from Meadowbank Station, Marlborough, said he can't imagine living without an automated tank monitoring system.
Using technology from Knode, the water level of six tanks across 800 hectares of the hill country are measured every 15 minutes. If any drop below a set level, an alarm is sent to Duncan's smartphone and computer.
"I can see the levels at any time and the alarm system sends an alert if a tank is emptying below a trigger-level."
With a high-pressure water system feeding 150 troughs, leaks can spill water quickly. Knowing which tank has the problem has been a huge saving in time and money.
"It takes a long time to refill eight tanks plus water stock, so catching issues early saves a lot of money."
The electricity cost to pump water to tanks and the seven houses on the system is about $1000 a month.
Six of the eight 30,000-litre tanks have a pressure-sensitive measurement device inside the tank. Outside the tank is a transmitter that sends messages to a cloud platform accessed by Grigg and his stock manager Simon Peake. They can see which tank is emptying, how quickly it's emptying and how much water is left.
The type of package Meadowbank bought means they own the equipment outright. The Griggs pay a monthly subscription fee for data sent to the platform and two users.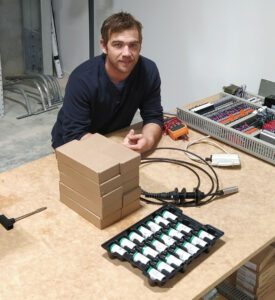 The water system feeds 250 cows, close to 3000 ewes, and young stock including, at times, 100 bulls and 270 yearling cattle.
He said it had made it easy to work out which troughed area is causing the problem.
"In the past it would take up to two hours just to drive around all eight tanks."
The pump is set to start-up when tanks are 88% full.
He said in the old days, the only warning there was a problem was the light being on at the pump."
"But it was guesswork where the problem was."
Real time tank info
The peak time for discovering stock water issues is usually right at the end of a summer's day. Locating and fixing a bust ballcock, with thirsty cattle as spectators, can make for a stressful evening's job.
There are several tank monitor systems on the market that can give farmers warning of decreasing levels. Some require line of sight (tank to house) while some require WiFi coverage to reach from the house.
Richie Wildman, mechanical engineer, has created a real-time monitoring system that sends data via low power radio networks. This means it works over much of NZ's farmland and can cover distances of up to 140km. The newer transmitters can run for more than three years on three AA batteries. The technology, known as Knode, was created by Wildman along with a farm consultant, farmer and tech founder.
The water node devices measure tank levels, pipeline flow and pressure. These very small pieces of data are sent over whatever system is best for the farm area. This could be SigFox, LoraWAN, NB-iOT or Cat M1. Subscription fees range from $12.50 to $25 a month.
"The important thing is we find the right solution that works best for the farm situation," Wildman said.
To get the text alarm message or email on a phone, farmers need to be within cell network coverage, or in a WiFi area.
Wildman saw the hassles water systems can cause after growing up on a hill country farm in Te Kuiti. After 15 years in the oil and gas and insurance industries he returned to NZ and went into business with friends to create automated monitoring options for farmers.
As well as farm water monitoring, Knode can monitor irrigation, effluent systems, weather and soil information.
"It can alert users if they are close to exceeding consent thresholds."
Wildman said there had been a lot of interest from sheep and beef farmers who wanted to be able to snooze their water pump remotely.
"So they can sit down for dinner and not have to get up and turn off the pump." "We are looking to provide this capability in the near future."
The company has a soil moisture probe which takes measurements of temperature, salinity and moisture at 10 cm intervals down to 80cm.
He said it was valuable information in dairy, horticulture and vineyards.
Another application of the technology is asset tracking for contractors who hire out plants, or for onfarm security reasons. A matchbox-sized node attached to machinery can update its location at regular intervals, or when moving.
He said testing it in the ag world had meant it has been highly successful when bought to other market sectors, based on the operating environment and the need for something affordable and reliable.
"Farms are a great proving ground for any type of technology."
Knode is working with councils and industrial facilities to apply the technology to remote monitoring of larger water networks.