A couple strive to maintain healthy and profitable stock, increase production, diversify where they can, and battle unwelcome pigs and deer. By Jo Cuttance.
Hereford cattle provide an essential role in managing pasture quality for South Otago sheep and beef farmers Amy and Victor Blaikie.
The Blaikie's farm Ben Annand, located 38km east of Wyndham and 26km southwest of Clinton. The farm is characterised by rolling to steep hill country with sharp gullies and natural waterways.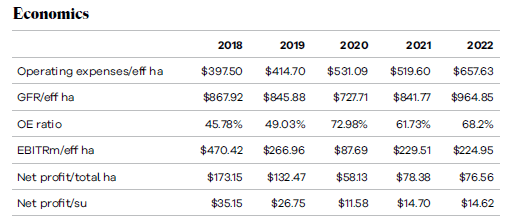 Victor's father, the late Keith Blaikie, chose Herefords when setting up the farm in 1960 because they were a hardy, easy-doing breed. Nowadays, the Blaikies have 190 mixed age cows that are serviced in December by bulls sourced from Te Anau stud – Monymusk Polled Herefords – with calving from late September to late November.
Victor picks his own bulls and looks for a sound, solid looking, free moving animal. He has seven bulls and replaces one each year to keep new genetics rolling through. He also uses an Angus bull from Hall Genetics' Lillliesleaf Stud for the 40 first calvers.
Amy said the predominantly Hereford herd is wintered and they calve on the higher tussock country. Ben Annand is 1468ha and ranges from 160m to 540m above sea level, has at least one snowfall a year and frequent frosts during winter.
Calves are sold in April at weaning to make the best of higher prices, though there is flexibility to retain and fatten until 18 months to kill. At least 40 replacement R2 Heifers are kept annually, and these calve to a low birth rate bull. These heifers are wintered on a tussock block. Victor said the cattle have a job to tidy up rough feed and clean up paddocks after the sheep.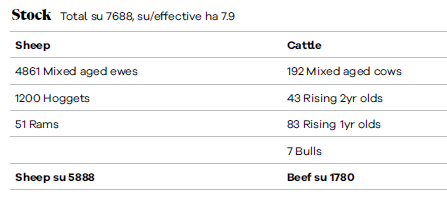 The mixed enterprise of beef and sheep enables easy manipulation of labour time, as cattle work can be staggered around the sheep operations. Perendales were chosen because they suited the country and management style of the farm. Victor said they are free moving and can look after themselves for food and at lambing.
Victor and Amy have brought their own style of farming to Ben Annand. Victor said they chop and change, if someone has a better idea, they will try it. They have changed shearing dates from January to mid-June and now seem to have fewer issues.
The Blaikies would prefer to shear twice a year but that isn't viable. The couple are staunch believers in wool as a product and say in time it will make a comeback. Victor said there was no point in designing new things – if it was used for socks, jerseys, carpets and insulation there would not be enough wool. Amy recalled when wool was so valuable they would be on high alert in case their wool was stolen. The 2022 wool clip produced a loss of $6207.
Dags are used as a weed suppressant in Amy's berry orchard. Having an orchard was a deal breaker for Amy agreeing to move to the farm from East Otago where she and her father ran a successful horticultural business. Amy sells raspberries from the orchard and uses raspberry leaves in the skincare range she and her sister-in-law Frances Blaikie created.
For the past three years they have sourced rams from Montana and Gowan Braes Perendale studs as they tried different genetics to lift the lambing percentage and wool. Ewes that Victor did not like the look of at crutching were mated with a Suffolk ram from Mitchell Farming.
Lambing starts on September 20 and Victor said the percentages had fluctuated over recent seasons from about 125% down to 114%. This season was hovering at 112-114%. Seasonal variability affects the killable weights that lambs and calves can be grown out to.
Feed availability, market price and weather conditions dictate what percentage of lambs go prime with AFFCO versus stores, and whether calves are sold or grown to 18 months old. Victor said when down to the last 300 or 400 lambs, it depended on grass growth and weather. "If the store market is there, we will take advantage of it."
Wild pigs have influenced lambing percentages. Two or three years ago a pig killed 120 lambs. During lambing Victor spends three nights a week out with the thermal scope looking for pigs amongst the ewes and lambs. "That wears a bit thin after a couple of weeks," he said.
The thermal scope paid for itself in the first fortnight. When their accountant questioned whether it was tax deductible, Amy showed him photos of two pigs and explained the paddocks where those pigs had been shot: the lambing percentage went up by 12%.
Rooting by pigs has dictated which paddocks are chosen for winter feed. Victor said it was tough trying to level paddocks after pigs had destroyed them. "They [pigs] don't leave it very level and it's very uncomfortable sitting in the seat."
The Blaikies crop about 50ha a year. The first year was a mix of swedes and rape, followed by kale and into grass in the third year. Single-bearing ewes and calves went onto the swedes and rape, supplemented with balage, and 1200 hoggets which are not lambed are on kale.
Improvements to infrastructure
The Blaikies have noticed the weather getting drier. The average annual rainfall at Ben Annand used to be 1500mm but in the last few years has dropped to 1100mm. Last year, to eliminate dependence on natural water supply, the Blaikies put in a reticulated stock water scheme. It cost just over $150,000 and included the installation of 40km of pipe, 74 concrete troughs and three header tanks linked to springs to gravity feed three water systems.
Other improvements to infrastructure included covering part of the back sheep yards, which Victor said made it much pleasanter to work out there. Now, when it's hot, there are no shadows over the race and the sheep will run. "It's marvellous," he said.
The Blaikies have added a new worker's cottage to the farm to replace the original cottage, and four years ago they built a new four-stand woolshed costing about $300,000.
"At this stage there's not much return on it [the woolshed], but it's a nice hut for people to stay in," Amy quipped.
Victor said the old woolshed was untreated rimu and the borer had eaten it.
"Every time you wanted to shear you had to rebuild something – it was becoming a health and safety issue."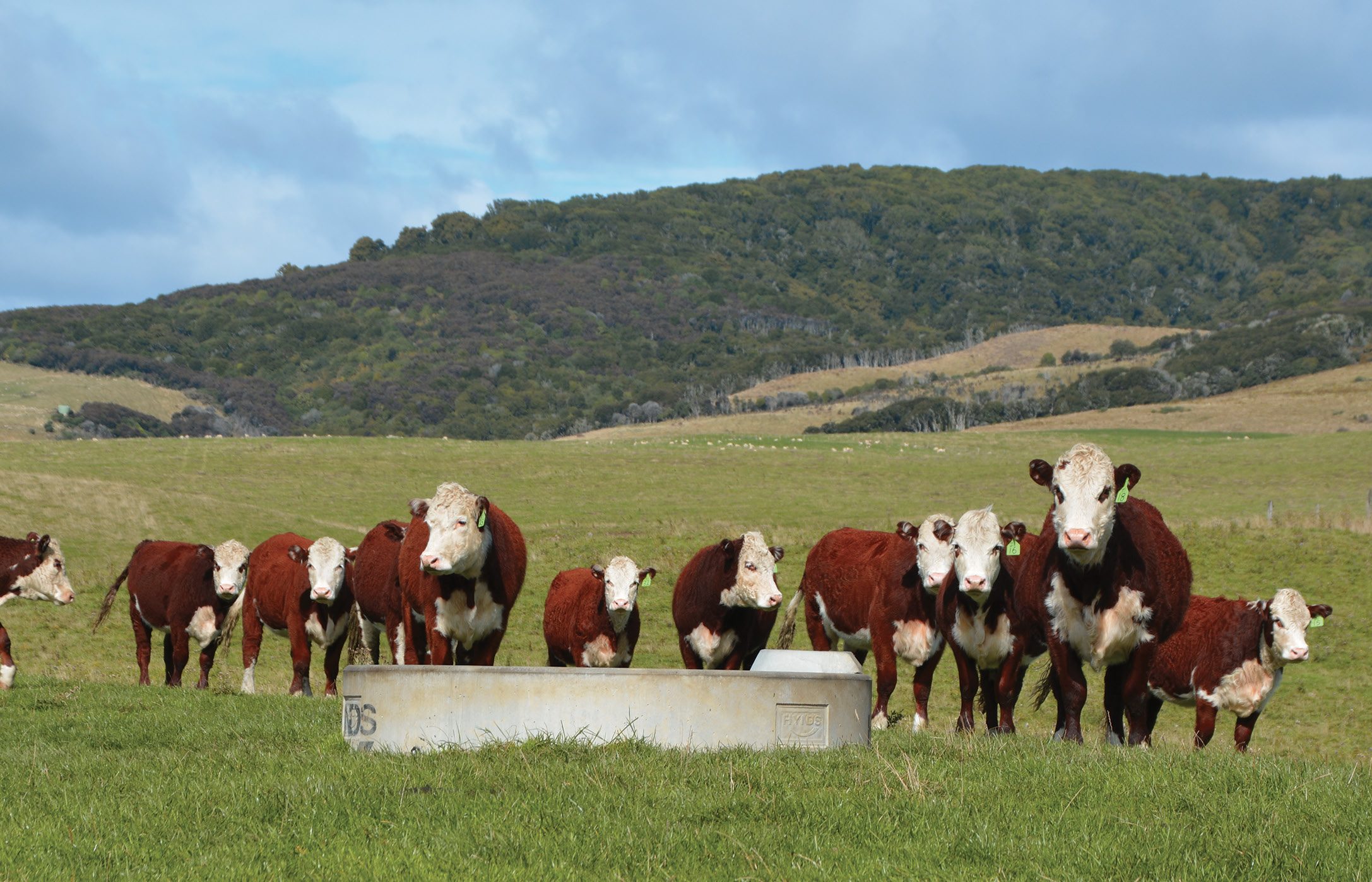 "The cattle are less labour intensive than other stock breeds," Amy said.
Wild deer are winning
Victor shot about 60 pigs and 95 deer last year. He said there's no way to eradicate the deer. "They've beaten me."
Deer hunters were on farm most weeks, either crossing through to hunt on DoC land that borders the farm or hunting on the farm. Victor said they don't seem to be making any headway on numbers. "It's been going on for years, but I feel it's getting worse." The farm has 8km of bush boundary and the deer come out most nights.
Victor said if the venison price went back up that would help, but it has been made so hard to sell them that even the helicopters don't come now.
"In the past I used to shoot for money – now there is no money for venison recovery."
The Catlins Coastal Rainforest Park borders the southern side of Ben Annand and during the roar hunters on the DoC ballot block stay in a haybarn, nicknamed The Campsite. Victor said the hunters love the haybarn and bring their families out. If the weather turns bad they have somewhere dry to stay.
The Tahakopa River starts in the hill blocks, as does a small stream that feeds into the Mokoreta River. The 17.8ha Upper Tahakopa Swamps are regionally significant wetlands protected from stock. The wetlands and rivers have an abundance of aquatic life including eels, trout, koura, and the rare gollum galaxias.
Carbon credits and succession
Victor is clearing 68ha of gorse and plans to plant 30ha of it in pines this year. Pines were the best option to beat the gorse, he said. Gorse got out of control in the 1980s when interest rates went to 26%. He said it's unproductive land but there was money to be made from carbon credits. "It's better to look at a pine tree than a gorse bush."
Gorse control is a large part of the yearly budget and is done by helicopter and by hand gun. The plan was to keep planting pines anywhere that gorse was growing, though Amy had areas where she wanted to plant natives. They have planted some natives but find they are slow growing and hampered by deer eating them or cattle getting in and pulling them out. It was great when you did see them growing, Amy said.
Victor and his brother-in-law cleared a 10ha block and planted Douglas firs. Victor said it looked good from the ground. Then when they flew over in a helicopter they counted 16 deer standing in the block and they'd decimated the area.
"That was depressing but we'll just clear it again and try again," he said.
Pines would create shelter and help diversify income. Amy said succession was in the back of their minds. Their children, Josh, 11 and Caitlyn, 7, have said the farm is not to be sold as they want to farm it. Saving money and putting in a few tree blocks would help with that, Amy said.
Both children enjoy working with the stock and going hunting. Caitlyn had the newest addition to the farm – a pony named Mr Woody. The highlight of Josh's year is approaching, when the family's 1946 V8 truck gets its warrant of fitness and he can be there overseeing the mechanic's inspection.
Amy loves being at Ben Annand but said there are pressures – the paperwork had taken some of the enjoyment out with so many regulations, but she accepted it as inevitable.
Morven Road Skin Care
Amy and her sister-in-law Frances Blaikie are staunch supporters of wool. Two years ago they were searching for an idea that would showcase wool and after considerable thought settled on producing a skin-care range that had the hero ingredients of lanolin and hemp seed oil. Frances grew up on Ben Annand, had a career in science and after many years in Europe, she returned to New Zealand and was keen to use her expertise.
The skin-care range is made on farm and is marketed as Morven Road Skin Care, a nod to where Ben Annand is located. Lanolin, which is secreted by sheep to condition wool and skin and cannot be artificially copied, is sourced from the farm. The hemp seed oil is sourced from South Island growers and is infused with raspberry leaves from Ben Annand's berry orchard and horopito leaves from surrounding native bush.
Ben Annand's beginnings
Keith Blaikie moved to the Slopedown district in 1950 and worked for the late Eric Ayson. After 10 years of service, Eric gave Keith a preferential lease for the "front" 180.9ha of bare tussock country. Wyndham Station relinquished a 1287.2ha block that adjoined the front block, making a farm area of 1468ha – Ben Annand.
In 1960 there was one fence. Farm work was done on horseback and Victor said his dad worked tirelessly breaking in "virgin" tussock country and building a house. He also built the worker's cottage, shearers' quarters, implement shed, woolshed, covered yards, haybarns, fertiliser sheds, farm lanes, and fenced the farm into smaller paddocks. Ben Annand was freehold by 1998 with Keith and his wife Alma in partnership.
In 1993 Victor returned home to help on the farm after stints driving tractors, dozers, and possum hunting in NZ and overseas. Three years later he joined the family partnership and took over management. The partnership was reconfigured after Keith died in 2003 – to Victor and his mother in partnership for stock and machinery, and a trust owning the land. The 1468ha has been divided into 49 paddocks with four hill blocks and two forestry blocks. Paddocks are planted with a mix of red and white clover, cocksfoot and ryegrasses. The hill blocks have native tussock and cocksfoot over sown with clovers.