A North Canterbury couple's simple lamb finishing policy has won top honours in a national competition. Sandra Taylor reports.
Richard and Mez Power's sheep operation is strikingly simple.
All lambs, prime and store along with cull ewes are sold by late November irrespective of the season.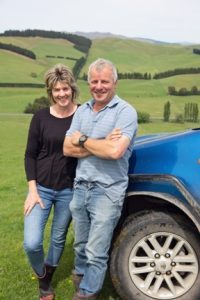 This means all feed can be partitioned into capital stock giving them the ability to grow award-winning ewe lambs – in fact the best in the country.
The Hawarden couple won the supreme award at this year's New Zealand Ewe Hogget competition, but this was not an anomaly and builds on previous section wins at both national and regional level.
Visiting the couple's 600-hectare farm Tenterden in late October, the reasoning behind their farm system is apparent. The north faces on their rolling country are burnt off and in a typical summer, the whole farm will be a gold colour by the end of December.
Rather than struggling to finish lambs on a falling schedule in the height of summer, the couple decided many years ago to quit all trading stock by mid-November and mechanically harvest any grass surpluses.
Silage and balage squirreled away has proved a life-saver in the past, and Richard says during the last drought they were feeding out four-year-old silage.
'Take a look at your two-tooth scanning – if it's terrible then you've failed at hogget mating.'
The couple say that lifestyle – a desire to spend summers with their three children rather than drenching, dagging and dipping lambs – was one of the drivers behind their decision to sell all lambs early.
The other was what Richard had seen during his nine years as a lamb drafter.
He had watched farmers struggling to finish lambs on feed crops, yet in most years, the margins simply weren't there to make it worthwhile.
Richard also saw what the good operators were doing to the maximise the productivity and profitability of their lamb crop and learnt from them.
Eighteen years ago, they decided to change their ewe genetics and introduced North Island Romneys into their flock.
This proved a game-changer as these genetics improved fertility, hardiness and the ewes had the ability to grow lambs fast – exactly what the couple needed in their environment.
More in the December edition of Country-Wide.
Richard and Mez will hold a field day on their farm on December 7 starting at 12.30pm.