Power of a database unleashed
A decision to invest in data for top genetics 52 years ago has paid off for a South Canterbury station, Terry Brosnahan writes.
Haldon station's genetic breeding programme, Genepool, is one of the largest Hereford beef genetic databases in New Zealand.
Station manager Paddy Boyd says that's its greatest strength. He says the aim was to breed high-performing bulls for the country they were being sold into.
Haldon and 15 other stations formed a genetic programme with up to 30,000 cattle recorded. Most of the stations were commercial operations with genuine beef-type country. Today the nucleus herd is based at Haldon, with a few other herd owners still recording.
"Way back then we were buying bulls which weren't lasting, nor were their progeny."
It was about identifying cows weaning above-average calves which then could get back into calf every year. That was the main breeding objective farmers were after.
The key traits are low birthweight, high-growth rates, fertility, and fecundity. Temperament was a doubtful trait when Paddy joined Haldon in 1982, but it's now sorted. The maternal cows and all progeny are observed and ranked 1–5 on temperament.
When the bull sale is held on Haldon, the bulls are displayed in the sheep yards; a testimony to their docility.
"I've always put temperament at the top end, mainly for staff safety," Paddy says.
Genepool was started in the 1970s to find good proven Hereford genetics for commercial use.
After James Innes left Lincoln College, he worked for Hugh Irving at Wairaki Station. James and Hugh were unconvinced of the genetic potential of the bulls they were buying. They had better performing cows weaning top calves in their own herds. They wanted scientific data behind the breeding and so did other farmers.
Haldon and the 15 stations with big commercial herds grouped together and started selecting high-producing cows. Once they identified those cows they formed Genepool with the nucleus herd later based at Haldon. James came home later to run the programme and eventually take over the station.
Haldon was selected because of its tough environment, down to -20C and up to 40C. If the cows could survive and perform at a high level, they could survive anywhere.
Genepool then searched across NZ studs for top Hereford genetics. They bought mainly semen and artificially inseminated the cows, then started recording them and their progeny against each other.
When Paddy came to Haldon in 1982 as stock manager, James put him in charge of putting together the database for Genepool Herefords.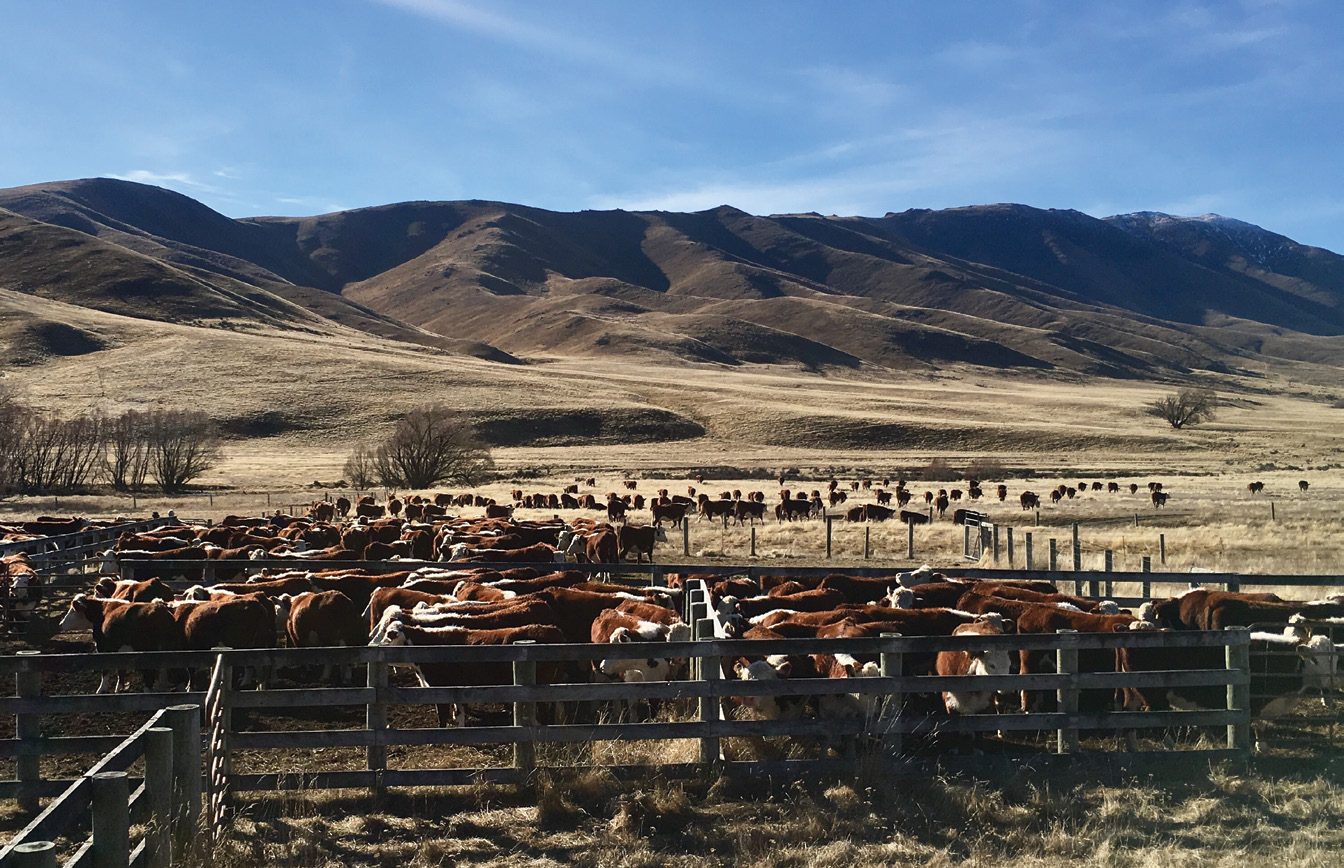 There were stacks of data on excel sheets but no computer analysis, but pencil workings on the excel printouts. "It was limited data and meant a lot of pencilled copies…"
Paddy knew a comprehensive database could be done, as they were weighing several times a year and analysing calf weight gains. They also weighed the maternal cows and recorded other traits such as udder conformation, structural scores and fertility.
"This is where the multi-trait came from."
When Paddy arrived, there was so much data in the shed, the only way to do analysis was to pull it all out and spend days going over it.
"It was just impossible as the numbers built up."
There were about 40,000 animals recorded across the herds. Now there are 41,000.
Paddy says the cattle have all been cross-referenced, with a reference sire used every year. That's why it's much easier to have one herd, because if they were split herds, unless they used some semen from a previous sire, they couldn't take out the climatic difference.
"You had to have a reference sire from the previous year to have accurate data."
In 1986 all the data was sent to Colorado State University which had a computer big enough to analyse all the data.
After several years, the analysis work was brought back to NZ. Genepool contracted with Dr Leyden Baker in the genetics section of MAF Ruakura who masterminded the collation and analysis of data. He entered the data into a computer program which made best linear unbiased predictions (BLUP).
The power of the data was finally unleashed.
BLUP uses the information to make accurate predictions of an animal's genetic merit (estimated breeding values). Over the years the database has evolved and computer software has improved. Ruakura's Dr Neil Cullen now collates and analyses Genepool data.
It's an across-trait analysis that makes sure there are predictive values on all the breeding traits.
Paddy says Genepool achieved James' objective. The bulls and females they go to buy now have estimated breeding values, highly predictable and accurate. They now have across-trait analysis across herds, not just recorded within a herd.
It made the cattle stud industry start multi-trait analysis rather than focussing on a single trait like weight gain.
In the early years Genepool bought a lot of semen from the USA and Australia. It was never used straight away on the Genepool herd but put into average cows and progeny-tested them against other recorded bulls.
After 41 years tagging calves, Paddy is an expert. "I've just about tagged every day of calving as we do it three times a day."
Haldon started using bronze then brass tags. They still use the brass tags because they're easy to carry when tagging three times on a cold wet day.
"It's a little clip, one click and it's in."
They are there for life, but hard to visually read. As the calves get older they have to use a head bail when weighing to read the tags. So the calves end up with three tags – brass, visual and NAIT, all on the database. NAIT has made it easier because of technology, with all animals having lifetime data immediately available.
"If one ever falls out we still have references."
The NAIT tag is the only electronic one.
"It's so simple, I just grab a wand and wave it over their heads…all the data is there…"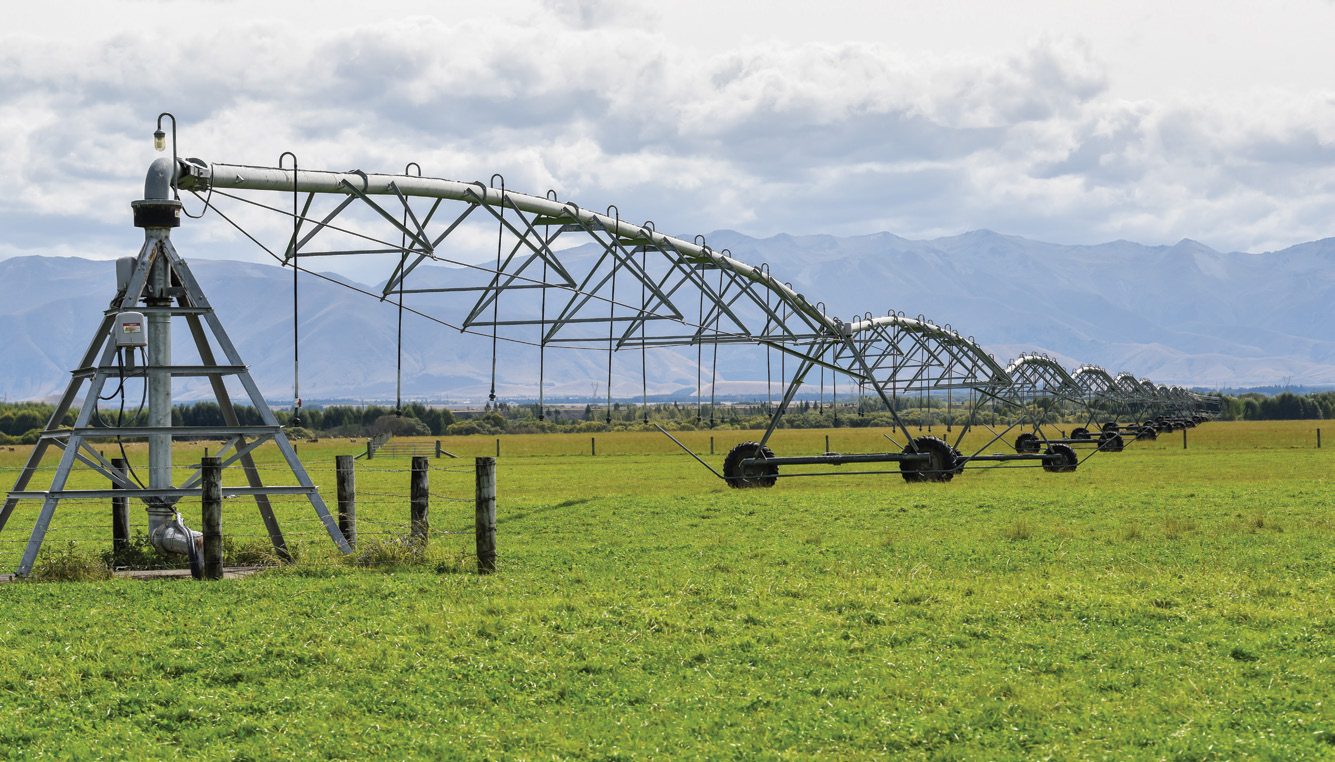 Cornered the dairy cow market
Genepool's low birthweight bulls have been used by Livestock Improvement Company (LIC).
In the 1980s and 1990s the low birthweight, fast growth rates and fertility won Genepool the contract to supply LIC with all the Hereford semen.
"The only reason it was stopped was because Haldon wasn't a stud."
Haldon's yearling bulls are now sold to repeat dairy farmer buyers each year. The top 20–30 bulls selected on figures and structure are retained and sold at the on-farm sale in early June.
Industry focus on polled cattle means the horned cattle are disappearing, which saddens Paddy because they have proven to be the hardier cows. "We multi-trait recorded them and horned cattle were in the top group."
Haldon has 400 Hereford cows and 150 Angus that are fully recorded. The station retains all heifers until 18 months old which gives accurate growth rate data back to the sires.
Retaining so many may be seen as a burden but the cattle are well-used as a tool for pasture management, tidying up behind the sheep.
This year the 22,000ha station will winter 6800 deer, 6500 Merinos, 3000 Border Leicester-Merino cross ewes and 3000 hoggets, 1200 Hereford and Angus cattle including breeding cows, replacement heifers and younger stock.
Irrigation has changed the management of Haldon, which Paddy says he originally didn't sign up for. Nine centre-pivots have gone in over the past 15 years.
The irrigated 950ha on Haldon enables Paddy and staff to look after the rest of the station.
It grows pasture to finish cattle, deer, sheep and make supplements.
With irrigation they can finish 5000 first cross lambs, 3000 fawns and 300 cattle.
Barley is being grown on the irrigated land as a break crop for two years and to lower supplement costs. About 50–100ha/year is sprayed out and renewed.
None of the 250ha in lucerne is under irrigation. Originally lucerne was to be irrigated to guarantee four or five cuts, but land area is not a problem and lucerne performs well in the dryland valleys. In April the station was flush with lucerne with fawns and lambs flat-out eating it.
Lucerne stands have good longevity of 20–25 years, one of Wairau's paddocks is 35 years old. A common cause of replanting is rabbit damage. Despite rabbit fencing, some stands have so many rabbit holes they wreck the haymaking equipment.
When lucerne is ripped up, ryecorn is grown as a two-year break crop.
Paddy used to use a renovator Mark 3 for drilling but now uses a contractor with an Allen direct drill. With seed expensive, they are down to 8–9kg/ha. About 150kg/ha of lucerne fertiliser, with some molybdenum and boron is used. Lucerne requires sulphur all the time and the soil pH needs to be at least 6.2.
The two years in ryecorn gets the weeds sorted before planting. If fathen and some weeds grow, they leave them for the first grazing or cut.
Paddy says the secret is not to be tempted to get on the lucerne too quickly.
James Innes put in borderdyking which was well before its time. With consents for borderdyking unlikely to be renewed in 2025, Paddy has put in centre-pivots. The irrigated land is virtually a farm on its own.
Haldon has three water sources for irrigation: a stream, the lake and deep wells. Even though the water was at 18–28 metres at the time, they had to go to 60m because Meridian claimed ownership of the water, above what is deemed to be hydraulically linked to the lake.
Paddy says when ECNZ renewed its 25-year water permit a clause was left out which allowed anyone access to water. A group of farmers in the Mackenzie Basin, including Paddy, challenged it in court, and they won.
Now anyone has the right to access the water, but needs to go to Environment Canterbury, the regional council, for the right to use it and the local council for land-use consent.
The farmer group received no compensation for its costs.
Paddy says it is important to have irrigation in some areas, but it is not suitable everywhere.
There has been opposition to development in the area, but Paddy says only 3% of the Mackenzie Basin flat area is under irrigation.
He says irrigation is imperative to let the stations stay economically and environmentally viable to allow for good, sound land management.
Read more about Paddy Boyd and Haldon Station in the April issue.
+