Former politician and diplomat Sir Lockwood Smith is immersed in work on the family farm in Northland while keeping his hand in on trade negotiations. By Glenys Christian. Photos by Malcolm Pullman.
Former politician and diplomat Sir Lockwood Smith is immersed in work on the family farm in Northland while keeping his hand in on trade negotiations. By Glenys Christian. Photos by Malcolm Pullman.
Moving cattle in the morning and shaping policy late at night and into the early hours is the usual routine for Northland beef farmer Lockwood Smith.
"I'm probably working a bit harder than I'd prefer," the 73-year-old says.
Smith is a former Minister of Agriculture, International Trade, Speaker of the House, High Commissioner to the United Kingdom and Ambassador to Ireland.
He is keen to encourage improvement in New Zealand's beef industry and trade access.
His family were the first European settlers at Matakohe. After the Second World War his father set up the farming company, D & W Smith, with his brother and worked hard to improve carrying capacity and the quality of the stock farmed.
He established a Romney stud, Pararau, mis-spelling the Maori name, Parirau, on the hills overlooking the Ruawai Flats. The foundation stock came from the Masterton area in the 1950s, then the Woodleigh Angus Stud was established. Lockwood took a keen interest in both, keeping a scrapbook from an early age with photos of prize-winning animals cut out of Meat and Wool magazines and the Aberdeen Angus Review.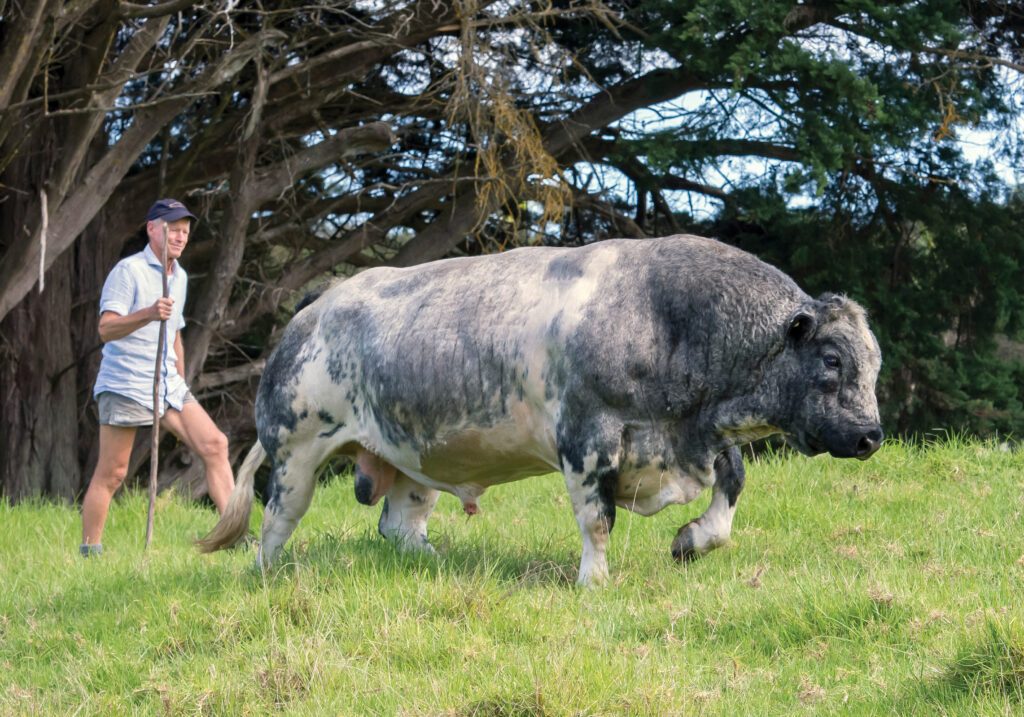 "I knew all the stud ewes by their faces," he says.
"I wouldn't have to look at their tags."
At 15 his father David bought him an airline ticket to Palmerston North to select a ram for the flock from the renowned Cranleigh Stud. While in 1961 Lockwood took out the best Romney ram lamb prize at the North Kaipara Show, by later that decade the farm ran no sheep at all.
"My father called them woolly aphids."
His father decided to erect two large silos to fill with maize silage and haylage to winter to up to 400 bulls he'd buy in to finish.
He no longer uses the silos as not only did they make a lot of work for the farm manager but there were challenges such as unloaders jamming and one year a fire in the haylage. So he decided to concentrate on improving his breeding stock.
The Angus stud was also dispersed when Lockwood went to Massey University. He completed his Master of Agricultural Science on the nutritive value of maize silage – some of the early work carried out in this area – then his doctorate in ruminant metabolism at the Waite Agricultural Research Institute of the University of Adelaide.
Returning to NZ, he managed part of the Dairy Board's marketing activity in South East Asia before being elected to Parliament in 1984 and coming home to the farm on weekends. He became speaker in 2008 and was knighted in 2013 by the Queen while High Commissioner in London. His wife, Alexandra, still working as a school counsellor, was also honoured while in London, being voted UK New Zealander of the Year in 2016.
The herd had an Angus foundation to which his father had added some Friesian genetics to produce an animal which milked well and had a larger frame. Wanting to improve them still further, Lockwood first looked at South Devons and Limousins.
"But I read about Belgian Blues and the myostatin gene, tried some semen from the UK and was impressed with the staggering improvement I saw," he said.
A few cows were inseminated every year from then on, with him keeping the best polled calves selected on their growth rate at 400 days of age.
"My cows are not that big at an average liveweight of 608 kilograms but their calves grow fast."
About 600 head are run including 225 breeding cows. He no longer uses Belgian or UK genetics.
"They're too extreme," he says.
"Mine are run under pretty commercial conditions."
Calving begins at the start of June on a sawdust pad where every calf is weighed at birth. While other beef farmers delay calving until September Lockwood says that doesn't work for his farm with conditions liable to get too wet underfoot by September.
"The cows milk well and the calves couldn't drink all that milk if calving was delayed until the spring flush," he says.
Also, with calves' rumens developing by September, offspring enjoy two periods of spring grass growth by the time they're two years old.
"There is scientific method behind my madness."
They're weaned at an average age of eight to nine months in early March. This year heifers averaged 304kg with the best getting up over 370kg. Bull calves averaged 337kg with the heaviest topping 400kg. While those weights have moved up by about 50kg an animal over the past 30 years, Lockwood says variability still frustrates him.
"I'm working on it, although calving two-year-olds will always widen the weaning weight range."
The herd has been on Beefplan since 1987, focusing on growth and structural soundness with every cow in the herd ranked on the growth performance of her offspring. Sale bulls are also scanned for eye muscle area.
At 23 months, on only grass and occasional balage in summer dry spells, bulls not sold for breeding have averaged 420kg carcaseweight at slaughter.
"And that includes the tail-enders."
Yearling heifers not selected for mating go to the works at 23 to 27 months, averaging 310kg on the hooks. Poor temperament isn't tolerated.
Herd sires do get big with one, Woodleigh Aragorn, used for several years, recording the heaviest CW of any animal from the stud at the meatworks at 714kg.

Bull policy
Lockwood keeps up to a dozen herd sires as with single bull mating, it makes sense not to leave one bull out with the herd too long. Also, new sires on trial join the cows for just three weeks. Out of a mob of 180 breeding cows only six were empty last spring. Different bulls are used for the 50 yearling heifers to ensure lower calf birthweights, with 49 getting in-calf this year. But accidents can happen, with a former Royal Easter Show all breeds champion bull, slipping down a bank when out with the herd, getting his head wedged between two trees and hanging himself.
"The joys of farming," he says.
"But some of his offspring did have a slight jaw fault which meant his demise may have saved me from a difficult decision."
Lockwood's been delighted to see a recent lift in interest in the Belgian Blue breed. While he would usually sell four to five two-year-old bulls, this year he's already sold 22 yearlings. He puts that down to dairy farmers' realisation that bobby calves are well on their way to not being an accepted part of their farming system. And he makes the point that using a dam for not only milk but also for beef production has a big impact on reducing carbon emissions.
He has clients around the country, with the furthest away farming not far from Invercargill.
Recently Morrinsville-based Samen Genetics bought some of his heifers which were flushed for embryos. There's a royal connection, too, with the name, Kiwi Blue, under which Samen has trademarked the genetics globally, being suggested to Lockwood by Princess Anne.
"Woodleigh is the home of Kiwi Blues," he proudly says.
Before signing an exclusive agreement with the company to supply more embryos he was also approached by LIC, and two of his bulls, Woodleigh Zircon and Woodleigh Crown, now feature in its catalogue as low birthweight sires.
The farm is 330ha in total, with 290ha effective. About 38ha of native bush is fenced off with a number of large kauri well protected, a result of his father's conservation efforts.
A lot of the farm has been regrassed after subdivision carried out over the years.
"I used to be enthusiastic but I'm not so sure now," he says.
Dominant kikuyu keeps stock going through the summer but as that season gets drier ryegrass struggles.
"In the winter if the kikuyu is under control, clover can come through," he says.
"Clover is so important – I try to look after it."
No summer crops are grown.
"I've thought about plantain and I'm actually trying it this year. I'm not highly stocked and I don't want to bring in stock."
A scare with M bovis
He used to buy bulls, continuing his father's routine for a few years.
"But M bovis gave me a scare," he says.
"The farm's been closed now for five years. And in winter it can be so wet that we're limited in what we can carry through anyhow."
That dampness means it's often too wet to sow crops until mid-November.
But a "massive" spring sees 400 bales of baleage made along with about 300 big bales of hay. Some balage will be fed out to young cattle in autumn, with the rest used to get the calved cows through to the spring growth. The hay is fed out on the calving pad with surplus sold.
There are eight distinct land management blocks on the farm which have been soil tested regularly for the past 20 years. The pH levels average 6 with areas under 5.9 getting lime at about a tonne/ha. Olsen P levels range mostly from 30 to 40, with one hill block down at 13. The lowest block received 300kg/ha of Surephos/Sulphurgain mix with 1% selenium added, with the rest of the farm getting a 200kg maintenance dressing.
While posted to London from 2013 to 2017, Lockwood would get home three times a year.
"While home I could see the calves at NAIT tagging and weaning, select breeding heifers and photograph bulls for sale," he says.
A loyal manager, Stuart Morfett, stayed with him until his return then opted to move south to be closer to family.
"I've tended to use former dairy farm managers as I find they have better pasture management skills," he says.
"But I'm not focused on residuals like dairy farmers, so if I have a bit of pasture decaying it's not a problem."
He doesn't want the stock eating down too low because of facial eczema or worm burden risks.
Farm manager, Adam Clarke, has been on the farm since May 2021, coming from a Kaukapakapa dairy farm, northwest of Auckland.
"He's young, very committed and good at handling the cows at calving," Lockwood says.
"This isn't a big farm but it's quite intense."
To free up Adam's time Lockwood takes care of the daily or once every two day moves of five mobs of cattle, while Adam handles the remaining six and the general farm management.
Despite a lifetime involvement and passion for beef breeding Lockwood doesn't show his animals any more, once being a regular sight at local A & P shows.
"People used to love seeing a politician taking part in a local activity and handling big animals," he says.
"You've got to know what you're doing because 1300kg bulls are a lot stronger than you."