Joanna Grigg
New Zealand (NZ) is still the leader of leptospirosis in the developed world, but there are fewer cases in the NZ population as a general trend.
While this is good news, these bacteria prevalent in livestock, wildlife and pets, are still the most common occupational infectious disease in NZ. They can cause flu-like symptoms and, if untreated, can cause serious health issues causing time off work. In mild cases, no symptoms are seen.
Professor Cord Heuer, Massey University, said a new type of leptospirosis was identified in 2019 and it is not covered by the existing vaccines.
The so-called 'Species X' has been identified in dairy and beef cattle but not found in sheep, at this stage.
Different animals contract different serovars (strains), and can be primary (maintenance) hosts or secondary (accidental) hosts. Serovars identified so far in NZ are hardjo, pomona, tarassovi, ballum, copenhageni, and balcanica. Species X is formally described as a tarasssovi strain as the bacteria looks similar from the surface, however the DNA sequence is different.
"So, it could be a different species."
Vaccines exist to protect cattle against most strains, and work is underway to develop a vaccine for the new strain, Heuer said.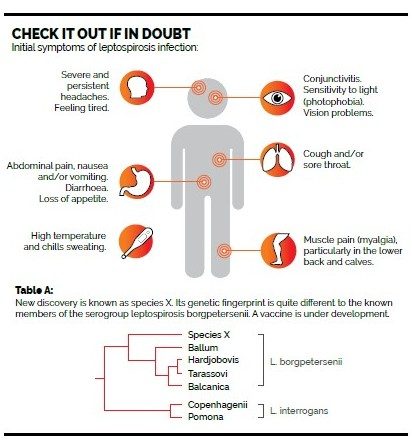 Vigilance when contacting animal urine is key to protection, Heuer said, as well as considering a vaccination programme for dairy cattle which come in direct contact with humans each day.
The ballum strain has seen an increase in prevalence in humans, with more females being affected.
"This strain exists mainly in mice and cats, so can be picked up in woodsheds, garden sheds and gardens."
Worksafe has detailed prevention and control information on all strains of leptospirosis.
In 2013, 59 cases of leptospirosis were notified in NZ, all confirmed by laboratory testing – a significant decrease from the 108 cases notified in 2012. However, the actual number of cases is thought to be about 16 to 56 times higher than the notified number, probably because a large number of cases are not as severe and go undiagnosed. It may be mistaken by patients and doctors for the flu. Treatment is by antibiotics and should not be delayed as treatment success depends on timing early in the disease.
There is no vaccine for leptospirosis infection in humans, so preventing infection in humans involves controlling infection in animals. There are no publicly funded control programmes in NZ, so producers must cover the costs.
The benefits of vaccination depend on the incidence of infection. Stopping a vaccination programme after a period of whole-herd vaccination will result in an increased risk of clinical disease, unless there's a guarantee of preventing future exposure.
A 2014 study by Massey University estimated that $36 million dollars-worth of working hours are lost every year due to days off with leptospirosis, with 99 percent of that figure coming from the rural population.