A King Country couple believes that by converting their flock to fleece-shedding Wiltshires they will avoid costs, and have a better lifestyle. Russell Priest elaborates. Photos by Emma McCarthy.
For young farming couple Guy and Cushla Fraser of Taumarunui, deciding to move away from wool has not been an easy decision, especially for Cushla.
Both have grown up with wool, Guy (30) as a shearer with a senior Golden Shears title to his name and lots of local and overseas shearing experience, and Cushla (28) as a wool handler and shepherd.
"Our decision not to grow wool is not because we don't like it, which we do, but is based on several things including the health benefits for sheep in not growing it," Guy said.
Guy rattled off a number of these including less viral pneumonia resulting from not having to yard particularly lambs as often and not having to dock tails.
Their mentor the late Grant McMillan believed not dealing with wool would result in a 60% labour saving.
"Even if coarse crossbred wool makes a comeback, the financial benefits of not having to grow and harvest it mean we can still enjoy a good standard of living and achieve the lifestyle we want without a wool cheque."
The presence of bidibidi in their pastures, the seeds of which significantly reduce the price of wool, was a further consideration in their decision.
Guy said Grant's enthusiasm for the breed was so infectious it ignited their interest in Wiltshires, which they are mating to their Growbulk-Cheviot-Romney cross flock.
"The cool thing is we're both excited about our new venture, and what's even more exciting is we're not following in the footsteps of heaps of farmers because Wiltshires are a relatively new breed."
Guy is adamant that while they are keen to establish a full-shedding Wiltshire flock as soon as possible, the quest for full-shedding status will not be at the expense of animal performance, soundness and type.
"We're fortunate from this perspective in that we've got time on our side."
Deciding to breed Wiltshires has also enabled them to address several ethical concerns they have with farming sheep, like docking and using chemicals for treating fly, lice and internal parasites.
Guy is a perfectionist. It would be unhealthy for him and Cushla to dwell on mistakes so they've made the decision not to take their new venture too seriously.
Guy and Cushla spend a lot of time working together on the farm but also at times work separately, capitalising on their individual strengths. Cushla is particularly good with stock and Guy is more machinery orientated. She also works off farm assisting in rearing calves for a neighbouring dairy farmer running 600 cows. This activity was put on hold this year as Cushla was pregnant with their first child. She has since given birth to Jock.
From leasing to ownership
Life in the last two or three years has certainly been a roller coaster for the Frasers. Arriving at Waeranga (means a place to put down your roots),in October 2017 after five years of shearing and shepherding, the Frasers initially managed the farm for Guy's parents Ewen and Jane, who had owned it for seven years. Managing turned to leasing in July 2018 then ownership in March 2020.
"While leasing Waeranga we learnt a lot about the place and learnt some hard lessons about salmonella in sheep."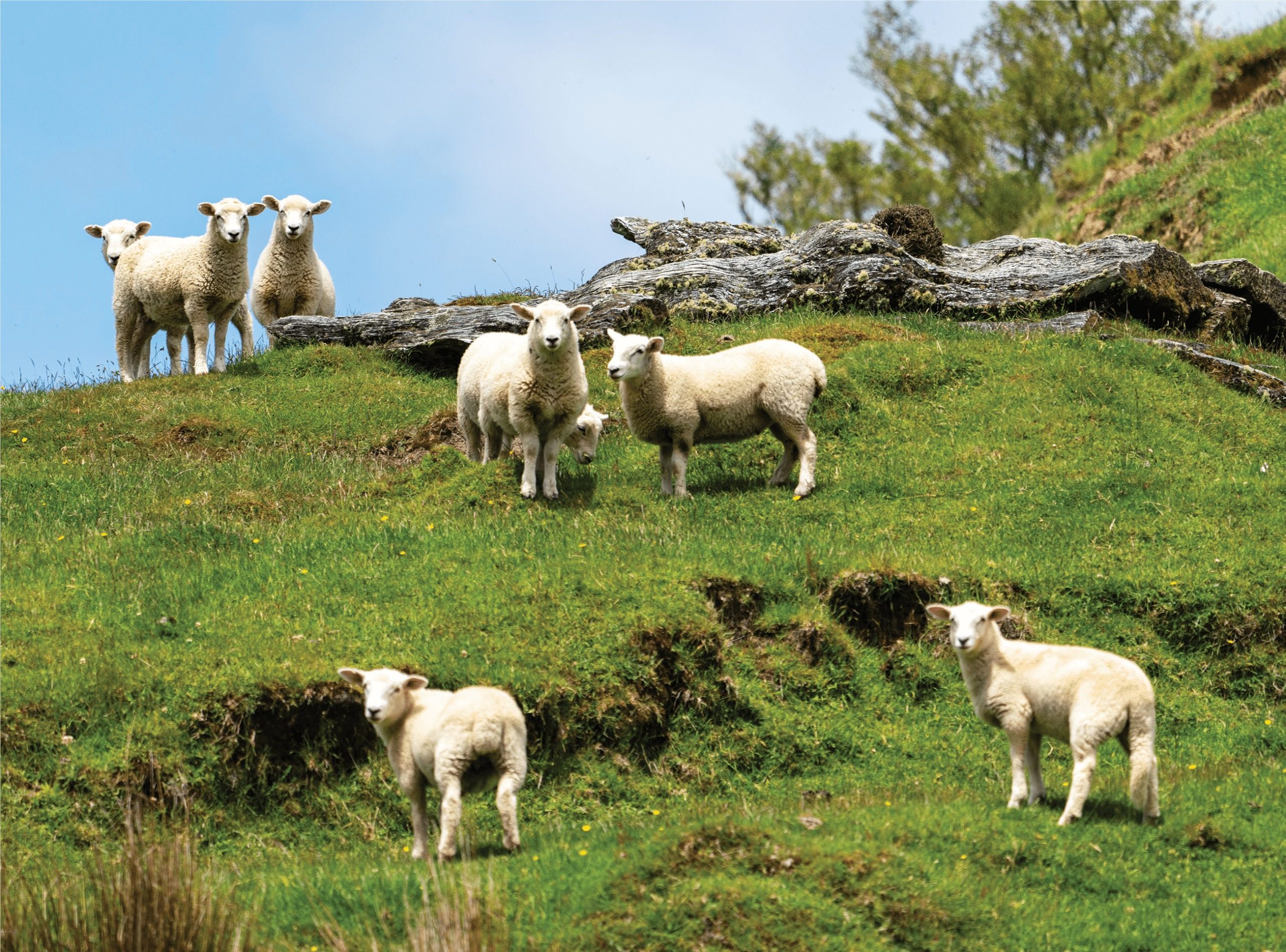 Their big break came in early 2020 when they managed to secure a bank loan to buy half of Waeranga with a second mortgage to Ewen and Jane.
They are grateful to both sets of parents for the opportunity to buy Waeranga. Without their financial help and support they would not have been able to buy it.
The Frasers bought the farm as a going concern, which included an aging flock of Romney ewes, a younger flock of Growbulk-cross ewes and an Angus herd.
Guy's father had crossed the resident Romney ewes with Growbulk-Cheviot rams to improve mobility on the steep hills. While the Frasers find the crossbreds handle the hills well, are great mothers with the lambs showing excellent survivability, unfortunately they are stressful to work with.
"They seem to use a lot of unnecessary energy tearing around in spite of our trying to manage them in a calm manner."
It's early days yet in the breeding programme but the Frasers have already detected an improvement in the demeanour of the half-bred Wiltshires and are hopeful they will deliver the lifestyle they aspire to.
While being active the Wiltshires are not overactive like the Growbulk cross. Guy believes they make more efficient use of their energy. The lambs also seem to have a higher level of tolerance to internal parasites. Normally over the summer/autumn lambs are drenched every 4-5 weeks. However, last year the drenching interval was eight weeks over the summer followed by six weeks for the Wiltshire crosses.
"We drenched the ewe hoggets on May 20 with Zolvix and three months later their average faecal egg count was 100epg."
Varied soil nutrient seeds
In February they were advised by their fertiliser consultant to apply lime at 1t/ha plus 150kg/ha of a potash/mineral mix to the pumice flats and a blend of 80% RPR and 20% triple super at 300kg/ha to the rest of the farm
Both Guy and Cushla enjoy the breeding aspect of sheep and beef farming with Cushla more keen on sheep and Guy on cattle.
The Frasers intend to gradually phase out the Romneys and the Growbulk cross ewes as the natural increase of Wiltshire crosses occurs. A strict culling regime will be implemented to ensure a high standard of A flock ewes is maintained. Rejects will get a red tag and go into the B flock.
"We'll continue to chip away at the A flock even after mating, taking out any tail-enders and any undesirable types."
Lambs out of these ewes will not get an age mark so they won't be eligible to enter the breeding flock.
This year, 1500 A flock Growbulk-cross ewes were mated to Wiltshire rams on April 5. The five-year-old Romney ewes that form the majority of the B flock (1000 ewes)and with a few culled Growbulks, were mated to Growbulk-Cheviot rams on March 25. Both flocks were mated for 55 days.
Scanning results were 145% and 160% for the A and B flocks respectively. Any dry ewes are culled.
The Growbulk-cross not the most fecund sheep and they struggle with facial eczema.
"So we had them running at over 500m above sea level during the summer to avoid FE."
Last year the ewe flock delivered a 135% lambing (mating-to-sale %) from a 158% scanning.
Wiltshire rams are sourced from a friend who owns a purebred flock based on Arvidson, McMillan and Puriri bloodlines. The flock is not drenched. The best 30 ram lambs are retained and sold to the Frasers who put them under a bit of pressure before selecting the best 20 for use over their Growbulk-cross.
"We're hoping to maybe test their GGT levels and muscle scan them in future to give us more information to help us in the selection process."
By using ram lambs they believe they are not over- capitalising their ram flock, which makes it easier to cull rams if they are not up to scratch and/or turn them over more frequently. The first rams the Frasers bought were from Grant McMillan at $850 while they paid $250 for the ram lambs.
Rotational grazing advocates
The Frasers are enthusiastic advocates of rotational grazing, particularly over the winter, but have struggled to achieve as long a rotation as they would like because of their preference for a three-mob wintering system.
"Ideally we should be wintering the A and B flocks together but we are concerned about possible smothering and pasture damage, bearing in mind the tendency of Growbulk-cross to be hyperactive."
Another concern is the two-tooths having to compete with the older ewes. So they grow them out as well as possible to minimise the effect of any competition. Hoggets are the third mob in the rotation.
Two mobs of mixed-aged cows immediately follow the two mobs of ewes in the rotation, cleaning up roughage left behind.
At this early stage of farm ownership they have yet to formalise the finer details of their winter rotations. However, as they approach lambing they do try to even up pasture covers in the lambing paddocks. Single-bearing ewes are set stocked for lambing on the steeper country at 6.5-7/ha and multiples on the easier country at about 7/ha. These figures will depend on individual paddock covers at the time. Once lambing is over stocking rates in paddocks are manipulated to equalise covers mainly by using calved cows.
'The cool thing is we're both excited about our new venture, and what's even more exciting is we're not following in the footsteps of heaps of farmers because Wiltshires are a relatively new breed…'
Guy is conscious of low magnesium levels in fast-growing pasture at this time of the year so moves the mobs of cows and calves as quickly as possible through these paddocks to avoid grass staggers.
Cow/heifer mating occurs in three mobs; the 15-month heifers, the first and second-calving cows and the MA cows. The bull goes out to heifers, December 5 and to the cows December 10 with the mating period 55 days. Any dry cows/heifers are killed. This year 29 of the 33 heifers mated got in calf and 95 out of 98 cows.
Heifer mating has proved to be relatively successful for the Frasers with few if any assisted births and calf losses. Their strategy is to mate them to low birthweight EBV bulls and feed them well. At the time of writing they had seven heifers still to calve out of 29, and no assists.
Cows and heifers come out of their winter rotations onto pasture shut up in mid-August and are fed on separate calving areas with balage being fed in the morning and a break of grass in the afternoon.
'I believe this order of feeding has the effect of better spreading their daily intake as opposed to the other way, which results in a feast and famine scenario," Guy said.
Calved cows and heifers are shedded onto other areas of saved pasture as soon as calves become mobile.
After weaning on March 15, the Frasers sold 42 steer calves at the Te Kuiti weaner fair at an average weight of 232kg. Twenty-eight heifer calves were kept for breeding, with 17 sold as culls.
Farm facts:
Waeranga, 477ha (420ha effective) steep, medium and rolling hill country.
25km north-east of Taumarunui.
Running 1500 A flock Growbulk-cross ewes mated to Wiltshire rams. About 1000 five-year-old Romney ewes make up the B flock.
Sheep and cattle breeding and lamb finishing.
Grading up to Wiltshires for lifestyle and sustainability reasons.
Return on capital 17%
During the financial period July 1, 2018 to June 30, 2019 when the Frasers were leasing Waeranga they made a profit of $80,474 from a gross income of $390,832. Major costs included rent at $84,700, shearing $40,487, animal health $26,772, fertiliser $47,029 and rates $10,798. Net assets were $476,706 giving a return on capital of close to 17%.
Improvements made
Since taking over ownership of Waeranga the Frasers have made two significant additions to the farm's infrastructure; a set of satellite yards and a water system. The former means sheep, particularly lambs, don't have to be driven all the way home to be weaned, drenched and dipped thereby reducing the incidence of viral pneumonia. Lambs can be weaned back on to the paddocks in which they were born, which Guy believes ensures they settle down more quickly.
A reliable spring in the top corner of the farm has been tapped and is the source of Waeranga's new water supply. Water is fed into a dam from where it is pumped using a relatively inexpensive petrol-powered pump with a 45m head into a tank holding 50,000l with a further 25,000l of storage capacity halfway down the supply line. This gravity-fed supply services some of the farms better lamb-finishing and summer country, which traditionally can run out of water even in a moderate drought. Last year it proved its worth in one of the driest summers on record in the area. Compared with a solar pump, which would have cost about $10,000, the petrol pump cost $1300 and requires only three litres of petrol to pump 15,000 litres of water.