A mix of Sechura reactive rock phosphate (RPR) and elemental sulphur has outperformed all other fertiliser treatments for drymatter (DM) grown in a short-term comparison in the King Country.
The results have created discussion within the fertiliser sector, particularly because of the widely held view that all RPRs are slower in the first three years than superphosphate at releasing phosphate (P) to fuel pasture growth.
The test was set up by independent soil and fertiliser consultant Robin Boom on his property at Taumarunui and ran for a year from July 2019.
Boom says he was approached in early 2019 by Australian company, Fert Direct, which wanted to market a sulphur-infused triple superphosphate product called Triple Plus in New Zealand. Fert Direct trades here as Inphos and operates from two North Island locations.
"They [Fert Direct] were prepared to fund a small trial on my own property at Taumarunui, comparing Triple Plus against other commercially available phosphate products. With a number of newer fertiliser products coming onto the market in the past three to four years, I thought it was a great opportunity to trial some of these."
His trial compared Triple Plus with standard superphosphate, Triple Super-Sulphur, Replenish and DCP 18 (both higher analysis dicalcium phosphates), and three RPR products – a granulated Egyptian RPR, Algerian RPR and the Sechura RPR imported to NZ by Asura from a privately owned mine adjacent to the much larger Sechura deposit.
Soil testing before the comparison showed the site had low Olsen P levels and considerable variability between the trial plots, a point Boom readily concedes when he was approached for an interpretation of the results.
Other fertiliser sector experts have also described the results as indicative only of the performance of each product on this particular site.
Each treatment had four replicates, and product was applied at the equivalent of 45kg P/ha and 30kg S/ha to each one.
'The upshot was that the site was very P responsive, and most products performed as expected. But there were some surprises.'
The Triple Plus, superphosphate, Replenish and Sechura RPR treatments all grew just under 10 tonne/ha of drymatter over the 12 months. The DCP18 was about 500kg/ha DM behind these, and the Triple Super/Sulphur and Algerian RPR were both about 1000kg/ha DM behind. The granular Egyptian RPR was a further 1000kg DM behind these two, at just under 8t/ha, and the control was 7350kg/ha DM.
"The upshot was that the site was very P responsive, and most products performed as expected. But there were some surprises," Boom says.
He suggests a probable reason for the superior performance of the Asura-sourced Sechura RPR is its small particle size, which means it dissolves more readily than some other sources of RPR. It has a 44-46% citric solubility which puts it at the high end of RPR products available in NZ.
Boom says he has been an advocate of RPRs to many of his 400 farmer clients across Waikato, Bay of Plenty and the King Country.
The performance of the Sechura RPR-Sulphur mix was no surprise to the owners of importing company Asura, father and son team Ron and Matthew Webby, or Kiwi Fertiliser owner Ron McLean, one of a small number of companies that sells this particular Sechura RPR product in NZ.
Both McLean and Ron Webby say the results back up earlier trials, including the six-year national series trials completed in the 1980s by AgResearch that showed superior pasture production performance from RPR over superphosphate on many soil types, particularly wetter, lower pH soils, over the term of the trial.
The scientist who set up the national series, Bert Quin, left AgResearch soon after and set up Quinphos to import and sell RPR fertiliser. His business was later bought out by Ballance, who renamed it Summit Quinphos, then Altum, and later merged its operations into the larger Ballance business. Quin has returned to importing Algerian RPR product and retailing it to farmers under the business name, Quinfert.
McLean says even though Sechura RPR is not far ahead of superphosphate in Boom's 'trial', the fact that it is ahead is significant.
"What this trial shows is that the right RPR and sulphur will grow more grass than superphosphate," he says.
Working out the cost per kg of DM grown is complicated by the difference in the composition of each product, trucking and flying costs.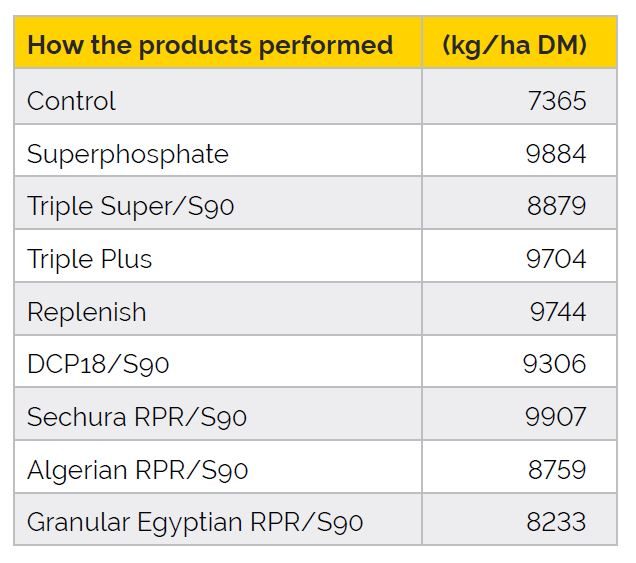 McLean claims the Asura-sourced Sechura RPR has a higher percentage of P than superphosphate, and RPRs typically contain about 28-30% calcium, so there is a bonus liming effect to consider too.
"If you're putting on 100 tonne of superphosphate, you'll only need about 80 tonne of Sechura RPR. That means less trucking cost and less flying cost to get the same amount of P on to the farm and that has to be considered when you're working out the cost per unit of P applied for each option," he says.
"Our Sechura RPR is also absolutely natural. It's certified organic," McLean adds.
Kiwi Fertiliser offers recommendations based on soil analysis at the Perry Laboratory at Missouri in the United States, which are then interpreted by respected soil scientist Dr Neil Kinsey.
McLean says not every farm requires more P and he and his colleagues have taken soil tests on new clients' properties that reveal P levels up to three times those recommended by Kinsey.
"We find that once we've addressed the balance of sulphur, calcium, magnesium, the phosphate and the trace elements in the soil, farmers typically get a 15% increase in pasture production in year one alone.
"And if the farm's managed in the right way over three to five years, it can be as much as 35% increase in production.
"We've got sound science behind us, even though it hasn't been developed in New Zealand. It's from the US.
"Our approach is that we custom-blend to fill in the nutrients that are missing in the soil. We sell what the soil needs. We don't push what the company needs," McLean says.
Quin says the site would never have been chosen for any sort of fertiliser comparison because of its variability. He says the performance of the Algerian RPR, which is slightly coarser than the Sechura product, was not surprising.
"Normal practice for a farm with low pH and high anion storage capacity (a measure of P retention in soils) would be to apply a blend of soluble P and RPR together for the first two to three years, then RPR."