Lynda Gray
The release of a deer-specific drench will not be the silver bullet solution to the problem of drench resistance.
That's the up-front and blunt message from Southland vet and deer farmer Dave Lawrence.
"If we abuse this new drench, we're in big trouble," he said at a Central Otago deer industry parasite seminar.
Lawrence led some of the nationwide seminars on internal parasites, the goal of which was to inform farmers about the state of play in development of the drench as well as tools and strategies to deal with parasites and the growing problem of drench resistance.
"We want to avoid the situation now facing the sheep industry of resistance to triple dose treatment and we hope that discussing and explaining some of the management systems possible with deer will reduce the problem."
There's no confirmed date for release of the oral drench product for treatment of internal parasites but data has been submitted for review by Agricultural Compound and Veterinary Medicine (ACVM) to start the process towards registration.  Developments to date look promising with proof of efficacy trials showing the product is 98.5% effective in knocking out adult ostertagia (brown stomach worms), the biggest parasite risk to deer.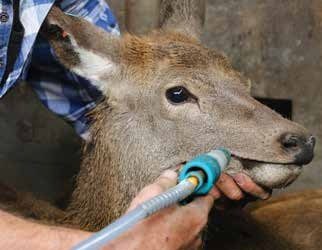 All young deer have internal parasites and the big problem, because of the limited diagnostic tools available, is to know when they are starting to inhibit performance.
"We don't have a lot of tools other than visual cues and scales and we know that they can carry a big burden of ostertagia before it's obvious in dung, by which time it's difficult to effectively treat."
If the drench meets AVCM requirements and is released to the market it will be a significant treatment milestone, but no panacea given that only about 10% of the infective worm population live inside the gut of the deer. Most live on pasture and effective control was about "messing up" the life cycle of ostertagia during that time. Practical interventions such as dung beetles and harrowing helped by breaking down dung to expose and kill worm larvae. Grazing that leaves residual covers of 1500kg DM/ha, cross grazing with cattle and sheep, spelling paddocks, silage and balage making were other ways of cleaning up infective larvae and breaking the life cycle of parasites.
Quarantine drenching of bought-in stock was very important but frequently overlooked, and more problematic with deer because there was no 'novel' drench to use as was the case with sheep. Bought-in weaners and especially sire and velvet stags were potential reservoirs of resistant parasites and should be treated with the industry recommended triple dose treatment, then spelled for 48 hours in a "dirty" paddock before going on to pastures on the new farm.
Refugia was another important and effective management tool.
Lawrence also said that the advent of a deer breeding value for breeding resistance (CARLAeBV) was an exciting genetic tool for parasite management.
"The majority of breeders are now testing for this and buying  a terminal sire or maternal replacement sire with a high CARLAeBV is a way of selecting and breeding for internal parasite resistance."
Uphill battle for new drench
Dave Lawrence is part of an industry team that has helped with the development of the internal parasite drench. It's been an uphill battle, the initial stumbling block being the stand-off by the large global animal health companies in backing a treatment that would generate a limited financial return given the niche-sized deer industry. However, three years ago Nexan, a New Zealand-owned animal health product company partnered with DINZ to develop the deer-specific product. DINZ has spent about $100,000 – $150,000 on the development to date, chief executive Innes Moffat says, and there were still several boxes to tick before an application for registration would be lodged with the ACVM.
The topic of internal parasites and drench resistance has been an issue that Lawrence has pushed for more than a decade.
He conducted drench trials in 2010 proving the ineffectiveness of most of the drench families highlighting what he described as a "black hole" of drench resistance. In the absence of a deer-specific drench he carried out more industry funded trials coming up with a best practice triple dose oral and injectable treatment in 2011.
He's still frustrated by the non-plussed attitude of many farmers toward the problem and management of drench resistance in deer. The farmer turnout at the recent parasite seminars was disappointing and he says getting the message out about parasite management to delay drench resistance will be left to vets.
The lost production potential due to internal parasites was a huge and insidious cost to the industry. In 2010, research by Invermay veterinary scientist Colin Mackintosh estimated that "moderate" parasitism could stunt weaner liveweight by up to 10% in autumn, which put them on the back foot for good growth rates over spring.
Refugia
What is it: management to dilute the drench-resistance of internal parasites.
How it works: Undrenched animals are grazed with or after newly drenched animals. The undrenched animals excrete drench-susceptible worms on to pastures and breed with the drench-resistant larvae to dilute the gene frequency and proportion of resistant parasites.
Sources of undrenched animals: 
A proportion of weaners (5-10%)
Older animals such as mature hinds or rising two-year-old hinds.
Remember: The undrenched animals will pick up some resistant parasites from the pasture grazed. However, they should not be drenched if possible as this will select for the resistant parasites and defeat the purpose of the management.
How to delay drench resistance in deer
Remember it's the farm that has a resistance problem, not the deer.
Do not drench adult stock. The exceptions are adult deer under stress when their natural immunity to parasites may be compromised
Minimise drench frequency to 28 days or longer. Determine the drench programme in consultation with a vet.
Never underdose
Use the correct dose for weight of deer
Calibrate drench gun and check dose delivery
Graze "clean pasture" with undrenched adult deer before grazing with weaners
Do not drench on to "clean pasture"
Avoid finisher-only blocks where no cross grazing of adult deer can be used to clean up infected pastures to provide refugia
Do not use pour on in deer
Do not use single actives
Quarantine drench all deer brought on to farm