Russell Priest
Marton's Dave Stevenson believes he's found the ultimate easy-care sheep. He doesn't shear, crutch, dag, dock, dip or go near them at lambing time. They are resilient, free moving, have good feet, seldom need mustering into the yards and bearings are uncommon.
The breed he is referring to is the shedding strain of Wiltshire. Exported from England to Australia in the 1950s and then on to NZ in the 1970s it is believed it may have originated in Iran. There it was known as the Persian Hair Sheep and was probably brought to England by the Romans. During the 18th century it was documented as being the most numerous breed in Southern England. It has always been bred as a meat sheep as opposed to a dual-purpose one.
"The biggest difference between shedding Wiltshires and woollies (woolly sheep) is the amount of work you have to do," Stevenson said.
"Grant McMillan's put a figure of 61% less labour required but in my experience he's being conservative."
His manager, Dave Hughes is a little less enthusiastic about the breed referring to them as arrogant probably because they display some different habits and are not as cooperative as other sheep breeds. While he agrees fully with his boss' comment about them involving less work, he is taking some time to get used to their scruffy appearance while shedding and the shedded fibre they leave in the yards.
"People are starting to catch on to how deceptively heavy Wiltshire lambs are now that a few are being traded and of course not having to shear them before slaughter is a real bonus."
Stevenson maintains visible fibre in the paddocks is exaggerated.
"It's only seen during shedding and disappears in no time," he said. "It's 100% protein, so must have some fertiliser value."
Hughes believes Wiltshires are not as hardy or as free-moving as Perendales to which Stevenson replies that few if any breeds head off Perendales on these two fronts. Wiltshire lambs on the other hand don't require jetting whenever they are brought into the yards for drenching do and they finish earlier.
Stevenson mentioned a farmer further down the valley who was going to mate his entire Romney flock with Wiltshire rams this year because he was sick of doing his own shearing and dips no longer appeared to be effective in controlling fly strike. He mated a few ewes to Wiltshires last year and was pleased with the result.
"All Wiltshire breeders I know are forward-thinking people and are not afraid to make changes," Stevenson said.
Stevenson's an ex-shearer and contractor having toiled away for 18 years before buying a 240ha farm at the age of 40 then giving shearing away.
"My policy with Wiltshires is never to take a hand-piece near them, "he said. "I've never yet met anybody who enjoys dagging."
But this was not the reason he got into Wiltshires 12 years ago. It was the declining price of coarse wool and his not being able to see this situation changing in the near future that got him thinking.
Not being afraid of change (he has bought and sold many farms in his lifetime and been a drover, musterer, deer farmer, fencer and shearer) he decided to give Wiltshires a go on his family-trust farm (The Pinnacles) at the top of the Waitotara Valley in South Taranaki. He started with 200 purebred ewe hoggets from the Morrisons at Marton and the Stricklands at Takapau. Because he couldn't buy suitable outside rams, home-bred rams were used in his flock for five years before outcrossing with rams from Sabine James, Grant McMillan and David Arvidson.
Stevenson focusses strongly on structurally sound, full-shedding rams with a meaty carcase, a solid backend and good fecundity/fertility.
"Wiltshires are generally long sheep with good shoulders and feet but some can be a bit light in the back end," Stevenson said.
A flock of 2000 full-shedding Wiltshire ewes are now run on The Pinnacles along with about 500 Perendale ewes which are the remnants of the flock Stevenson started breeding when he bought the farm 15 years ago. For the last two years these have been mated to Wiltshire rams.
Stevenson lives on a small 58ha block between Bulls and Whanganui with his wife Heather, where he runs an elite flock of 85 full-shedding Wiltshire ewes screened for their ability to shed, their fecundity/fertility and their phenotype. Some of the ewes are eight years old.
Also farmed are their male progeny the best of which are used to mate some of the ewes at The Pinnacles. In an area notorious for facial eczema none of the Wiltshires have thus far shown any clinical signs of the disease while some Texel-cross ewe lambs also running on the block have. The ewes generally deliver an unshepherded lambing percentage of just over 180 with no dries last year.
Stevenson has a lifestyle-block ram client with 53 ewes who was disappointed in just missing out on a 200% lambing.
Stevenson's daughter and son-in-law (Joanne and Jack Barry) run another 400ha family-trust farm on the east coast at Pongaroa where Wiltshires are also farmed.
The Pinnacles is a medium-to-steep 1133ha (810ha effective) hill-country. Lying in a basin surrounded by hills (up to 515m) and at the end of what is reputed to be the longest no-exit road in NZ, it is reached after an hour's travel from SH3 at Waitotara along the Waitotara River. Flat land adjacent to the river is extremely flood prone and during the 2015 flood many of the farms up the valley were isolated for some time. In recent years most of the valley has been invaded by bee keepers attracted by the large stands of Manuka on the steep hills either side of the river.
Winters are long and hard with at least one good annual fall of snow (75 – 100mm) expected which may lay on the ground for 3-4 days. Little wind is experienced but when it does arrive it comes predominantly from the south west bringing with it rain. Annual rainfall is about 1500mm with daily falls of over 100mm not uncommon. The area is generally regarded as summer safe.
Much of the farm is covered in a mantle of volcanic ash (yellow-brown loam) with underlying sediments of mudstone, sandstone and greywacke. The mudstone is prone to sheet erosion so an annual poplar-planting programme overseen by Horizons Regional Council is in place to try and arrest the slipping.
The high phosphate-fixing soil is deficient in copper, cobalt and selenium and requires regular dressings of phosphate to maintain the level of this vital element. To this end 100T of cobaltised, selenised sulphur super extra is applied annually from an airstrip on the farm at a total applied cost of $70,000. Some fertiliser is applied by a helicopter in the form of a slurry if the airstrip cannot be used.
Sharing a common boundary with the Whanganui National Park means deer and pigs are extremely plentiful. A previous owner set up a deer trap fencing off a 20ha area to hold the deer during capture. This is the only part of the farm where winter pasture conservation can be achieved as the deer remove any winter feed surplus if it appears outside this fenced area.
Several deep gorges on the farm provide a physical barrier to the invasion by red deer from the north. These are also a serious hazard to cattle so relatively few are run. Pigs can be a threat to new-born lambs however lots of keen pig hunters in the area keep numbers down.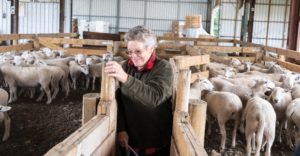 SIMPLE MANAGEMENT
A relatively small number of large paddocks on the farm leaves little scope for rotational grazing so set stocking is the normal grazing practice.
After weaning, ewes are set stocked on the steepest hills while lambs occupy the easier country closest to the farm's facilities. Some 450 mostly male lambs are killed over the January-February period at 17-18kg ($130/hd). Dave however prefers to capture the $50 a head winter margin by selling many of them on the buoyant store market in August for about $185.
"People are starting to catch on to how deceptively heavy Wiltshire lambs are now that a few are being traded and of course not having to shear them before slaughter is a real bonus."
Killing some lambs in January-February frees up land for flushing ewes. Full shedding Wiltshire rams/ram lambs are introduced to 2000 Wiltshire and 500 Perendale ewes on about April 10 for approximately six weeks at a ratio of one MA ram and two ram lambs per 100 ewes. The Perendale Wiltshire cross ewe lambs may be mated this year to speed up the grading-up process.
Ewes are scanned for singles and twins with the former being set-stocked on the steepest hills and the latter on the easier country. Being able to identify single-born ewe lambs gives Stevenson the opportunity to cull them in the future to hopefully improve the lambing percentage. Ewes are given a wide berth at lambing time.
When Stevenson bought the farm it was carrying 3500 composite ewes which he immediately crossed with John Hendrickson's Perendale rams. The penny dropped about three years later for Stevenson when he recognised there was little future for strong crossbred wool. He also witnessed the positive results from his purebred Wiltshires and those Grant McMillan was achieving crossing shedding – Wiltshire rams with Border Romney ewes.
"The secret to getting rid of wool as soon as possible is to mate the woollies with Wiltshire rams that grow little fibre and fully shed what they do grow."
Full-shedding animals are those that completely shed all their fibre and Stevenson believes an increasing plane of nutrition has a major influence on this process.
"Our ewes start shedding when the feed starts to come away in the spring," he said.
He maintains most of the wool will be gone in three crosses but unfortunately for the first two crosses less wool will be produced but most of the costs of growing it will still be incurred. So the net loss will be greater than that incurred if woollies were continued to be farmed. Stevenson believes this cost must be regarded as an investment otherwise it becomes a major deterrent for people wanting to grade up to Wiltshires.
"I wouldn't be afraid to grade up to Wiltshires from woolly sheep now 'cos I've done it myself and I've seen other guys doing it and it doesn't take as long as you might think."
When the lamb store market collapsed a few years ago he took the opportunity to reduce ewe numbers and winter 1000 store lambs. These were bought before Christmas and carried through to August when they were sold on a buoyant spring market returning a good margin. This practice has continued for a number of years however now that the store market for lambs in December has strengthened markedly and his number of Wiltshire ewes has increased, his intention is to buy fewer store lambs, kill more of his homebred Wiltshire lambs in the summer and winter those he doesn't kill. He hopes to eventually winter 3500 Wiltshire ewes.
Since owning The Pinnacles the lambing percentage both for the Perendales and the Wiltshires has stuck stubbornly on about 130%. Not knowing how to improve this frustrates Stevenson especially when scanning figures are about 160% and knowing how well his elite ewes perform on his small block. He does however retain a high percentage of his Wiltshire ewe lambs while trying to build up flock numbers so no fecundity selection pressure is applied to the female population. Only those with structural faults are culled.
"I'd hurry the job along by buying in Wiltshire females however they're not out there and you've got to pay the earth for decent ones," he said.
Helping to build up numbers as rapidly as possible is assisted by one of the strengths of the Wiltshire breed – longevity. Stevenson keeps most of his ewes until they are at least seven and maintains they will still do a couple of years after this if they are looked after.
Breeding cows used to be farmed on "The Pinnacles" however Stevenson swapped these for about 300 trading cattle as he believed he wasn't making any money out of them. The trading cattle policy is extremely flexible with the prime objective of making as much money as possible. The deep gorges on the farm are a major cattle killer.
STOCK NUMBERS WINTERED:
2000 Wiltshire ewes
500 Perendale ewes
1500 Wiltshire ewe hoggets
250 Wiltshire cross ewe hoggets
500 male trading lambs
300 trading cattle
55 rams
KEY POINTS
The Pinnacles – 1133ha (810ha effective) isolated medium-to-steep hill country.
At the top of the Waitotara Valley 95km northwest of Whanganui.
Bounded by the Whanganui National park.
2000 shedding Wiltshire and 500 Perendale ewes mated to Wiltshire rams.
Sells number of male hoggets on buoyant spring store market.
300 trading cattle.
Abundant fallow deer and wild pigs.
Set stocking predominantly practised.