Constantly tweaking the system
Bull farmer James Donaldson is always game to try new methods and ideas on his three Northland farms, but he told Glenys Christian it's a constant round of budgeting, monitoring and fine tuning.
Photos by Malcolm Pullman.
James Donaldson, 42, describes his operation as a tough game to make money on.
"You've got to watch everything like a hawk," he says. "A nice hawk."
James winters 1800, 18-month bulls on 1040 hectares along with 900 yearling bulls. The yearlings graze in mobs of 30 and the rising two-year-old bulls mobs of 18, using Technograzing and cell-grazing systems where they're moved on average every two days.
While his requirement to stock agent Leo Sloane is Friesian bulls, "we always end up with a few colourful ones that are cheapies". The aim is to buy 900, 180kg bulls in May or June from the saleyards or other farmers, then the same number of 330kg animals in October or November.
"We kill 1800 a year, starting in October with two-thirds killed before Christmas in case it gets dry.
"The other one-third dribbles out after Christmas."
This year James still has 200 on the farm due to the incredibly good grass-growing season.
After four years at Lincoln University completing an agricultural science degree and meeting wife Katie, James started farming in 2004. The rural professional route didn't appeal and due to the early morning starts, the couple never wanted to go into dairying.
James managed a 300ha farm at Titoki, 26km west of Whangarei, which was running 600 ewes and 500 bulls and he started using the Techno-grazing system there.
"The owners had close friends at Omamari who had converted their whole farm, so I thought it should work," he says.
He dipped a toe in the water, converting 50ha of the better contoured part of the farm. By 2008 the owners were happy to lease him the farm, an arrangement that continues today, with work on fences and water reticulation completed just four years ago.
James says the catalyst for change was what they were doing was uneconomic.
"We needed more gross revenue and there's nothing like seeing someone else doing it."
Fine-tuning of the system was carried out along the way.
"With rolling clay country covered in kikuyu that's summer dry and winter wet, it's taken a while to get right."
Seven years ago the move was made to Portland, just south of Whangarei to lease Katie's parents' 800ha farm, which is 700ha effective.
"We had the recipe pretty right by then and we just extrapolated what we'd learned," James says.
While he and Katie owned a house and some stock at Titoki, taking on the lease was a big step that stretched them. The farm was running 600 yearlings, 300 Angus breeding cows and 300 ewes.
James did the budgets based on what Katie's father was doing, which came out at an income of $80,000 a year.
"I wasn't happy with that."
There was some "dilly-dallying" before the decision was made to just go with cells rather than the full Techno-grazing system, due to little money being available.
"Polywire was pretty cheap and I could design the cells on the computer and use a handheld GPS," he says.
"It would have cost $700,000 for a clean-slate design but we did it for half that."
All three farms have a high percentage of kikuyu, with the heaviest seen at Portland. Three mulchers towed by three tractors are used extensively when time allows to mulch about 200ha from March through to May.
"The bulls eat as much as they can. The mulchers are the last resort."
No supplements are made, no crops are grown, nor pasture renewal programmes carried out.
James ran an Italian ryegrass trial on the Portland farm that showed there was more grass growth earlier in the season, but it had marginal benefit.
"We spent $200/ha making $200.
His philosophy of spending $1 to get $2 back has served him well.
"Rather than $1 to make $1.50, because sometimes the 50c disappears."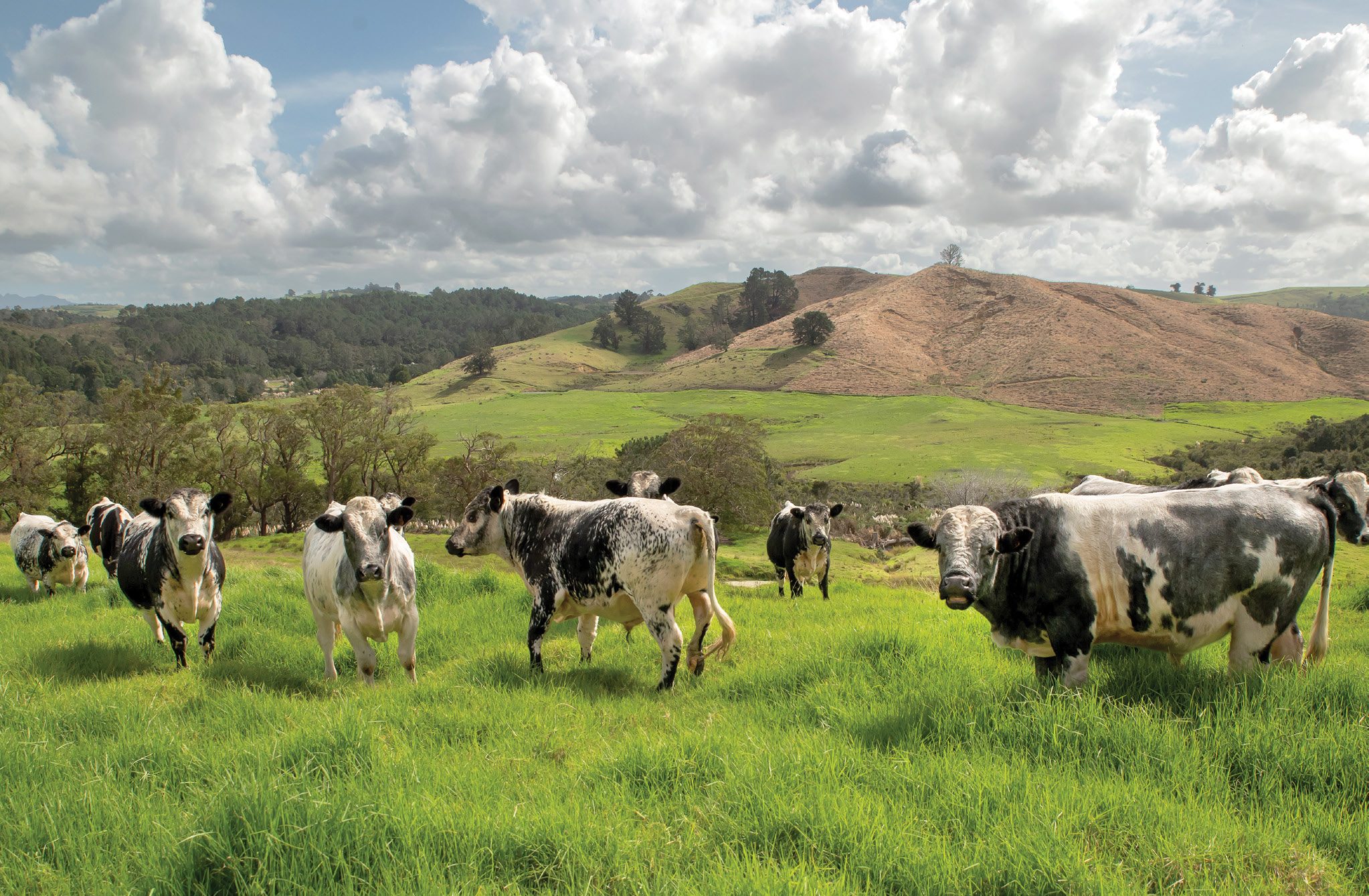 Close and careful monitoring
James describes himself as an ardent feed budgeter, so as the rain kept falling through the summer he knew exactly how much more feed was in his paddocks. While growth rates of 8kg of dry matter (DM)/ha/day through January and February are the norm, he plugged in 30kg, which meant significantly more stock could be carried on through the year.
He uses sward sticks, adjusting them based on the time of year – generally in May and October or November.
Once a month he goes around the farm and looks at the grass covers.
James says if he doesn't do a feed budget they won't know whether two or three applications of nitrogen will be needed. At an average cost of $100,000 an application, he needs to get that right.
They might weigh the bulls going into winter and coming out the other side going into spring. But if they have the grass covers right and animals are healthy, everything has been done to grow them.
In a perfect world an 18-month bull would be 450kg liveweight at July 1.
"Last year we were at 430kg, but this year we should do it."
He's a strong believer in killing stock "when you want to, not when you have to", and making a supply plan for the year ahead with Greenlea Meats' livestock manager.
He budgets on producing more than 330kg carcaseweight of beef/ha and hopes to get to 350kg/ha this year.
"Historically we've done 400kg/ha but then we ran younger stock and that involved more labour," he says.
He says taking weaner calves through the summer was incredibly difficult, so now they buy more yearlings in spring.
"An 18-month-old bull will control kikuyu but a calf won't."
The farms didn't achieve the same kill weights as last season, which was disappointing and James puts it down to management changes that came about as a result of high fertiliser prices. He monitors these costs carefully, usually applying 350kg/ha of 20% potash sulphur super as a maintenance dressing on all three farms although this has now dropped back to 270kg/ha.
James says they bought spreading gear last year and are getting a much better spread with it not just pushed into the centre of the cells.
At the same time protected clover seed was added to the mix, which James says worked well in kick-starting this species' establishment.
While Olsen P levels are between 13 and 14 on the Portland farm, they're up to 30 on the more intensively farmed Maungakaramea and Titoki properties. The pH levels are all about 5.8.
Nitrogen goes on by helicopter in up to three applications of 35 units/ ha during winter, last year it was two applications.
Animal health costs are low at less than $20,000 a year, which James puts down to running no weaners. The bulls receive two pour-ons a year, two copper jabs and one long-acting selenium injection. The Titoki farm was depopulated after Mycoplasma bovis was found in calves that were supposed to have come from the Waikato, but had been brought from the South Island. The Portland farm was also put under movement restrictions. As a result, James "drew a line south of Taupo" for buying in stock. He looks at NAIT records much more carefully and "scans everything religiously".
Administration is sub-contracted out at $18,000/year which James says is the best money spent by the business.
"I have no interest in shuffling paper."
Katie is a teacher at Matarau School which their two daughters, Emma, 11, and Lilly, 7, attend. Son Ben, 13, is a boarder at King's College in Auckland.
Including James, 4.5 staff are employed on the farms. One worker is Zoe Allison, a city girl who enjoyed her time on the farm so much as an intern under the Whangarei A&P Society programme that she returned as a full-time worker.
After 20% SU lift, 20% cost cut
Recently James hired a full-time fencer who will be contracted out to local landowners half the time and the remainder will be spent improving their own farms' fencing to keep bulls from getting down in drains or escaping.
"It's one of the things I've wanted to do for some time," he says. "This way there will be no net cost to the business."
Looking to the future, James believes there's the chance to up his stocking rate by 20% by making cells smaller and running mobs more intensively.
There's a little bit more they can wring out of the system.
"Bulls can't count above 30 and big bulls beyond 18."
He tries to trim 20% of costs, never achieving that goal but small savings along the way all add up. He's changed fuel supplier, asked for a discount on fertiliser, and got his bank to knock 0.3% off his mortgages.
"You have to ask otherwise you won't receive."
Frustrated by not being able to control genetics of the animals he's growing, he's reviewing the idea of rearing some dairy beef calves in purpose-built facilities through spring. Recently he's been advertising for more land to lease, wanting to improve returns by spreading his fixed costs over a greater area.
"But carbon forestry has buggered that with landowners planting their farms and not leasing them out."
A longer-term aim is to have a stab at adding value to his final product, through being consumer-centric and working backwards.
He says unless a farmer has a big dry stock business that's humming, he's doing it for love.
"What we do to bull beef hasn't changed for 30 years."
James says it's a low-grade commodity. New Zealand doesn't produce that much beef. Surely it can't be too hard to find somewhere that will pay more?
Close to the bustle
The farm borders the Portland cement works and quarry, Portland township, Maruni export wood chip plant, the Whangarei District Council's major Puwera landfill, several estuarine arms of Whangarei harbour and is bisected by the main trunk railway line, a private road serving the chip plant and cement works and a 1km long conveyor belt taking limestone from the quarry to the cement works.
Testing  the system
In 2017, a six-month on-farm grazing trial clearly showed the benefits of rotational grazing on vulnerable soils.
"We knew the answer before we started, but it gave us the data," James says.
Run by Greenlea through the Red Meat Profit Partnership, it showed that under rotational grazing there was an average 2.2t/ha more pasture and the cattle consumed 1.1t/ha more grass. Pugging damage was halved and the cattle grew 60% more liveweight/ha, generating $547/ha extra income.
"That difference is more like $700 a hectare now."
James recently bought a 170ha former dairy farm at Maungakaramea, west of Portland, and is converting it to Techno-grazing and cells.
"All the basic infrastructure was in place and there was high soil fertility," he says.
By doing as much of the grazing conversion work in-house as possible, the cost came out at about $100,000.
KEY POINTS: Large scale bull farming 1040ha | Techno-grazing or cell grazing bulls | Production aim 350kg CW/ha this year | Careful monitoring of pasture growth, all input costs | Gross farm revenue $2030/ha | Farm working expenses $1038/ha | Effective farm surplus $818/ha.