Mike Bland
Rex Alexander could have walked off the farm after facial eczema wiped out more than half his recorded ewe flock in 1970. But a stubborn streak made him stay and fight.
Most North Island farmers of today would be grateful he did. Together with a small band of Ruakura scientists and a hardy group of like-minded sheep breeders, Rex's ground-breaking work on facial eczema (FE) throughout the 1970s and 1980s saved millions of sheep and helped farmers in FE-prone areas improve profitability.
As a top flock master and founder of one of New Zealand's longest running sheep breeding groups he was never afraid to challenge the status quo, even if it meant ruffling the feathers of traditional sheep breeders.
Now retired and living in Matamata, his interest in performance breeding started in the late 1950s and was driven by the humble production of Romney sheep on his Taranaki farm.
'That was almost the straw that broke the camel's back.'
"In those days ewes had wool from their nostrils to their toes, they were short and stumpy and that made it hard for their lamb to find the teat. Some farmers were getting 96-100% lambing, but anyone who said they were doing better probably fudged their figures."
Back then, most traditional ram breeders selected on 'eye appeal' only and few could provide records to back up productivity claims, Rex says.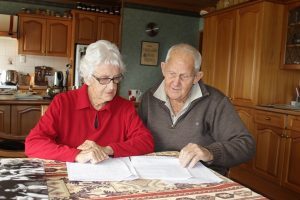 By the time he'd sold his South Taranaki farm and moved to Pukekohe in 1962, he was "well and truly pissed off" with where the breed was heading. Though it may have been tempting to switch to Coopworth or Perendale, he still had faith in the Romney and was determined to lift productivity.
In 1962 he tagged all his ewe hoggets and began recording wool weights – something that was virtually unheard of at the time. He bought small plastic 'H'-tags and used a set of steel punches to number each tag individually.
Gordon Wilson, a young sheep and beef officer with MAF, gave advice on wool characteristics and production and helped Rex and wife Marion set up a recording system.
"I realised that by measuring wool production we could make a big improvement in profit."
The next problem to address was lambing difficulty. Rex and Marion were staggered at the number of ewes that needed help to deliver a lamb. Things reached a peak in 1966 when they lost 26 lambs (choked in the birth canal) in the space of 36 hours.
"That was almost the straw that broke the camel's back."
Two years later, again with Gordon Wilson's assistance, Rex called a meeting for farmers interested in setting up a group to address some of the performance issues facing the Romney breed.
The Auckland Romney Development Group (ARDG) aimed to lift wool production, liveweight and fertility, and improve lambing ease.
Rex was appointed central flock master for the group, made up of seven farmers, with members sending their top breeding ewes to the Alexander's Pukekohe farm.
At its peak the central flock consisted of 400 ewes, run with 350 of the Alexanders' own.
Flock ewes were tagged and recorded, though it was a low-tech operation at the start, with lambs weighed on the bathroom scales.
The quantity of paperwork required for the recording process was "horrendous", Rex says.
"Marion and the other partners of ARDG members made a huge contribution by doing most of this work, and they still do."
Facial eczema devastates
Not everyone was happy with what the ARDG was doing and some traditional Romney breeders accused the group of bastardising the breed. As the group's front man, Rex copped much of the flak.
"Those were perhaps the loneliest years of my life. I believed in what we were doing, but at times it seemed that nobody else did."
However, the scheme showed early promise, with mixed-age ewes lambing at 154% (ewes to ram) in 1969. But then disaster struck. An outbreak of FE in March 1970 wiped out more than half the ewes.
"Farmers knew about FE but we never saw it in our district between 1960 and 1970. After that we had five years of it and lost 35% of our ewe lambs. By 1975 it reached the stage where we couldn't put a breeding flock together without buying in to make up the numbers."
'It was Marion who held it all together. She stopped me from going crazy.' 
FE had a devastating effect in the upper North Island and forced many farmers in the South Auckland region out of sheep and into beef cattle or market gardening.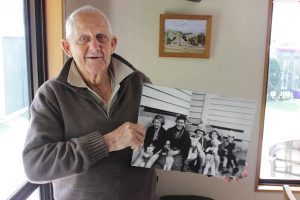 Rex says the depressing job of picking up a seemingly endless supply of dead sheep almost drove him off the farm as well.
"It was Marion who held it all together. She stopped me from going crazy."
But then he noticed something that offered hope.
"When we tallied up the dead lambs and looked at the breeding records we found that two sires had lower death rates than the others. Losses for most rams were in the 16-26% range but these two, a grandfather and grandson, were only 8% and that opened the door to solving the problem."
At the time most agricultural science was focused on 'production traits', though there had been a small demonstration conducted at Ruakura Animal Research Centre that showed individual animals reacted differently to FE exposure. Some were severely affected and others hardly at all.
In 1979 MAF farm advisor Colin Southey and Ruakura scientists Neale Towers and Chris Morris set up a testing farm in South Auckland.
In a spirit of collaboration, 10 sheep breeders, representing a range of different breeds, submitted their best ram lambs to the project. Rams were blood tested then exposed to pastures with high levels of sporedesmin to identify sires that were most tolerant to FE.
This work increased farmer awareness of FE and highlighted its impact on sheep production. Crucially, it also proved that selecting rams for FE tolerance could reduce the effects of the disease and lift profitability.
Paddock testing for the trials concluded in 1984 and five breeders then formed a company, Stock Safeti, to produce sporedesmin and offer a controlled testing service to other farmers. Stock Safeti was later bought by Ramguard.
In 1993 the Alexanders sold their South Auckland farming operation and bought 283-hectare Pakaraka Farm at Okoroire, near Tirau. Rex retired from the flock master role and was recognised with a life membership.
"The ARDG has been a real team effort and I'm very appreciative of the support past and present members have given me."
ARDG focus
The ARDG central flock was dissolved after Rex retired. But the group, which has been renamed 'Advanced Romney Designer Genetics', now includes many second-generation members and remains focused on the original goals.
Rex's son Ross runs the recorded flock on Pakaraka. In 1999 the Alexanders also bought a 932ha sheep and beef farm at Mt Damper, Taranaki, and this is managed by son Lloyd.
Though he forged a reputation as a top flock master who made a significant contribution to sheep performance and FE tolerance, Rex, 84, sometimes wonders what life would have been like if he'd never become involved with performance breeding.
"Maybe I should have been a prime lamb buyer instead."
Achieving goals
At the age of 16, Rex Alexander sat down and wrote a plan with four simple goals.
"Buy a farm, get a wife, rear children and be debt-free by 40."
He achieved his first goal a year later, buying 88ha next to his parents' Ararata sheep and beef farm in Taranaki in 1951. By the age of 22 he'd cleared all debt and charmed a Stratford dental nurse, Marion. They married in 1957 and produced three offspring, Susan, Lloyd and Ross.
Rex and his siblings were raised in Tiger country, where the hills were so steep the locals used to say, "if you can't find the cows, try looking up the chimney".
Their Dad was a tough Taranaki farmer who wanted his children to work hard and do well.
"When I was seven-years-old, Dad came home with four dairy heifers and told me and my sister, Marjorie, that if we milked them, we could keep all the proceeds."
Rex and Marjorie also started breaking in ponies. Due to wartime petrol rationing, these ponies were keenly sought after in the district.
"We'd ride them into the Hawera sale and watch bidders compete for them. They'd make 18 to 26 pounds, which was good money."
Proceeds from shearing also helped Rex pay off debt and save for his next farm.
"It was bloody hard work. In the 30 years since I left school I only had 10 weeks off."
In 1962 he and Marion bought 136ha of rolling contour between Pukekohe and Waiuku.
"We knew nothing about the area at all, apart from that it grew good potatoes. But the contour was a lot better than Taranaki and it gave us a bigger farm, even though there was almost no fencing."
Rex says the new farm came with a rat-infested cottage that did not appeal to Marion.
"I don't know what I was thinking. My judgement was clouded by youthful enthusiasm."
But the Alexanders developed it into a decent unit, running 1200 ewes and 35 cattle. They later bought two more blocks in the area.
In 1968 Rex set up the Auckland Romney Development Group, a group dedicated to producing rams ideally suited to conditions in the upper North Island.
The ARDG, which turned 50 this year, is one of the country's longest running sheep breeding groups and is credited with making a significant contribution to sheep performance and FE research.