Former police detective Lee Askew now runs a successful breeding and finishing farm in Gisborne's Waimata Valley, and it all started with a sentimental attachment to Red Devon cows. Words and photos by Louise Savage.
As they say, you can take the lady out of Devon, but you can't take Devon out of Gisborne farmer Lee Askew.
On a picturesque farm in the hill country of Waimata Valley, Lee's business is to breed, finish and present high quality, free-range, low-stress beef. She sells both chilled and cooked to consumers via the Gisborne Farmers' Market and at other events at which Lee caters.
Hertfordshire born, Lee began life as a city girl, but family holidays in Devon saw her fall in love with the southern English county. She gravitated there to go to college to study agriculture and she stayed.
In 1990, following a year of dairy farming experience in New Zealand, Lee returned to the United Kingdom and completed a diploma in farm management. Because she loved cows, she took a job as milk-records supervisor for the UK Milk Marketing Board, managing a team of 25 contractors quality testing milk on up to 200 farms. This experience gained her a more specialised role as a mastitis consultant for dairy cows with the company Genus.
In the UK, farmers are paid for the quality of their milk, incorporating fat and protein percentages as well as somatic cell counts. These cell counts are a significant factor in the UK because cows tend to be housed in winter, farmed more intensively and the climate tends to be wetter. As Lee got more and more farms on the right track with procedures to improve milk quality she found she'd done herself out of a job. In a complete turnaround she joined the police.
Lee met her late husband Brian Askew in the Devon and Cornwall constabulary.
"Brian was so kind to me during training and always looked out for me."
When the NZ Police were seeking recruits from the UK, Brian and Lee, then a detective, came to NZ.
The Askews bought 5ha of land in Gisborne and Lee bought two in-calf Red Devon cows "for sentimental reasons" and that was the beginning of an enduring love for the breed. Red Devons are excellent foragers and are considered a gourmet beef breed, with tender meat, good marbling, and white fat, coupled with a calm temperament.
The little herd was slowly increased in size, initially using bulls borrowed from friends Gayle and John Couch before Lee invested in her own bull.
The realisation that her hobby could be a "real business" came to Lee after attending a meeting of the NZ Red Devon Cattle Breeders' Association that incorporated a visit to Fiona and Julian Downs' farm. The Downs processed their cattle through to the final product, which they sold at the Wellington Farmers' Market.
"That was my lightbulb moment," Lee says.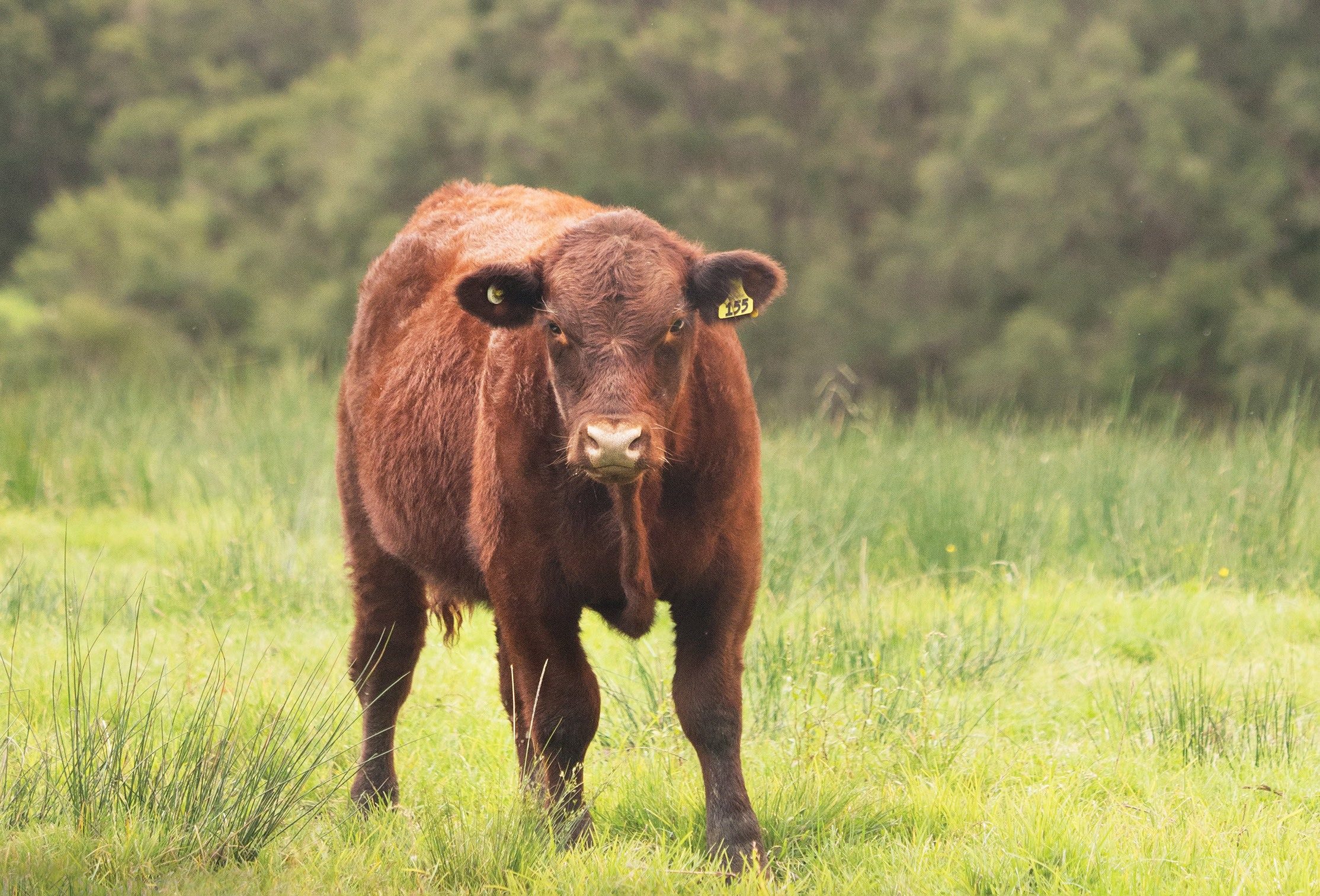 "I could see in an instant that was what I wanted to do, and Brian was right behind me."
The Shemshi Red Devon brand was born.
Naturally a bigger block of land was needed, and in 2014 the Askews bought the initially weedy, scrubby and steep block up Mander Road and Lee threw her heart and soul into developing her farm, building up her herd from the first 11 cows and selling the meat at the Gisborne Farmers' Market, both as "the very popular Delicious Steak Mince Burger" and chilled cuts.
Lee and Brian lived in a caravan for 18 months awaiting construction of their house. During that time they received the devastating news that Brian had dementia. They carried on as long as possible, Lee keeping a constant eye on Brian, but eventually he needed to go into care.
About the same time, support came via a chance meeting with Sandra Mathews, who along with friend Marie Burke had set up Farming Women Tairawhiti (FWT). Lee undertook a course through FWT called Understand your Farming Business which led to her completing a diploma in agribusiness management. The support and friendships fostered through the group of like-minded women became invaluable during the tough years of Brian's illness and developing the fledgling business.
Killed and chilled
By far the biggest and ongoing business challenge has been getting stock to an abattoir and then the chilled transport to get the product back home.
Ever mindful of the welfare of her stock, low-stress handling and quality of the meat being paramount, Lee bought a trailer that enabled her to take her cattle, two at a time, to be slaughtered.
"We used to take them to Ruakura in Hamilton, then to Auckland Meat Processors. That was a total nightmare".
Lee takes stock to Tom and Carrie Andrews' Cambridge micro-abattoir Wholly Cow.
"Thank goodness for the Wholly Cow," Lee says.
"Without the Andrews I wouldn't be in business, and the way they do things, low-stress, perfectly aligns with how I want my animals handled."
The Andrews farm and slaughter their own stock, which is then sold though their butcher shop.
They kill on a Tuesday, so Lee loads them and drives over on the Monday. They spend the night in yards, and each one is taken separately down a race to be killed, out of view of the other one.
"They don't even know what's happening."
She says cull cows and any extras go to Silver Fern in Hastings, but "obviously not right now with no road".
Lee says when animals are stressed due to handling and transport, the adrenaline released uses up glycogen and not enough lactic acid is produced in the muscle post-mortem. "The effect of this on the meat is to make it tougher, lower in flavour, high in pH and it doesn't last chilled compared to low-stress meat."
Her policy is to reduce stress in her animals at all times, and especially prior to slaughter, and to increase the glycogen levels in the muscle as a buffer prior to transporting them. She does this by feeding them for two weeks, giving whole soaked oats mixed with molasses.
"The cattle become really familiar with me while I'm feeding them."
In the few days prior to transporting Lee will feed them on the trailer, training them to walk on voluntarily, so they're comfortable with that, too. When the time comes to leave, they load themselves.
The trip to Wholly Cow is slow and careful, taking a bit under six hours.
Lee feels the ultimate from the animals' point of view would be killing on farm using a mobile abattoir.
They tried it, but it was hard to handle the carcases afterwards, and actually, we can't get anyone to come here any longer to slaughter on farm."
Lee has considered having a mobile abattoir built to service her business and hire out to others, but from an engineering point of view, considering the rough Gisborne roads, it would be a difficult engineering problem. "I think it would pretty quickly shake itself to bits," she says.
"We really need a micro-abattoir here in Gisborne. It would serve not just me, but enable others to set up similar businesses, adding value. It would be wonderful if someone local could offer lamb at the Farmers' Market. It would be useful for lifestyle block farmers too, and after the recent cyclones cutting us off, it would give businesses resilience to carry on."
Developing the property
In the eight-and-a-half years Lee's Shemshi herd and business have been on the Mander Road Block, she has done a huge amount of development. She bought a digger and cleared her own tracks, improved the fences, combatted the blackberry and reclaimed pasture.
"One square metre at a time".
Initial soil tests showed slight acidity and low potassium. DAP was twice applied by plane, then last year superphosphate by helicopter. No nitrogen is added at all. Despite the very wet winter, temperatures have been mild and Lee says it's been an amazing clover season.
Five years ago Lee left NZ Police and became a full-time farmer; the realisation of one dream even as Brian was so unwell, and sadly he passed away in 2020.
Stock
Stock numbers peaked on the property two years ago at 105 cattle, including 30 breeding cows. Covid made it even more difficult to get stock killed and prompted a rethink. Lee realised those numbers were too many for the block to carry. Currently there are 70 cattle, including 18 breeding cows and Lee plans to reduce numbers a bit further to 15 breeding cows and 60 head in total.
All stock are weighed frequently, at every treatment and at least six-weekly using a Tru-Test weigh system. Lee is looking for liveweights of 500+kg LW for steers to be slaughtered and 460+kg LW for heifers.
Qualities Lee looks for in a bull are temperament, low birthweight combined with good growth EBVs and finishing weight.
These factors combine in Shemshi's sole pedigree bull: Devland Kristoff.
"Kristoff went out with the girls on January 15 and came out on March 19. That's nine weeks, or three cycles."
Pregnancy testing is done at the beginning of May and calves are born from October 20 onwards, "To match our grass growth, and they have to arrive after the Poverty Bay A&P Show, which is a big catering event."
Kristoff, due for replacement, has served the herd well, although Lee feels she has not capitalised on his genetics for good growth; the limiting factor being a lack of feed, and hence her decision to downsize the herd.
The lush situation belies this, with stock in great condition following the very wet and mild summer Gisborne experienced, culminating in two cyclones and several other severe weather events. Waimata Valley received two-thirds of annual average rainfall by the third week of February.
The farm is not flood prone and fared well in the cyclones. Lee lost some fences, her main stream crossing and some tracks sustained damage, but thanks to space-planted poplars, scattered mature kanuka stands and the bush gullies, the farm got off fairly lightly.
A measure of success
Asked how she measures success, Lee instantly replies: "By the number of ciabatta buns we go through at the farmers' market."
Despite Covid disruptions to the market and cancellation of so many events where Lee normally caters, the bun count has escalated from 50 or 60 pre-Covid to 150 at a regular Saturday market.
In addition, the chilled product – dry-aged scotch fillet and sirloins – "fly out of the chiller".
Two years ago, Lee met new partner Simon. He moved to Gisborne to be with Lee and now helps on the farm and is chief burger-flipper at the Saturday market.
He's a fencer, cabinetmaker and furniture restorer by trade. "Simon can turn his hand to pretty much anything from fixing fences to tractors and spraying weeds, so he's a great help," Lee says.
The next chapter of Lee Askew's life sees her in a good space, with the farm and stock looking wonderful, performing well, and the business going from strength to strength. The city girl has become a country girl through and through.
Farm facts
Location: Mander Road, Waimata Valley, Gisborne
Type of business: Value-added: pedigree Red Devon beef, farmed "from pedigree to plate"
Area of farm: 66ha, 55ha effective
Paddocks: 24, ranging from 0.5 to 10ha
Contour: Medium to steep hills with 4.5ha flats
Stock: 70 cattle, including 18 breeding cows
Climate: mild Gisborne winters, can be summer-dry, 1500mm average annual rainfall