BY: Terry Brosnahan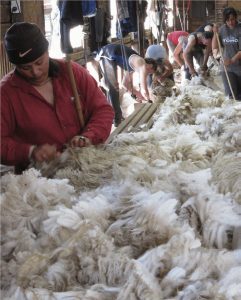 A New Zealand crossbred wool exporter is confident the market bottom has been reached and it is only a matter of time before prices lift substantially.
Bloch & Behrens general manager Palle Pedersen said for the past few months there had been positive signs among his European customers. Boch & Behren are the export arm of PGG Wrightson.
Activity had lifted in the domestic carpet and textile market. One reason was people cannot travel overseas to holiday so with the saved money they have chosen to renovate their houses.
Pedersen said India had bought a lot more coarse wool mainly because it was so cheap. It had bought more than China.
The drop in prices was due to a lack of promotion and Covid-19. Demand had been slipping for years because there had been no promotion. Covid-19 stopped manufacturing for a couple of months and created a huge backlog of wool. The demand for commercial carpet from airlines, hotels and cruise ships had collapsed.
A lot of the industry expectation for a strong recovery was based on Covid-19 vaccines becoming readily available around the world. If this happens and vaccination becomes compulsory then demand from the other strong wool customers should rise.
There is a fear that with the low prices farmers would cut harvesting costs by hiring fewer shed hands and shearing patterns. Shearing costs rose about 25% several years ago.
Shearing will be annually, creating longer, lower-quality fleeces.
Pedersen said there had not been a huge drop in quality. Certainly there had not been the attention to detail when it comes to shed preparation.
A merchant, who didn't want to be named, said his firm had been hit hard by the collapse in prices but they will survive. Unlike other firms they work off a 4% margin of the price, not a price per kilogram.
Segard Masurel's Feilding rep Andy Price said farmers were cutting costs to counter the low prices. They are dropping the extra shed hand instead of paying $40/hour to gain an extra 10-20c a kilogram. They can also put two-tooth and ewes' wool together to save on test charges unless there is a big difference in wool length.
Farmers shearing 12 months instead of eight will encounter more animal health problems. Price said by the time a farmer had ewes in full wool die from lying on their backs and paid for a full belly crutch at $2/ewe, paying about $5/ewe for shearing looked more reasonable.
"Farmers are trying different things and there is a lot of talk about going to woolless sheep."
During the winter the price started to move off the bottom of $1/kg greasy and rose to $1.60-$1.70/kg.
Price said this was because of a rise in demand for carpets and textiles in the domestic market. Just like the United Kingdom, Kiwis couldn't fly anywhere so spent the money on their homes.
Buyer and exporter Yaldhurst Wools Owner John Brett said the UK was still taking their strong wool and his costs were under control.
Yaldhurst is also doing its bit to boost wool sales by importing wool coffins.
Brett said they sell about a 100 coffins a year to undertakers.
Southland wool merchant Grant Baker of Baker Wools Winton has started buying dags again because of the demand for the manure and paying 5-10c/kg to farmers.
A Canterbury merchant says he is still buying dead wool and dags as a favour to farmer clients.
Price said they were paying 20c/kg for dags and 60c/kg oddments, but at $10/fadge it was hardly worth a farmers' time.