A shepherd who once sketched his dream now runs an $18-million farming operation that won 2018 Wairarapa Sheep and Beef Farm Business of the Year. Rebecca Harper reports.
Dion Kilmister and Ali Scott are proof that dreams can come true, if you pursue them with single-minded determination, blood, sweat and tears.
The couple, who live at Bideford but own and lease several farms around the Wairarapa and Tararua regions, won this year's Wairarapa Sheep and Beef Farm Business of the Year. They shared their inspiring road to farm ownership at their field day, held at Canoga Park, Bideford.
The story started with Dion and his wife Maria and goes from a shepherd with a dream to 70 steers and a $30,000 overdraft and, finally, an $18-million farming operation with 25,000 stock units today.
As well, they have two branded meat products, sold under their own Homegrown Farm Fresh Meats brand and Grass Fed Girls, a collaboration with Taylor Preston, and plans to launch a branded Speckle Park beef product. And something gives you the distinct impression the couple are not finished yet.
Along the way, Dion has shown remarkable resilience in the face of adversity, losing his son Jayden and wife, Maria, in a short space of time.
'A portion of this award goes to Maria and Jayden, they were a big part of our dream, and there is life after tragedy.'
"A portion of this award goes to Maria and Jayden, they were a big part of our dream, and there is life after tragedy," Dion says.
He met Ali, a self-confessed city slicker with a sharp business mind, five years ago and she became his partner in life, and business. Together they have formed a formidable team.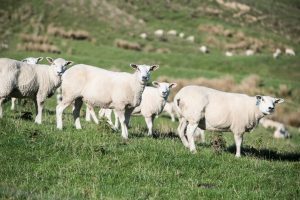 Pride of place in the couple's office is a framed hand-drawn sketch of a busy farm scene including a woolshed with the words 'Dream View' on its roof. This was Dion's dream, he drew it one day sitting at the kitchen table with a mate, and it was the beginning of something big.
The company's name, Toviewadream Farming is a reference to this picture.
But Dion didn't just dream, he sweated, scrimped and saved, and says at some point "you have to put your balls on the line". They have proved that hard work still wins, and you can get to where you want to go by setting goals and driving single-mindedly towards them.
The couple now own three farms, Puketai, a breeding farm under the Puketoi Range in Pongaroa, Canoga Park, a breeding and finishing farm at Bideford and a third farm near Pahiatua was recently bought, with plans to turn it into an intensive bull finishing unit.
They lease a further four farms, including Belmont Regional Park, which is owned by the Greater Wellington Regional Council and open to the public almost 24/7.
Collectively they have 2960 hectares (2650 effective) and 25,000 SU, with a mix of breeding and finishing farms. This includes two smaller 40ha lease blocks near Masterton, which are almost all in crop for lamb finishing. All up, they have 220ha cultivatable (8%) and the balance is hill country.
The business has been on a steep growth curve and is highly debted, and Dion is the first to admit the stock performance isn't as flash as it should be. But the constant growth, several of the properties being essentially in the mountains and open to extremes in the weather, and the frequent need to buy in ewes has made it difficult to maintain a top ewe flock.
Despite a four-year lambing average of 117% and calving of 77%, which Dion says isn't good enough, it's all about calculated risk and picking the opportune time to sell.
"Everything is for sale," he says.
It is telling that the lambing and calving numbers might be underwhelming, but the average lamb price/head is $102, nearly $20 above the industry average, and their economic farm surplus (EFS) is well above average, for land class, at $358/ha. The four-year average return on capital is 5.4%.
The business is generating good profit, through carefully management, a tight rein on expenses and calculated decisions to sell at the right time.
Dion doesn't like what he calls 'green cherries' – unfinished stock. The policy is to kill large numbers of lambs off mum at weaning (50% plus), before Christmas, and finish everything else. This means by the time he kills again, the schedule is usually on the upswing.
Lambs go on to crop at the town lease blocks and Dion reckons he's tried most crops, several times, and has come back to a chicory/clover mix.
Key points
Farm ownership achievable, through hard work and sacrifices
Started with a dream, 70 steers and a $30,000
Own three farms and running 25,000 stock units
Selling meat products under their own brand
Calculated decisions to sell at the right time pay off
At some point, you have to "put your balls on the line"
Good communication key to managing farms and staff.