Ken Geenty
The old adage that "90% of what we worry about never happens" often rings true! The new stresses with Covid-19 have been a wakeup call for us all. Foremost are the health and economic pressures bringing new worries and challenges. So it is timely and prudent, particularly in this changing world, to revisit overall stress management with your farming business.
It's a fact of life that farming comes with long hours and a heap of hard work but a lifestyle few would swap. The 24/7 nature of the business has many challenges.
Most cope well with the likes of adverse weather and tough political or economic constraints but sometimes new and unexpected challenges loom, causing extra stress.
Some say increasing farming stresses began to bite with "Rogernomics" in the 1980s bringing new farmer pressures with declining government support. In those days farmers didn't talk about their difficulties but tended rather to "man on", often letting the stress build up.
In recognition of a growing problem, the last decade or so has seen increasing encouragement to talk about hardship.
Early support work came from the likes of Horowhenua farmer the late Collis Blake, and more recently high-profile sportsmen like All Blacks Richard Loe, Sir John Kirwan, and Sam Whitelock have chipped in. Help is also available from rural professionals along with some 14 farmer-based Rural Support Trusts covering most farming areas of New Zealand.
The emphasis is on talking about your problems or issues, and involving your spouse or partner and family members in discussions and decisions around solutions.
Sometimes advice is simply to contact appropriate professionals for help, be it technical, financial, legal, or socially oriented. Occasionally, involvement is ongoing and more of a counselling nature.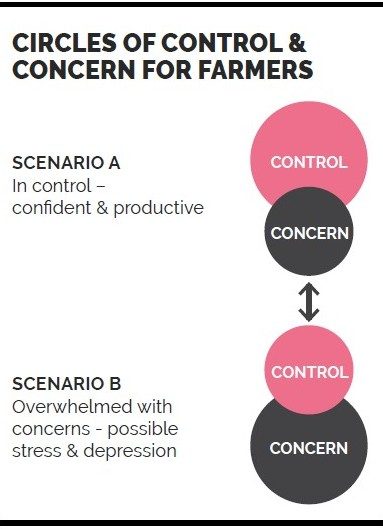 Participation in organised events such as farm discussion groups, field days, and conferences is a good learning opportunity but not everyone's cup of tea. Often the
most valuable part is the informal interaction or "chewing the fat" with other farmers and professionals.
There are alternative ways of seeking such interaction with the likes of local sporting and social gatherings, preferably involving the whole family.
With the Coronavirus pandemic, and probably more such episodes in the future, added to global warming and environmental deterioration farmers face increasing potential stress. The often repressive regulations emerging from these natural events are sometimes hard for farmers to stomach. Many argue they are harshly treated despite their unfailing care for the environment and responsibility for the stewardship of their land.
In order to be prepared for the unknown, some risk management planning is invaluable. Consultation with a professional is recommended and time spent on this exercise can avoid much heartache further down the track.
An important message for farmers is to remember that underpinning your striving for improved stress management are some fundamentals around control and concern.
It's a matter of either being confident and in control of your life and farming business or tending rather to be weighed down or overburdened with concerns.
The often-used concept of "circles of control and concern" in the diagram illustrates the issues.
Scenario A represents a farmer with a successful farm business and rewarding lifestyle. On the other hand scenario B  which fortunately depicts only a minority, represents a farmer at the other extreme overwhelmed with concerns to the point where this sometimes leads to increased stress and, ultimately, depression.
With appropriate guidance and support a farmer can shift along the continuum from Scenario B to A. In summary some of the key steps required for this shift include:
Talking to spouses/partners, farming associates, and support people/groups
Seeking help from appropriate rural professionals
Making time for leisure and relaxation
Planning risk management to cope with unforeseen:
 extreme weather events
 changing economic and political conditions
 a social environment leading to isolation/loneliness
 health pandemics such as Covid-19
 Not worrying about what you can't control – using risk management
All this boils down to having a good life balance, minimising stress, and experiencing profitable and rewarding farming. The old adage that "90% of what we worry about never happens" often rings true.