Andrew and Penny Zuppicich took on a run down sheep and beef farm called Kilmarnock in Hurunui, North Canterbury last year. Annabelle Latz spoke with the couple to find out how they bought Kilmarnock and their plans to bring the farm back to its former glory.
Kilmarnock is a farm rich in history, and the letters KILM still grace some of the gates, even if not many swing anymore.
Up the Blythe Valley, a stone's throw from Motunau Beach in the Hurunui District of North Canterbury, the 870 hectare sheep and beef farm was to end its reign with the Deans family at the beginning of 2020.
When young farming couple Andrew and Penny Zuppicich, both aged 37, saw it at the start of 2020, it needed more than a lick of paint.
Only two gates swung, most of the fences had been bulldozed away with the posts left standing, grass was growing above the homestead's deck which was flanked by a number of old tractors, and cattle were grazing on the lawn.
In 2019, Penny and Andrew were given six months notice that their lease was ending at Kaikoura Inland Road.
With enough for a modest deposit, they hit the road, travelling the length of the South Island to seek their first and 'forever' farm.
By March 31, 2020 they'd moved into a neighbour's cottage on the Inland Rd, finally moving into their new home on May 5 last year.
Their stock went to their lease block while the formalising took place.
Because of the Covid-19 lockdown, stock agents could not be on the property, and were reluctant to sell stock.
"So I put a message out to some duck shooting mates. Within six hours we had 3000 lambs sold. That was a huge mental relief."
If moving onto your first farm with three young children was not challenging enough, add in a lockdown, and you've got a real task on your hands with significantly less help at your disposal.
With help from grandparents, Penny and Andrew spent a week moving, and were allowed two extra days to get off their lease block.
"We had to leave our house and lease during lockdown which was extremely stressful and (it) was hard to get help. I was having to turn the pillow over several times during the night as it was soaking wet from stress," says Andrew.
This farm was on the market for quite a while, and would have not been affordable if it wasn't run down.
No paddocks were fully stock proof, 90% of fences will need replacing over time, and to date 700 hours have been spent grubbing or spraying tussock.
"The bones on this place are unreal. The setting is good, the yard locations are great. And I've never run over so many worms in all my life. I hope we can give the property what it deserves, bringing it back to its former glory," says Andrew.
Year one is getting the stock water sorted which means six kilometres of piping, year two is getting the fencing back in while year three will be applying capital fertiliser.
They own a drill and spray unit so all tractor work is done in house.
Chipping away
They started making a list of jobs to do, but realised there were too many. It was important to break down the work and chip away at a manageable rate.
"It reminded me of a conversation in a pub I had in the back of Kenya. The guy had just walked the length of Canada – he bought a map when he started but after two weeks he realised he wasn't making a dent in the map, so he threw it away and bought another one when he was getting closer to the end," said Andrew.
Penny was born and raised in Christchurch, and with a professional background in banking she knows her way around asking for a loan.
"Persistence beats everything, you have got to follow your gut instinct if you like a place," she says.
Andrew agreed, and says if they didn't have three young kids they may not have pushed so hard, but there was no other option.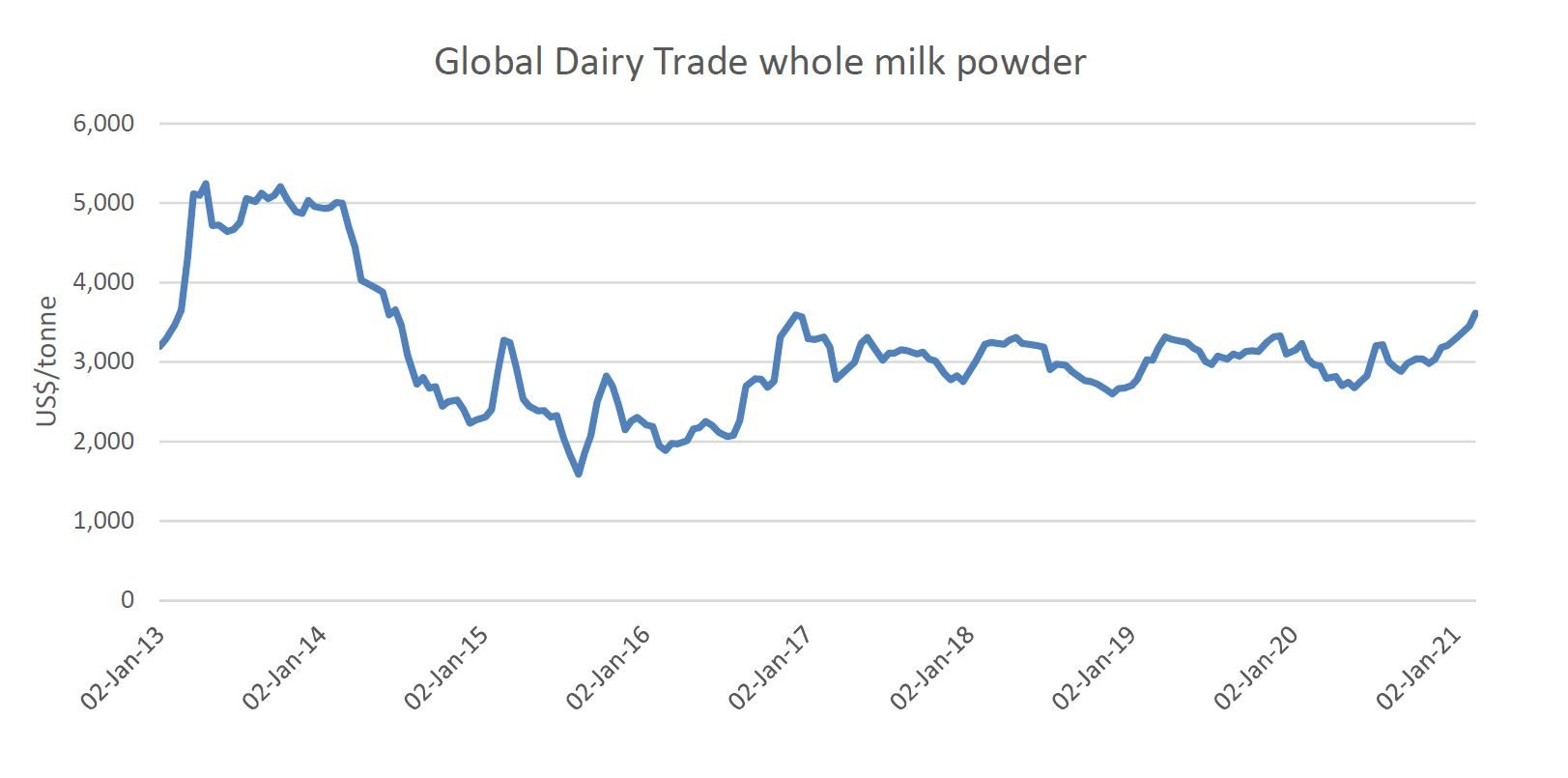 Although they are very busy, Penny and Andrew also celebrate the good bits.
"The last six months has delivered an amazing growing season, we sold all our lambs pre-Christmas, they were weaned by the end of November," said Andrew.
He compared this to farming on Inland Road, where they weaned on January 20.
"It sometimes feels like we're working less," he says.
For the last four years they've had an additional 1535ha lease block in North Canterbury, and it works well for the stock numbers they're running.
In 2020 they wintered 1350 half bred ewes, 1000 one year old Romney ewes, 400 half bred hoggets, 270 MA cow, 50 in calf heifers, 65 R1 heifer replacements, 210 R1 trading cattle, 90 R2 trading cattle, and they also winter grazed 775 dairy cows.
Andrew has mainly been a one man band, with the help of a casual worker once every two weeks for the yard work.
Lease to own
Andrew lived the last 25 years up Kaikoura Inland Road, and for six years he and Penny managed it, and a block next door, when they returned from overseas.
"It was a wicked opportunity."
Six years ago the farm was sold, and Andrew along with his siblings were given a 20% share, in which they could borrow against for whatever business they ventured towards.
Holding off on a farm purchase for a while, they had already been leasing the neighbour's farm for a year, so continued on with that.
Penny said they'd heard the farm owner was looking for a new farm manager. Andrew rang the farm owner from a Trade Me advertisement and asked if he'd be interested in taking them on.
"He (the farm owner) agreed to the lease on the condition that he kept the best 100ha to grow and harvest barley," said Penny. That lease ran out in 2020.
Andrew said although leasing is extremely stressful, it is one of the only ways to move into farm ownership.
"Sadly, banks don't look at your CVs and what you have managed – they look at accounts, and what assets you have."
He said leasing is 95% communication with the owner, and 5% stock work.
"All good leases are never advertised. Go and ask a neighbour or a guy down the road. And never look at the whole picture, look at how it will best suit the owner as it is their property they take pride in. Offer to leave some land for him or a stock equity, more consider all odd options. Because at the end of the day it is their property, so make a business plan you think will best suit them as well as you."
That is exactly what happened with the lease block they have now. Andrew got talking to the new farm owner, who is a travelling businessman and has the farm for hunting, forestry and honey, and asked if they could lease it.
"It's about building up," said Andrew. "Build up your asset value. Start by leasing, then buy a motorbike."
He says a $2 million farm can become a $3.4 million farm.
Turning to diversification, Penny says it will be interesting to see what impact Covid-19 has on wool prices.
At Kilmarnock they can sell stores or take them through, and run a high ratio of cattle compared to sheep.
It's a good work life balance too. Casuals ring up looking for work which "would never have happened at their old place," and Andrew has joined the local Surfing For Farmers group, who meet each Thursday at the local Gore Bay.
"I've never been a surfer in my life."
They were in the thick of the activity for the November 2016 earthquake that rocked the Inland Kaikoura Ranges.
A few of the farming families around the Kaikoura Inland Road hunkered down in one farm cottage for the emergency's initial duration, to save the use of multiple generators and ensure everyone was safe. During this time Penny was heavily pregnant with their second child Evie; subsequently she and their eldest child Hugo were heli-evacuated to Christchurch.
"We all felt it was too hard to look after the farm and make sure the family was safe," says Andrew.
He added that the family unit has always, and will always be, top of the priority list, with Hugo, 5, Evie, 4 and Beau, 2.
"No matter how busy the day has been, we're always both at home to help each other with feeds and bath times, although sometimes easier said than done."