After school, it was a choice of working in a bank or picking up the shearing handpiece for a young Northland woman. Shearing won. By Glenys Christian. Photos: Malcolm Pullman.
After school, it was a choice of working in a bank or picking up the shearing handpiece for a young Northland woman. Shearing won. By Glenys Christian. Photos: Malcolm Pullman.
Danielle Boyd is only 28 but she runs a shearing gang of up to two crews with anywhere between six to 16 workers. Three of them are women and the average age across the gang is in the mid-20s. She's also PGG Wrightson's Northland wool rep three days a week, and in her "spare" time works on her parents' 520-hectare sheep and beef farm.
But it all could have turned out very differently after she was offered a full-time job in a Dargaville bank where she'd been doing work experience. Despite some of her friends telling her she was stupid not to accept, she decided against it.
"I couldn't handle sitting inside," Danielle says.
"And my uncle had already got me a job with a shearing contractor. It's all about grabbing the opportunities presented to you. Just do it because you won't know unless you try. You've got to have a can-do attitude."
That certainly runs in the Boyd family. Her parents, Kevin and Annette, bought their first farm of 230 hectares at Arapohue 30 years ago, after shearing and wool handling around the country as well as stints overseas. They were then able to add a further two blocks over the years to make up the farm where they now run sheep and bulls.
"I've always loved sheep and sheep farming," Danielle says.
"I always used to say I would be a shearer or a farmer in the South Island. As soon as I could, I started to help out and when I was 15 I started to earn money working in the shed."
At 16 her father taught her and her younger brother, Michael, how to shear. He's now shearing for her.
"It suits me bloody well," she says.
"As long as he's working he is happy."
Back in the South Island she worked as a rousie for a couple of months then as a shepherd general on The Rocks station in Middlemarch, owned by Andrew and Lynnore Templeton. It was 3200ha running 9000 stock units at that stage, but that's now been boosted to 5300ha carrying 16,000su.
"I enjoyed all of it," she says."I was useless at first being off a little Northland farm, which was a lot different. In the first couple of months I was surprised they didn't fire me to be honest. But they were amazing teachers and I started to get the hang of things."
She didn't have any dogs of her own when she arrived but the Templetons helped her build a team of four by the time she left after three years, feeling it was time to move on.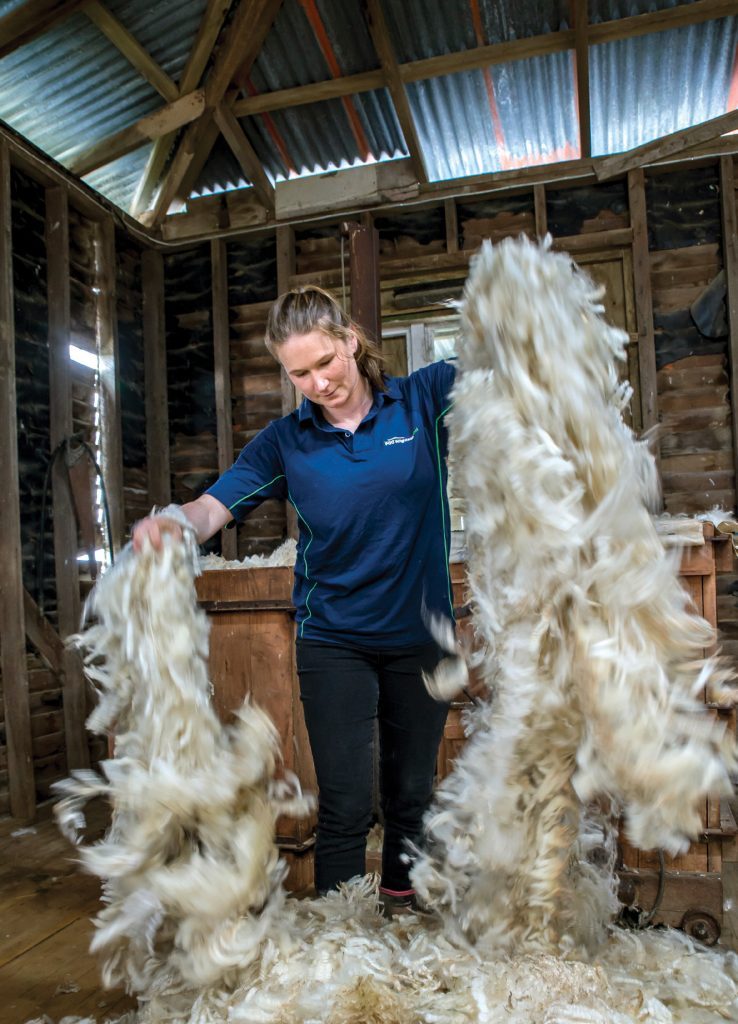 Rolling fleeces at Yeovil
She spent a few months penning up for crutching with Peter Lyons' shearing gang working on a range of different Central Otago farms. Then a Northland friend messaged her about going to the United Kingdom, so they set off together, picking up work wool handling, or rolling, as it's called there, for a contractor based out of Yeovil, Somerset, in the south of England.
"They roll up the fleeces, put them in a bag, stitch them up with a needle, then they're sent to the wool store," she says.
"It was all more experience."
Back in New Zealand she again worked with Peter Lyons' shearing gang as they tackled pre-lamb shearing. That led to working in a tailing gang in Southland, then back home in Northland once again she worked for a contractor based out of Paparoa.
"I was mainly rousing and then did the odd day's pressing," she says.
She also got her big break doing her first few days of shearing.
"The gang was off to a shed in Gisborne but the contractor said there were too many rousies to take. He had a shed back home that needed doing but he only had one shearer."
Nervous but excited, she told him she knew how to shear and completed not one but three full days of shearing.
"I was pretty sore but pretty happy," she says. She shore 100 on that first day.
"I was hooked. It was all about just getting that start."
She returned to the UK for six months, working in Wales, Scotland and Somerset, joined by her brother Michael who'd finished uni. "He loves shearing," Danielle says.
"It's all he thinks about."
Back in NZ her plan was to head back shepherding again as she missed working her dogs and farming, but her parents had just bought their third block of land when her father hurt his shoulder. So as well as working for them she started working for a local Dargaville contractor, rousing, pressing and doing a bit of shearing too.
"It worked well for me though. It meant I got the best of both worlds, being able to work on the farm and also in the shearing sheds at the same time."
Australia called and she spent two months there wool handling around Hay in New South Wales.
"I wanted to see what it was like and it was a good experience," she says. She picked up more skill working down South again before returning to Northland to work for local contractor Austin Stephens. It was after Austin died suddenly from a heart attack that the opportunity came to pick up a shearing run.
"It was always something I thought of doing, to have a shearing run and do a good job of it," she says."But I knew the pitfalls."
Now she runs one or two crews made up of from six to 16 people, who're mostly also local farmers.
"Farmers are happy – we do a good job."
Danielle says she gets on well with other shearing contractors meaning they help each other out where they can if they're a shearer short for a particular job. Her gangs work from Paparoa up to Taupo Bay but mainly around Dargaville.
A lot of changes are happening in the north just as a lot of other areas around the country.
"A lot of farms are being sold for forestry and there's a few farmers looking into getting non-wool-producing sheep," she says.
"There's a generation of farmers getting out of sheep. There's a lot of work with them, especially in the Northland climate and more people these days don't want to work. You've got to be a special person to enjoy sheep. You either love them or you don't."
And now, the company rep
Last year after working in Hawke's Bay for a month for Rowland Smith's shearing gang, Danielle went south again, shearing for Peter Lyons. After completing the second shear in Northland she had the opportunity to take on the role of PGG Wrightsons' Northland wool rep, handling the company's business north of Auckland, at the same time as taking on the shearing run.
"I don't do things by halves," she says.
"But you're always learning how to manage things and work out a way of how you can make things easier and more efficient. I have an awesome network of people within the company to help with the wool job and my parents are good at helping out if I'm really struggling to find extra workers for the shearing run.
"I always say where there's a will there's a way and every problem has a solution. You've just got to keep calm and get on with it."
Sometimes she finds it hard organising workers.
"But communication is the biggest thing," she says.
"It's all about giving as much notice as possible if they can't work on a particular day. But I'm really lucky to have such an awesome group of workers."
She doesn't regard herself as a spare wheel, and will jump in herself if necessary.
Danielle also cooks for her crews on stay-out and tries to do so for some other contract sheds where workers have to travel more than an hour. She tries to be reasonably prepared beforehand and makes meals for the freezer like lasagne, cottage pies and baking to try and cut the workload back during the peak of the season.
"I always wanted to live in the South Island but I've realised that Northland's not a bad place," she says.
"Shearing is very physically and mentally challenging and I think that's why I like it so much."
Her best daily tally was 302 lambs shorn in one day the summer before last when she was on the stand full time.
"I rarely do more than two weeks in a row now," she says.
And she finds her tallies have dropped.
"I've got a lot more on my mind."
But she does take part in some competition shearing at local A&P shows.
She still has some dogs including Sammy, "a good shed dog", who has been with her for the last 10 years.
She also reared 69 Friesian bull calves with a few beefies in the mix this spring, which fitted in well with the shearing season.
"Hands down, the shearing industry is the best for work and travel," she says.
"There are so many opportunities, it's a good character-building job and you will without a doubt meet some of the best people.
"Wool is such an incredible fibre and I'm lucky to be able to deal with it on a daily basis."