Farmgate prices for lamb have been on a high for quite some time now. Mel Croad looks at the influences that are driving demand, and the outlook for the next season.
Demand for New Zealand lamb is running red hot.
Overseas markets are competitively jostling to secure NZ sheepmeat products and are paying record prices to do so. In return, farmgate lamb prices for both store and slaughter are nudging into record territory.
Only 12 months ago, farmers were concerned that this insatiable hunger for NZ lamb was unsustainable. Often that can be the view when the market is riding at the top of the wave. Yet fast forward to where we are today and, apart from some seasonal pricing downside as our domestic supplies ramped up, farmgate lamb prices have maintained a solid pricing range right through the season.
The AgriHQ farmgate indicator peaked in the North Island at $8.55/kg in September last year and then bottomed out at $7.00/kg in March. For the South Island the September 2018 peak was $8.30/kg before prices were seasonally clipped back to $6.60/kg in March. The slightly greater downside in the South Island was caused by weather conditions and the increase in processing numbers in the first six months of this season.
Since bottoming out in March the AgriHQ lamb farmgate pricing indicator has staged an impressive rally to again be sitting over $8.50/kg into September in the North Island and $8.25/kg in the South Island. This equates to a lift of more than $1.50/kg in the six months to September in the North Island, compared to a typical lift of $1.10/kg.
WHY THE STRONG PRICES?
Farmgate lamb prices have sat well above historical levels for the last eighteen months, underpinned by strong international demand, despite supplies remaining elevated. More importantly, they have been able to sustain this position and have been supported in the last three months by significantly tighter supplies. In the three months to early August the national lamb kill totalled 3.10 million lambs, a drop of up to 630,000 lambs when compared to the same period last season and the five-year average for this timeframe.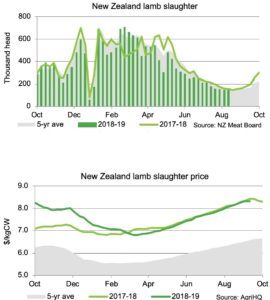 Expanding this to cover the entire season, the national lamb kill to 10 August (latest stats) is now trailing last season by 1.25m head. Based on the historical throughput of lambs for slaughter between early August and the end of the season at September 30, there is a very real chance the 2018-19 season will post the lowest export slaughter on record at around 18.5m head. The next closest is the 2011-12 season when prices soared to $8/kg on the back of very tight supplies. With very little indication of growth within breeding flocks, despite the incentive of record farmgate prices, chances are we could be facing a similar export tally in the 2019-20 season.
As a result of the tighter NZ supplies, overseas markets have had their work cut out to secure any decent volumes.
AVERAGE EXPORT VALUES
With demand far outweighing supplies, average export values (AEVs) have soared as competition remains fierce. The July AEV caught many by surprise, lifting to a record of $11.13/kg. Typically, at this time of the year, export values tend to plateau as markets hold fire in raising prices until supplies start to flow. However this value represents a 45c/kg lift on June levels and depicts just how intense the demand is for NZ lamb.
The tight offerings out of NZ combined with slumping production in Australia is driving a new level of pricing out of key markets. Last year AEVs peaked in October at a then record of $10.90/kg, which coincides with the high point of the chilled Christmas trade period. Views of exporters through this August and into early September suggested the market for lamb was still strong, despite the high export values already being achieved. On this basis there is potential for average export values to show further upside in the weeks ahead. When it comes to this translating into further upside in farmgate slaughter prices then at this time of the season it is less than clear cut.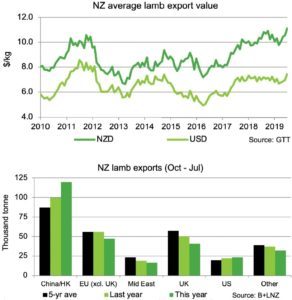 From mid-September to mid-October the rush to offload old season lambs intensifies. While current slaughter statistics portray very tight supplies, there are still large numbers of lambs on-farm as sellers look to extract as much value from them as possible.
Any bottlenecks that start to appear before October can translate into a weakening in farmgate prices despite the strength of overseas demand. While the current position of the NZ dollar will add some support, we are entering a period laced with uncertainty.
Brexit is transitioning from a mild headache to a migraine that could traverse into 2020. With very little clarity on what any outcome might look like, exporters are treading with caution. However chilled Christmas trade deals are still progressing, partly because this is a lucrative period that many processors don't want to forgo. The Christmas chilled period tends to wrap up as the last boats sail in early November. It's well documented that farmgate prices tend to retreat from that point as chilled export demand tapers off and frozen exports dominate.
CHINESE DEMAND
Fortunately as we saw last year, as the chilled demand tapered off, Chinese demand for their Chinese New Year celebrations stepped in to fill the void. While this isn't enough to prevent farmgate prices from edging lower on their descent to Christmas, it is a welcome injection of demand at a significant time of the season. Now with the ultimate unknown that is Brexit, meat companies will be happy for any certainty of demand through the opening months of the new season. While lamb exports to China are close to 93% frozen product, China has stepped up to the mark and average export values into China these days are ranging well above historical levels. They are safely ingrained as our largest market based on volume and therefore value. However, to keep it in perspective, average export values in our traditional markets of the US and the UK/EU still remain some of the highest paying and therefore still demand respect.
SO WHERE TO FROM HERE?
As discussed earlier, the industry thought they had seen the peak of the market this time last year and yet prices have shown solid upside throughout 2019 to be neck and neck with year-ago levels. The flow of lambs into processing plants from now until mid-October will provide some pricing direction. Another strong start to the season for farmgate slaughter prices will also underpin store prices in the opening months of the new season should weather and feed conditions allow. Based on current market fundamentals, AgriHQ expects that opening farmgate prices in the new season will still start above $8/kg, albeit conditional on no negative fallout from Brexit. However on-going strong global demand and tighter supplies from both NZ and Australia will add some balance. There will come a point where average export values reach a ceiling and as long as that level is not breached, there should be another season of solid pricing levels for NZ lamb.
Mel Croad is an AgriHQ senior analyst.