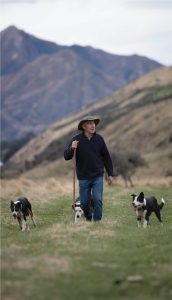 Grant McMaster, general manager at Closeburn Station, has been a farmer for more than 40 years. He knows only too well how uncertain farm life can be: "the seasons dictate what you do, there's so much against you". No two days are ever the same.
Where Grant goes, his dogs are sure to follow. "It doesn't matter what the conditions are, they have to be with you and they have to be fit. To have them fit you have to feed them right." This is why Black Hawk Working Dog food was specifically formulated for New Zealand working dogs – to help farmers give their working dogs the very best nutrition.
The endurance formula behind Black Hawk Working Dog is high in quality protein (32%), with lamb and beef as the main ingredients, and quality fats (22%), designed to promote strong, lean muscles and ensure a sustainable release of energy throughout the dog's working day.
Since Grant has been feeding Black Hawk Working Dog to his dogs, he's noticed a very real difference.
"You can see them improving in their muscling, their coats are shinier and they have more energy."
Masterpet chief executive Dr Sean Duggan says "We believe every ingredient matters to the work rate and returns from a working dog. Working dogs have very different requirements compared with pet dogs; they're a lot more active, for a lot longer during the day.
"Through Black Hawk, we are building The Real Food Movement for dogs and challenging all owners to feed real ingredients."
Black Hawk Working Dog food is available in rural veterinary clinics around the country.