BY: REBECCA HARPER
A clear business plan with excellent governance and a willingness to engage outside experts helped a couple win this year's Tararua Sheep and Beef Farmer of the Year.
Simon and Trudy Hales were commended by judges for their high performing, sustainable and diverse business. All achieved while striving to make a difference to those they work with, the community and the wider industry.
Kereru at Weber, just south of Dannervirke, is a 970ha breeding and finishing farm (791ha effective), and terrain ranges from rolling to steep. The couple always have an eye to the future and have been recognised for their commitment to working alongside nature and striving to leave the land in the best possible state for the next generation with their win in the Horizons region Ballance Farm Environment awards.
Simon says they are guided by what "feels right". That might sound vague, but what he means is doing right by the land, as well as the business.
To them, best practice, is trying to do things they think is sustainable for the farm and business.
He says they are looking through the lens of "how do we feel about what we are doing?"
"That's what drives us, in farming, in business and in the community."
And doing what's right has led to what judges described as leading light environmental practices. This included retirement or exclusion of the majority of the Akitio River from stock, Trudy's propagation of native seedlings, fencing of riparian areas and reverting areas back to native bush.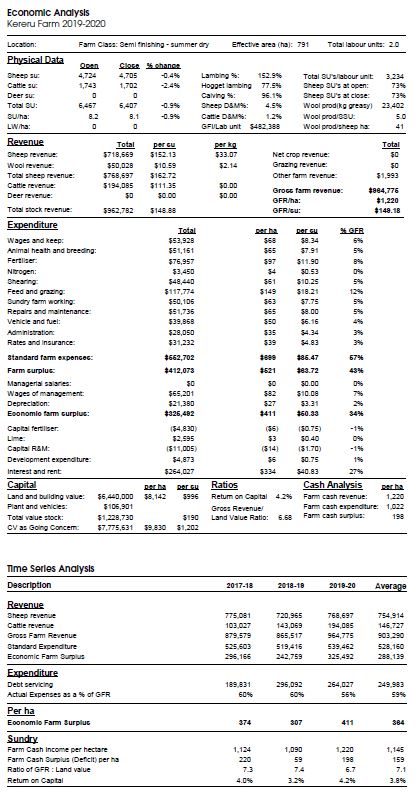 But the Hales are also business-minded. They're not afraid to seek the advice and help of experts, providing clarity and confidence in decision making, while holding them accountable.
When Simon first returned to the family farm he felt, while he was making good decisions, there were potentially missed opportunities and fine tuning was needed. When the couple bought the farm in 2016 they engaged farm consultant John Canon. They set up an advisory group including Canon, their bank manager and their accountant, which meets quarterly.
They wanted to have a good group of key people around them to draw on, and have an open, no surprises policy with them.
The group covers all key decisions and influences on farm, from stock policies to feed budgets, interest rates and tax implications.
"We go through our plan and where it may take us, look at where the variances are."
They discuss goals, the business KPIs how they are tracking.
Getting off the farm and having the meeting at the accountant's office helps Simon and Trudy to focus, working on their business rather than in it.
This gives the couple a structured approach and confidence in the direction they are headed, as well an ensuring their trusted advisors are 100% on board.
"There's real buy-in from them, and in turn that gives them confidence in us as business managers."
This approach also means that when opportunities do come up, the advisors have a comprehensive understanding of what is happening in the business. It is easier for the couple to take advantage of opportunities, quicker.
The Hales engage other outside experts, like their vet, agronomist and fertiliser rep. They cultivate a personal relationship with those people.
When there's something Simon doesn't know he is keen to get the best advice.
The couple know they are selling a product but deal in long-term relationships with people they trust.
"Our business is a really open book to those people and we're fostering a culture of all working in the same direction and getting buy-in from those people working with us."
The Hales apply the same approach to staff, actively supporting them to develop their skills.
"I think staff with aspirations work hard for you. We like to see a young person with a plan ahead of them and goals. We like to employ people who want to learn from us, pick our brains and even challenge us a bit.
"We want to develop leaders and see them grow and advance in their careers and be proud of what they have achieved."
It is a source of pride, and a wider contribution to the industry, when their staff have gone on to management and, in one case, farm ownership.
Simon says the number one goal is to be a profitable and sustainable business. Environmental and management practices, staff and the advisory board are all building resilience into their business and life.
The Hales appeared in Country-Wide issues July 2019, p66-71 and January 2020, p75-76.
KEY HIGHLIGHTS:
• Clear business plan with measurable and accountable goals
• Good use of governance and advisory structure
• Seeking to lead and demonstrate environmental practices
• Supporting the growth and development of staff
• Keen to diversifying the business income streams
• Gather support and expertise from specialists
• Active involvement in community and industry
• Consistent financial performance
• Innovation with the Kereru Goods brand