Broken-down wool gets new use
Flooring is not the only future use for New Zealand's coarse wools. Annabelle Latz writes.
Flooring is not the only future use for New Zealand's coarse wools. Annabelle Latz writes.
Out on Foxdown Farm in North Canterbury's Scargill Valley, Andy Fox is shearing his sheep at a net loss and as an animal health expense.
He believes coarse wool is a tough subject in the sheep industry and it needs global consumers and supporting businesses to see its true value before anything will change.
The 1600ha rolling hill farm is home to 6000 Wairarapa Romney ewes with wool of about 34–36 microns, and 250 Hereford Angus-cross cows. Fox is operating a breeding, finishing, and store programme, just like his father, grandfather and great grandfather have done. Foxdown Farm has been in the family for 145 years.
Fox says the NZ Wool Board did a good job marketing coarse wool from the 1960s to 1990s when the product was doing well. It was before crossbred wool became regarded as too scratchy for woollen blankets and fashion items. Coarse wool then transitioned successfully into the market of floor coverings such as carpets.
Seeing products like yoga mats made from coarse wool on the market today is encouraging. Fox is positive that woollen carpet will have a comeback despite the number of options people now have for flooring products.
He uses crutchings for mulching his lemon trees after shearing.
Fox is chair of Wool Research Organisation of NZ (WRONZ), which 10 years ago identified challenges for the wool industry. It pivoted to focus on identifying "new uses for strong wool" via ground-breaking research on deconstructing wool down to cellular and particle levels. It developed to a point where WRONZ established Wool Source, an entity focused on creating the commercial pathway for the products ready for release into the world.
Wool Source is jointly funded by WRONZ and the Ministry of Primary Industries via the Sustainable Food and Fibre Fund.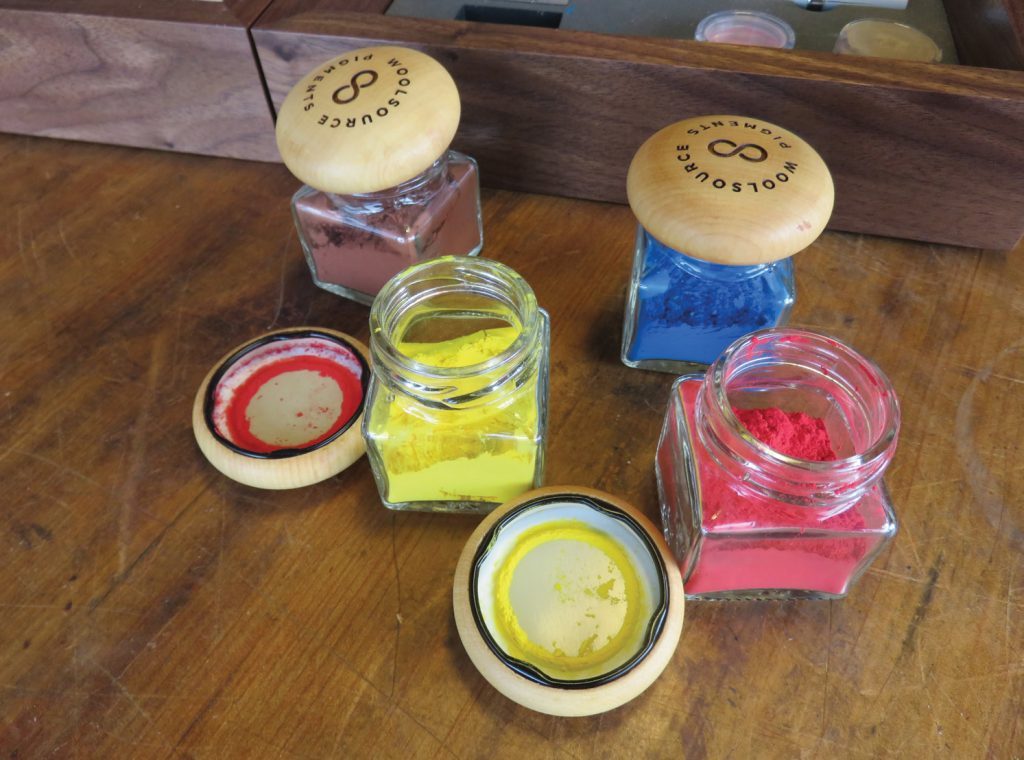 Fox says a decision was made a decade ago to focus on the New Uses programme. It's about converting coarse wool (32–38 micron) into new uses, post farmgate.
"Wool but not as we know it," he says, while looking at the bright coloured powders before him on his kitchen table.
He has been involved in the programme for five years, and sits on the board of both Wool Source and Wool Research Limited (the science programme subsidiary).
WRONZ is working on a joint venture with the Ministry of Business, Innovation and Employment, which finishes in February 2023. The result has been laboratory work undertaken at Lincoln University to break down strong wool to find new uses for it.
Fox acknowledges Wool Source chief executive Tom Hooper, lead scientist of Lincoln Agritech Dr Rob Kelly, and senior adviser of WRONZ and Wool Source Garth Carnaby for their work.
The research is getting closer to the commercial markets but still has elements to overcome, Fox says.
"It's important we get there."
He says driving traditional markets, such as woollen carpets, encouraging new businesses and developing disruptive new products like the programme can drive up demand for wool and help the sector recover.
For the programme in the laboratory, the wool is broken down mechanically, chemically, or with enzymes, or a mix of the three. The five new uses for the programme at a research level involve working with particles, the four-step process of powders and pigments, carrying out scalability testing, separating cells to create natural filters, and producing fibres.
Because wool is made up of 98% of the protein keratin, a tough fibre that sits on hair and nails in humans, it also bonds well with another natural fibre, cotton.But It is harder to work with and break down as the scale of wool in the laboratory increases.
Fox says part of the challenge in the research is trying to increase volumes while accommodating the changes caused when heat is applied to the product. At the moment they're scalability testing, working with batches of up to 200kg of wool a day.
Research is specifically focused on products and markets that can support higher prices for wool and benefit the growers, rather than manufacturers looking for a low-cost input. The role of Wool Source is to pass a product on to a company that must promise to use New Zealand wool. It will use the IP of WRONZ, which will be licensed to Wool Source. The combination of all the programme's work has targeted creating demand for 20,000 tonnes.
Fox says wool products tick many boxes for modern businesses, such as the sustainability and traceability factors and the environmental credentials they offer. It's a big plus for wool that the animal doesn't have to die to produce the product, and the sheep farming footprint is a lot lighter than other farming activities.
"I don't think we can blame a generation in hindsight, but it's vital we embrace sustainability, not live beyond your means."
He says the human race has been living beyond its means for some time now.
From a traceability aspect, the wool for the programme will be sourced from suppliers who are sustainable, similar to a farm assurance programme. Coarse wool producers will also be offered a higher price if their wool is pesticide free.
Fox says being able to travel again has helped a lot too, and there is no substitute for face-to-face contact especially when trying to launch a new product.
"This has certainly helped with momentum and progress."
He says companies want to engage with them and become more sustainable. People are beginning to ask questions. There is a greater drive for sustainable and renewable resources.
"It's started with energy, but is getting wider."
Fox knows not all the products in the New Uses programme will be a success, but overall it's looking promising, so he won't stop trying.