A remarkable animal to farm
At Invermay Tony Pearse became the go-to person for practical and research-backed advice to the rapidly growing number of deer farmers.
Tony Pearse admits he was disappointed but relieved when his official Wellington farewell was cancelled.
The intention was to formally acknowledge a 40-plus year contribution with fitting fanfare, but the plans were scuppered following the decision to shelve the event as part of the annual Deer Farmers Association branch chairs meeting due to Covid-19 risk and uncertainty.
Pearse emphasises the meeting and event was never intended to be all about him. It's a predictable response from the man who has mostly stayed out of the limelight in preference for managing, facilitating, mentoring and organising at many levels across the industry.
In a retrospective look he says the camaraderie and enjoyment factor of the deer industry has been a constant.
"Beyond the quite remarkable animal we farm, is the unbroken succession of extraordinary people that have driven the industry and have shared their knowledge, enthusiasm, and vision with their fellow industry participants."
What had changed was the direction new challenges were imposing on an industry that once flourished on the back of innovation.
"We have become consumed by imposed regulation and rules that require huge industry input by organisations, and more demands of farmers at the coal face."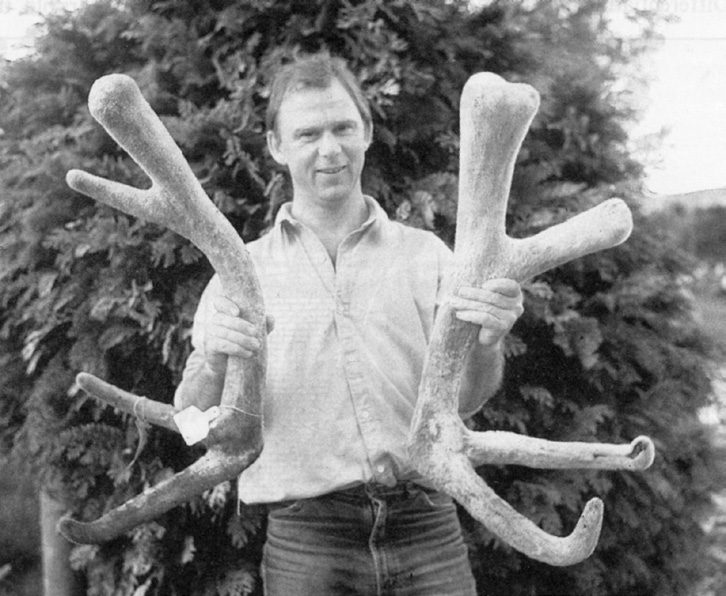 That was putting at risk the viability of deer farms and businesses, the resilience of the deer farming community, and the confidence of the next generation of deer farmers. However, Deer Industry New Zealand (DINZ) is doing a good job at counteracting these negatives through the P2P programme and its successor being worked on at present, he says.
Pearse's deer-centric career started at Invermay, following an invitation by the research center director Jock Allison to join the Deer Research group in 1983.
"Jock said I wasn't up to being a scientist because I only had a second class honours degree, but he thought I had the right farming and scientific background to take on the management role of the deer farm."
Prior to that Pearse got a formal introduction to deer on a MAF-run week-long course at Telford Farm in 1979 which he attended for more practical know-how and tips for a deer farm he was managing for a group of city investors.
At Invermay Pearse became the go-to person for practical and research-backed advice to the rapidly growing number of deer farmers.
What particularly impressed him was the open sharing of practical know-how, science, and research among farmers, scientists and vets.
"Everyone was learning, so there was lots of trust involved, and that persisted as the industry developed."
He was appointed manager of Invermay-based consultancy MAF Deer and during the early to mid-1990s worked closely with a NZDFA owned company Deer International Limited (DIL) to help establish new overseas deer farms and related enterprises.
"That led to opportunities I could never have imagined such as the Canadian and USA work with Sir Tim Wallis and Alpine Deer Group, and visiting the Saami Reindeer herders in Norway."
DIL wound up in 1996, and Pearse returned to the restructured AgResearch Invermay taking on deer research looking at genetics, health and disease, and nutrition.
In 2002 he left AgResearch following appointment as the producer manager for the newly created DINZ organisation. Over the 20 years it developed into a broad role in which he tackled issues and topics affecting the practical business of deer farming. There had been many highlights such as development of an industry-led management programme for Johne's disease.
"It was a total team-based effort led by visionary vets, deer farmers and researchers. But so too has been the development of the Environment Manuals, and the industry Environmental Awards."
Involvement with the Deer Farm Association activities, velvet antler competition and judging, and the 26 conferences which he organised were other highlights.
It was unfortunate to be leaving his DINZ role during an industry low.
He says the impact of Covid-19 is challenging in terms of returns and confidence although there are strengthening signs of recovery for venison.
Former DINZ Quality Assurance manager John Tacon echoes the sentiments of the many people who had worked with Pearse.
He says Tony is one of the most knowledgeable people on all things deer and the industry. "He's a loyal colleague who has always been willing to help in any way."
Although relinquishing his DINZ role, Pearse will have ongoing involvement with industry R&D planning.
Beyond that he was looking forward to spending more time with wife Julie, and small-scale deer farming on their Dunedin property.