When newly qualified Central Otago vet Amy Hoogenboom applied for a job in the Maniototo she approached it without any preconceptions.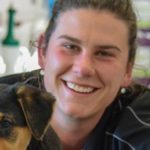 Happy anniversary to me! That's right January marks one year since I moved to Ranfurly and began life as a vet in the Maniototo. And what a wonderful year it has been.
A lot of people asked me when I first started if being a vet and the job were what I had thought they would be. I never really had any expectations or ideas, but if my graduate year is anything to go by then being a vet is not too bad, and being a vet in the Maniototo – well, that split-second decision to apply for a position at a clinic I knew very little about in an area I had never visited has paid off in spades.
It hasn't all been smooth sailing, there have definitely been a few challenging days and tears shed but variety of vet work, awesome clients, supportive work team and community have made the move from Hawke's Bay to Central Otago an easy one. It is safe to say that I will happily call the Maniototo home for at least a few more years yet.
I seem to be after-hours surgery magnet; while the other vets in the clinic have done a combined total of two emergency surgeries out of hours over the year, I equalled that tally on my own in one month.
The first was a Huntaway with a gastric dilatation (extremely blown up, but thankfully not-yet-twisted stomach) and the second a lovely Labrador with a ruptured pyometra (pus-filled uterus and abdomen). Thankfully there was a positive outcome for both dogs and there is now a young Huntaway named Boomer running about the Maniototo owned by the Labrador's family.
Late last year, VetEnt began updating their vehicle fleet, which meant out with the Colorado and in with a shiny new Hilux. The new ute has provided a great talking point with farmers; discussion has ranged from fuel consumption and interior to a whole lot of other things I have no clue about. As long as the vehicle can fit all my vet gear in it and gets me from A to B I'm happy.
The wee dent in the driver's door obtained just two weeks after getting the vehicle has gathered as many (if not more) remarks as the new ute itself. A rather interesting story but let's just say not all my farm patients are always pleased to see me…
There have been no more work health and safety forms needed to be filled out in the past few months, much to my clinic manager's relief. Instead I have become very good at eating dirt while out mountain biking and my legs are permanently 'tanned' with bruises including yet another haematoma, this time to my calf muscle. Not something I would recommend making a habit of but one I am having trouble breaking at present.
And because I know you're all sitting on the edge of your seats waiting to find out – yes, I have won not one but three squash games now! The first was the big play-off for 7th and 8th place in our club champs womens B grade, followed by two wins in the Spring league competition and some much more closely fought games than this time last year. Fair to say the squash racquet is unlikely to be hung up anytime soon.
Time to wrap this column up, plenty of work to be done; rams to be palpated, velvet to cut, barley grasses to remove from places they shouldn't be, mountain bike trails to be ridden, a squash game to win. And with the Maniototo A&P show in late February, a chocolate cake to bake, will be hoping for a red ribbon instead of a blue this time round. Stay tuned for an update.